A compilation of important assorted transistor simple circuits to build has been included here.
Simple Transistor Circuits for New Hobbyists
Many simple transistor configurations like, rain alarm, delay timer, set reset latch, crystal tester, light sensitive switch and many more have been discussed in this article.
In this compilation of simple transistor circuits (schematics) you will come across many small very important transistor configurations, especially designed and compiled for new budding electronic enthusiasts.
The simple circuits to build (schematics) shown below have very useful applications and are yet easy to build even for new electronic enthusiasts. Let's begin discussing them:
Adjustable DC power supply:
A very nice adjustable power supply unit may be built using just a couple of transistors and a few other passive components.
The circuit provides good load regulation, its maximum current being not more than 500mA, sufficient for most applications.
Rain Alarm:
This circuit is built around just two transistors as the main active components.
The configuration is in the form of a standard Darlington pair, which increases its current amplification capacity hugely.
Rain drops or water drops falling and bridging the base with the positive supply is enough to trigger the alarm.
Hum free power supply:
For many audio amplifier circuits hum pick-ups can become a big nuisance, even proper grounding sometimes are unable to rectify this problem.
However, a high-power transistor and a few capacitors when connected as shown can definitely curb this problem and provide the required hum free and ripple free power to the entire circuit.
Set-Reset Latch:
This circuit also utilizes a very few components and will faithfully set and reset the relay and the output load according to the input commands.
Pressing the upper push switch energizes the circuit and the load, whereas it is deactivated by pressing the lower push button.
Simple Delay Timer
A very simple yet very effective timer circuit can be designed by incorporating just two transistors and other handful of components.
Pressing the push ON switch instantly charges the 1000uF capacitor and switching ON the transistors and the relay.
Even after releasing the switch the circuit holds on the position until C1 is completely discharged. The time delay is determined by the values of R1 and C1. In the present design it's around 1 minute.
Crystal Tester:
Crystals can be quite unfamiliar components especially with the electronic novices.
The shown circuit is basically a standard Colpitts oscillator incorporating a crystal to initiate its oscillations.
If the connected crystal is a good one, will be indicated through the illuminated bulb, a faulty crystal will keep the lamp shut.
Water Level Warning Indicator:
No more peeping and nervous apprehensions with overflowing water tanks.
This circuit will produce a nice little buzzing sound well before you tank spills over.
Nothing can be as simple as this one. Keep watching for more of these little giants, I mean simple circuits to build with huge potentials.
Hand Stability Tester:
Pretty confident regarding your hand dexterity? The present circuit can definitely challenge you.
Build this circuit and just try sliding a constricted metal ring over the positive supply terminal without touching it.
A buzzing sound from the speaker will entitle you with "antsy hands".
Light Sensitive Switch:
If you are interested to build a low-cost light dependant switch, then this circuit is just for you.
The idea is simple, a presence of light switches OFF the relay and the connected load, absence of light does exactly the opposite.
Need more explanations or help? Just keep posting your valuable comments (comments need moderation, may take time to appear).
Simple Tester Circuit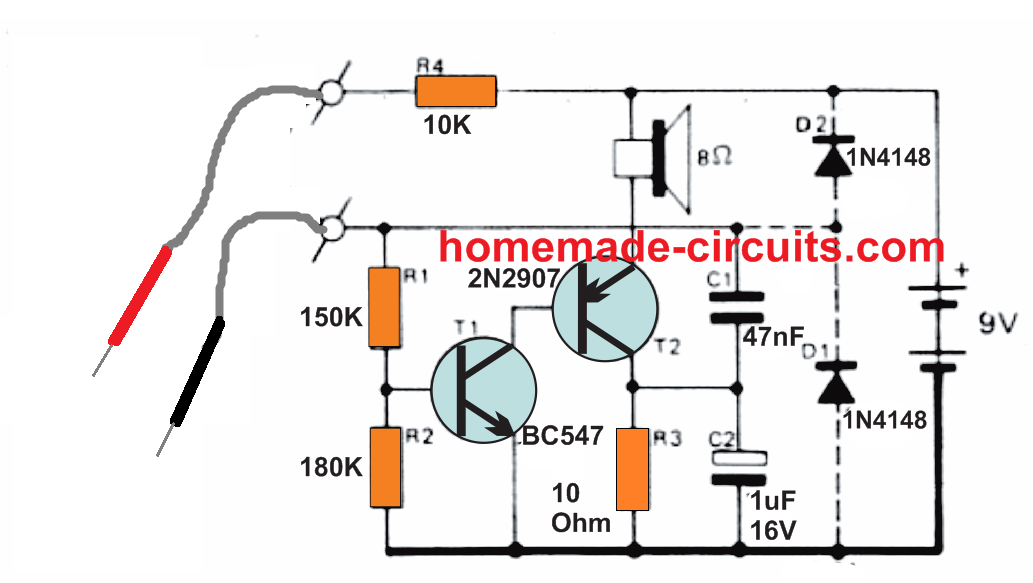 Passive testing of an electronic circuit appears pretty straightforward job. All you want is really a Ohm meter.
Sadly, still, working with this type of device for semiconductors is not really advisable. The output currents will probably harm semiconductor junctions.
The tester explained in this write-up is simple to construct and possesses the benefit that a maximum of around 50 µA can only be delivered in the circuit under test.
Therefore it may be used for the majority of standard IC's and semiconductors which includes MOS based elements. The indication is implemented through a little loudspeaker, to ensure that in the course of testing, it isn't required to keep on referring to the testing device rather than the concentrating on the test points.
The transistor T1 and T2 constitute a basic voltage controlled LF-oscillator, with a loudspeaker working like a load. The oscillator frequency is formed by C1, R1, R4 and the external resistance between the measuring leads. Resistor R3 is the collector resistance of T2; C2 behaves like a low frequency decoupling of this particular resistor.
As previously mentioned, the tester never will cause any sort of harm to the circuit under check; alternatively, it is best to include diodes D1 and D2 in order that the circuit under test is no way able to counter damage the tester parts. So long as you don't have an electrical interconnection between the testing prods, the circuit pulls absolutely no current. Battery-life can then be approximately same as the shelf life of the battery.
Car Fused Tail Lamp Indicator
For those who would like to be assured that the lamps on their automobile are in excellent order, this circuit is probably the remedy. It is quite basic and offers an honest indication any time a specific light fuses or stops working. With respect to the current drawn by the lamp L, a voltage drop develops around resistance Rx.
This voltage drop should result in being around 400 mV, which can help determine the value of R.. For instance, if it is the tail lights, where a pair of lamps of 10 W 12 V may be parallel, Rx may be worked out as given below:
The current may be expressed as P/V = 20/12 = 1.7 amps
Then Rx can be calculated as V / I = 0.4 / 1.67 = 0.24 Ohms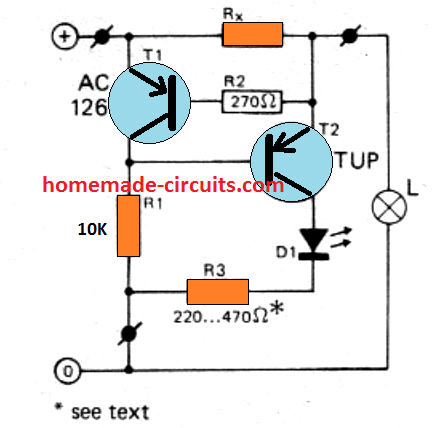 Due to the fact the 400 mV drop develops across RX, T1 is typically switched ON leading to T2 getting cut off. In case one of the tail lights blows out, the current by means of Rx is lowered by one half, which is 0.84 Amp. The voltage drop across Rx at this point results in being 0.84 x 0.24 = 0.2 V.
This voltage looks appreciably minimal to activate T1, which means this T2 now gets base current via R1, and the LED illuminates. To get a well-performing indication on lamps failure, it is suggested to make use of a single detector circuit for may be only a couple of lamps.
It is rather allowable, nonetheless, to use a single LED for a number of detectors: D1 and R3 work commonly to all sensors, and the collectors of all T2 transistors may be wired up with each other. R3 must be 470 Ohms for a 12 V circuitry and 220 Ohms for a 6 V procedure.
Simple Regulated Variable Power Supply
A very simple variable power supply with stabilized output can e built with just a couple of transistors as shown below: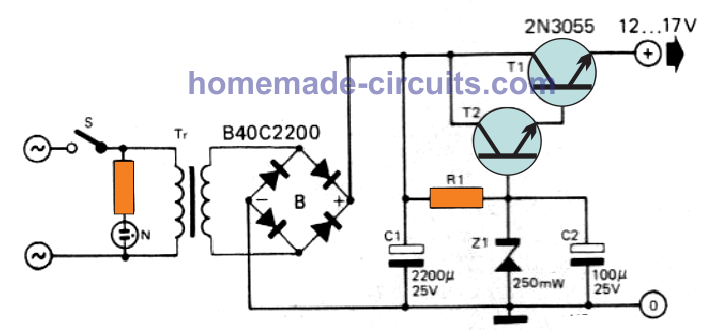 Transistors T1 and T2 form a high current gain Darlington pair for controlling the output voltage. Since the design is basically an emitter follower, the emitter output follows the base voltage, which means varying the base voltage proportionately varies the emitter output voltage.
R1, along with the zener diode determines the base voltage of the Darlington which in turn provides the equivalent emitter output voltage.
R1 and the zener can be fixed as desired, by selecting the values as per the following date:
PCB Design for the above transistorized stabilized power supply can be seen in the following figure.
Simple 30 Watt Power Amplifier Circuit
This simple 30 watt fully transistorized amplifier circuit can be used for powering small speaker systems from USB or from mobile, Ipod music sources. The unit will provide great sounding amplified music output sufficient for any small room.
The distortion level for this 30 watt transistor amplifier circuit is highly reduced and the stability is awesome.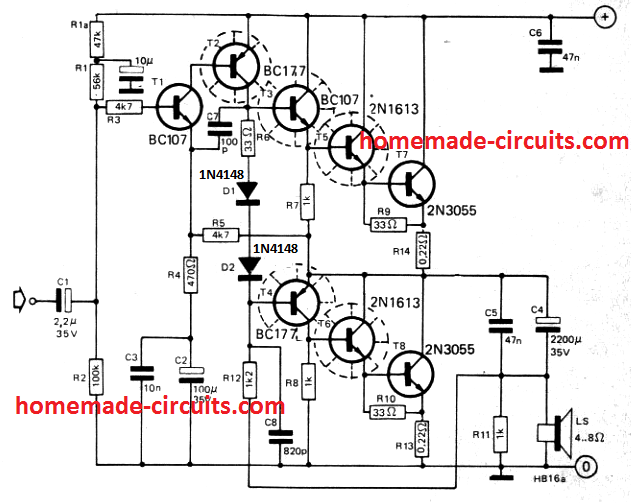 Capacitor C7 is positioned to make up for the phase shift from the output transistors. The value of R1 is decreased to 56 k, and supplemental decoupling, by means of a 47 k resistor and a I0 µF capacitor are placed in series with high potential side of R1 and power supply positive.
The output impedance is rather minimal, since T5/T7 and T6/T8 work like power darlingtons. The control amplifier stage is effectively competent at delivering the 1-V RMS input voltage.
Due to the reduced input sensitivity, the amplifier provides excellent stability and its level of sensitivity to hum is minimal. Significant negative feedback through R4 and R5 guarantees reduced distortion. Optimum allowable supply voltage is 42 V.
The power supply circuit must be designed as a stabilized power supply unit for the amplifier. Besides the heat sinks presented the 3nos 2N3055 transistors needs to be cooled down by clamping them on the metal cabinet using mica insulating washers. The power supply table is designed for stereo.
Electrical Specifications for the 30 watt amplifier circuit is given below:

Full parts list for the the above amplifier circuit