The circuit presented here monitors the level of the water rising inside a tank and automatically switches OFF the pump motor as soon as the water level reaches the brim of the tank.
The proposed tank water overflow controller circuit is a semi automatic device because it can only sense an overfill and switch OFF the motor but cannot initiate the motor when water supply is introduced.
The user has to switch ON the motor pump manually when water supply becomes available or during pumping out of water from other sources like a bore well or a river.
Water Level Control Using Transistors
The circuit uses only transistors, is very simple and may be understood with the following description:
The CIRCUIT DIAGRAM shows a design involving only transistors and a few other passive components.
Transistors T3 and T4 along with the  associated parts forms a simple latch circuit.
When the push button is pressed momentarily, T2 gets forward biased and provides the required biasing to T4 which also instantly conducts.
When T4 conducts, the relay activates and the motor pump is switched ON.
A feedback voltage from the collector of T4 reaching the base of T3 via R4 ensures that T3 remains latched and in a conducting mode even after the push button is released.
Once the water reaches the threshold level of the tank it comes in contact with a pair of terminals positioned at the desired height inside the tank.
The water connects the two terminals and a leakage voltage starts flowing through them which becomes enough for triggering the Darlington pair made up of T1 and T2.
T1/T2 conducts and immediately grounds the feedback signal at the base of T3.
T3 is inhibited from the biasing voltage and the latch breaks switching OFF the relay and the motor.
The circuit remains in this position until the water inside the tank goes below the sense terminals and the push button is initiated yet again.
PLEASE CHECK THIS CIRCUIT FIRST BY CONNECTING A LAMP IN PLACE OF THE MOTOR.
POWER THE CIRCUIT THROUGH A DC 12V SUPPLY.
START BY PRESSING THE SWITCH, THE LAMP SHOULD LIGHT UP.
NOW MANUALLY DIP THE TWO SENSING WIRE TIPS IN WATER, THIS SHOULD INSTANTLY SWITCH OFF THE LAMP AND BRING THE CIRCUIT INTO ITS PREVIOUS POSITION.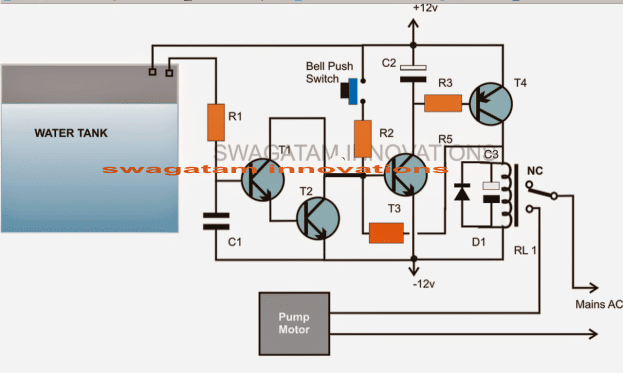 Parts List
R1 = 1K,
R2 = 470K,
R3 = 10K
R4 = 1M (it's situated just below T3)
T1, T2, T3 = BC547,
T4 = BC557
C1 = 0.22uF
C2 = 10uF/25V
C3 = 100uF/25V
D1 = 1N4148,
Relay = 12 volts/SPDT
Push Button = Bell push type
Get New Circuit Diagrams in your Email