In this article we are discussing a handful of mini audio amplifier circuit which can be built quickly for amplifying very tiny input signals into audible speaker outputs.
1) 1 Watt Amplifier Circuit
The first mini audio amplifier circuit works with a 'complementary' output stage, having a single NPN and a single PNP power transistor, that gets rid of an output transformer commonly observed in older amplifier models. Power output is around 1W, with fairly minimal distortion. The input signal is transferred via the volume control RV1 and next through C1 to the Q1 base.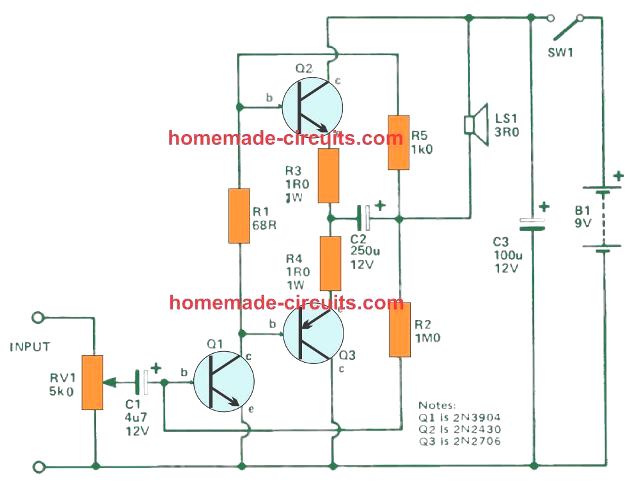 The collector load for Q1 consists of R1, R5 along with the loudspeaker. The collector voltage of Q1 is around 50 % of the supply voltage, i.e. 4V5. The Q2 and Q3 bases are likewise with the identical voltage (pretty much) as the Q1 collector due to the fact the R1 value is very small (68R).
Within the intersection of the Q2, Q3 emitters the voltage may also be almost 4V5, R3 and R4 and extremely small value resistors to control the current passing across Q2 and Q3. If the amplified input signal is no more than 4V5, Q2 is switched off (since the base will likely be at the reduced voltage compared to its emitter), nevertheless Q3 may continue to pass the signal.
As soon as Q1 amplifies the signal over 4V5 the situation gets reversed, Q2 switches ON and Q3 is switched off.
The signals are mixed at the the common emitter joint of Q2 and Q3, and transferred to the loudspeaker by means of the big electrolytic capacitor C2. Smaller value for C2 capacitor can cause a weak reduced frequency response.
Negative feedback is supplied by R5 and R2, which guarantee stability by minimizing the gain marginally. R1 is incorporated in order to get a tiny amount of base bias for Q2 and Q3; much more superior layouts make use of thermistors or diodes to protect against thermal runaway situations that could damage the pair of output transistor.
A negative aspect is the transistor's DC coupling, where if one particular transistor shifts its characteristics the effect could be devastating! Because of this, the output transistor pair must be a correctly 'matched pair'. Some other variants could be tested out given that they too are correctly matched with identical hFE.
2) Tiny Amplifier for Hearing Aid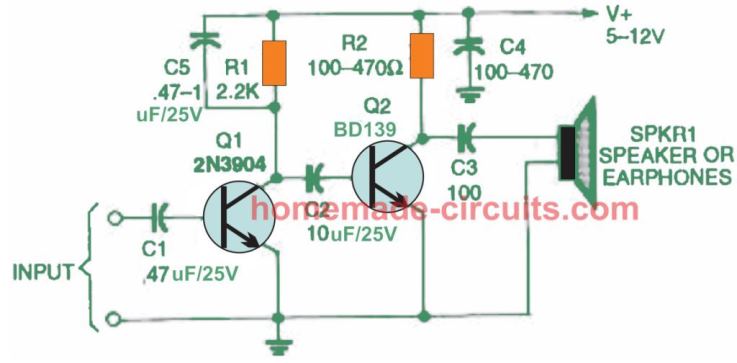 When a cheap and dirty audio mini amplifier circuit is what you are looking for, you can probably test out this little device. Among various other factors, it could be accustomed to increase the output of a headphone for the people with hearing loss. The circuit is a straightforward twin transistor, audio amplifier. The 1st transistor, Q1, works like a basic medium gain preamp which obtains its signal coming from C1, acting like a DC blocker.
Transistor Q1 amplifies the signal and directs it to C2. That transistor}, next, feeds the signal to Q2, which is configured like the power amplifier stage. This stage amplifies the signal even more, and C3 switches it towards the speaker.
You could possibly find a little bit of distortion, nevertheless this could be minimized through testing with different values of C5, maintaining it within the indicated range. In case this does not work properly, consider some other values. However thinking of how the gain of transistors can differ, it most likely will need quite a bit of experimenting to have all the things to function rightly.
3) Improved Miniature Hearing Aid Amplifier Circuit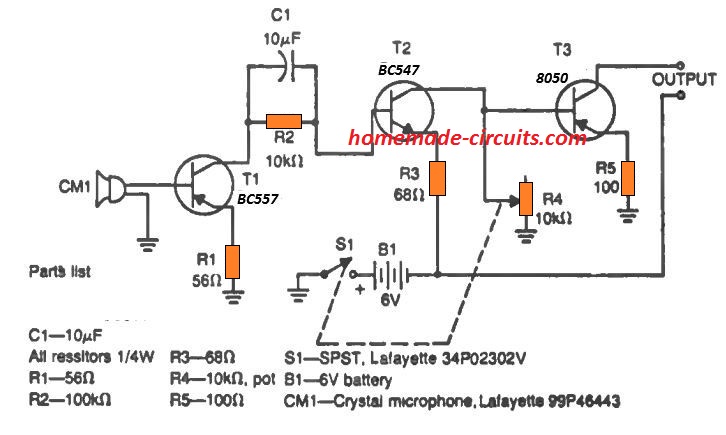 4) Half Watt Amplifier Circuit
The next miniature audio amplifier circuit presented here is quite easy. The output power is around 250 mW which usually is fairly enough for the majority of applications and it is as good as any typical transistor radio. The distortion amount is pretty high, at around 5%.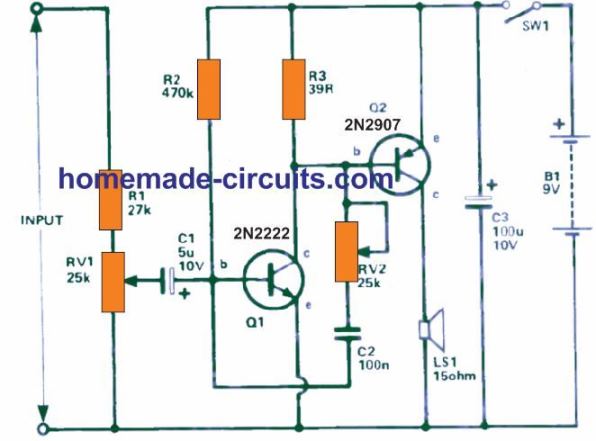 This small amplifier is moderately sensitive and can provide 100 % output having an input of approximately 50 mV. Input impedance is approximately 50k. A basic tone control is integrated. Although this is not actually an active tone control, rather than a passive one, the effect is fairly adequate. The volume control center arm is attached to the Q1 base through a DC blocking capacitor.
Circuit Working
Q1 is hooked up like a very traditional common emitter amplifier along with R2 supplying the base bias and R3 behaving like a collector load. This stage is directly coupled to the second transistor which is a PNP type. By doing this the current getting through Q1 supplies the bias for the 2nd transistor. With the values employed, the output of the second transistor is coupled straight to the coil of the loudspeaker.
This may not appear to be a wise idea because the standby current in the output transistor constantly biases the coil sometimes a bit in or out from its typical operating level. Nevertheless if a big speaker is utilized, as it should be, this features hardly any impact and because we are not expecting a great Hi-Fi output, it does not make a difference.
Tone Control
The tone control includes C2 and RV2 that happen to be joined across the collector/base of Q1. When RV2 is set at a high resistance value, this has hardly any impact but when set at minimum level the 100nF causes a feedback of the high frequencies that tend to be out of phase, resulting in their total cancellation. In order to to enable the circuit to work correctly R3 should be determined meticulously.
The value indicated in this article is 39 ohms which is just an average range and even though it might work well for preliminary setting up to guarantee the circuit is functioning, the value needs to be determined by experimentation. In case it is very small you will see extreme distortion on the larger volume configurations.
When it is excessively high the current drain will probably be too much although the quality of the sound output will be very good. One can find a couple of methods for picking out the value. With no multimeter the value must be determined as being the smallest that is appropriate for decent quality.
In case a multimeter is accessible this should be connected in series with the supply voltage and R3 has to be chosen to ensure that amplifier quiescent current, which happens to be the current operating in the absence of an input signal, is around 20 mA.
It is crucial that Q2 is installed over a heatsink since it can get incredibly hot and can enter into thermal runaway if no heatsink is employed. The speaker impedance is not really important and in the prototype speakers as low as 8 ohms and as large as 80 ohms almost all performed well. However, altering the speaker impedance might also require a change in the value of R3.
5) Basic 3 V Mini Amplifier Circuit
To decrease the amount of parts, direct coupling is employed in between Tr1 and Tr2 and between Tr2 and the loudspeaker. Tr1 works like a common collector amplifier loading through a common emitter amplifier Tr2. The Tr1 base bias is extracted from the collector of Tr2. Since this is out of phase with Tr1's base an excessive amount of stabilization is accomplished.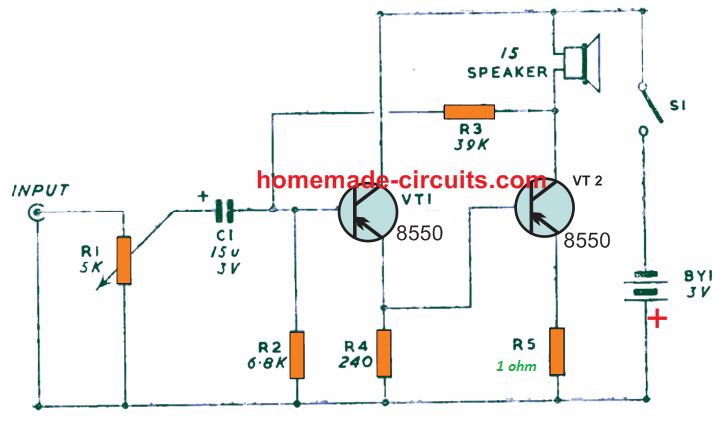 Portion of the standing collector current of Tr1 likewise runs via Tr2 through base to emitter thus delivering the essential bias. Negative feedback is supplied by R5 and R3. R3 delivers feedback through the two stages and R5 implements feedback through the output to the input of Tr2.
The effect of this feedback results in an incredibly flat response curve down to surprisingly low frequencies. The high frequency response could be substantially enhanced by changing the transistors with 2N2907. Applying this device may also bring about an boost in gain.
The sub-miniature amplifier circuit may be fantastic for boosting the output from your FM or AM tuner. In case you have a compact radio, that works only with an earpiece output, it could be accustomed to raise the volume approximately to loudspeaker level. To get this done just hook up the output from your radio on the input of the amplifier.
The loudspeaker, utilized on this amplifier, must be as big as it can be, if at all possible a 12 inch type inside an housing. Implementing an extremely small speaker can lead to a bit of inefficiency due to the fact that there could be ample current moving over the winding even while the input signal is not available.
The current utilized through the battery is going to be relatively high, approximately 150 ma. which means this must be as large as may be possible.
6) Another Mini Amplifier Circuit, Working with 3 V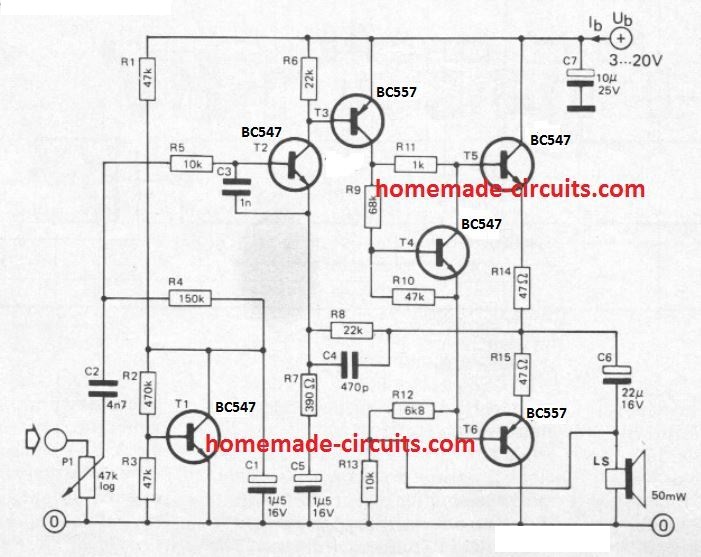 This mini amplifier can work without any issues or errors through supply voltages between 3 V and 20 V using source resistances as:
Supply voltage / 2 mA (k ohms)
The power output that the amplifier could deliver is, naturally, determined by the supply voltage and its loudspeaker resistance, as is visible through the enclosed table.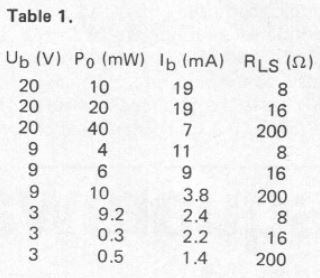 The quiescent current usage of the amplifier is in between 1 mA and 1.5 mA, the precise magnitude dependent on the variety of transistors employed.
If the quiescent current drops beyond this particular limit it will likely be essential to tweak the value of R9. As is evident in the table, the amplifier functions efficiently with high impedance loudspeakers.
Since speakers with impedances as large as 200 ohms cannot be easily available, the choice is to try using a lesser impedance speaker having a complementing transformer.
For instance an 8 ohm speaker may be employed with a transformer using a ratio of around 5:1.
Although the amplifier output power is not very high, it is however adequate enough when combined with a moderately efficient loudspeaker inside a silent area. The amplifier's voltage gain is around 50 and the 3 dB bandwidth is around 300 Hz to 6 kHz.
PCB Designs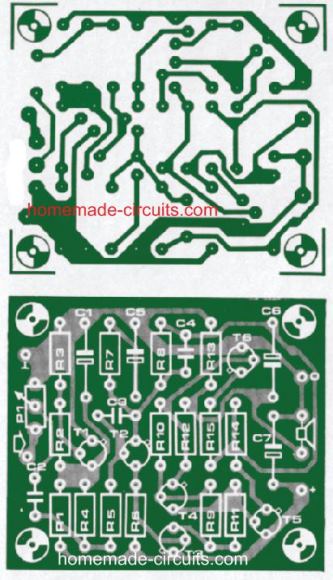 1.5 Watt Discrete Amplifier
This little amplifier circuit can be an handy support to the any audio experimenter.
It could be accustomed to amplify, and produce audible, impulses via oscillators functioning within the acoustic range, to track signals via a different audio amplifier that may be defective, to amplify some other signal to a acceptable power level for measuring or relay operation etc. etc.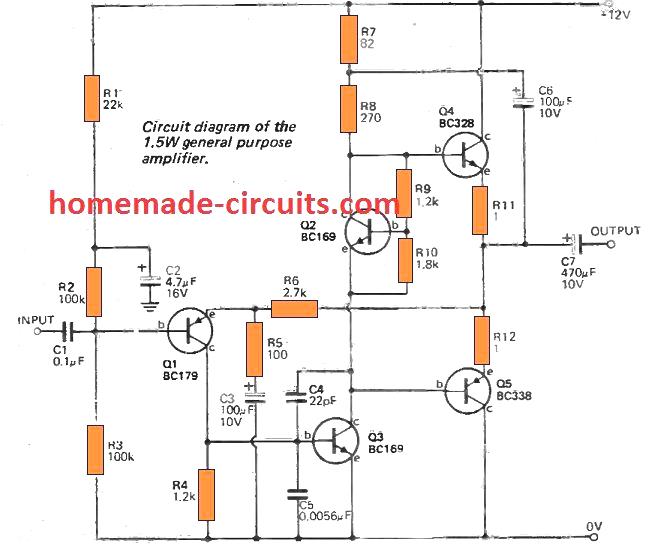 In the modern times, one can find a lot of integrated circuit power amplifiers supplying outputs of 1 to 3 watts although the majority of them demand cautious layout of the circuit so that you can avoid instability (an unstable amplifier might vibrate and become destroyed consequently).
Furthermore, a discrete transistor amplifier is much more informative because voltages could be assessed to get a greater perception of its working.
Hence the present small amplifier is developed applying discrete transistors that apart from being far more steady than IC based designs, is perfectly suited to the requirements of the user.
Transistors Q2, Q4 and Q5 are cemented into a small aluminium that works as a heatsink.
How the Circuit Works
This circuit is pretty typical of a great number of audio amplifiers. The primary voltage amplifier transistor Q3 runs the secondary match (NPN plus PNP) Q4 and Q5 that are buffers delivering large current gain yet lower than unity voltage gain.
For the reason that bases of Q4 and Q5 tend to be appropriately two base emitter junctions aside, Q3 is employed to set the bias voltages for these BJTs.
Transistor Q1 works like an error amplifier that analyzes the input voltage and a divided down variation of the output voltage.
When there is virtually any variation it supplies a control voltage to Q3 so that the error is fixed.
The output voltage is split down through the ratio of (R6 + R5)/R5 and therefore the worked out gain is going to be 28 even though proper gain will likely be somewhat less.
The dc bias point of the amplifier is additionally established by Q2 which is unaltered by R5 and this is separated through C3.
To keep up a roughly constant current in Q3, capacitor C6 is positioned to ensure the voltage across R8 (thus the current through it) constant. Capacitors C4 and C5 are accustomed to offer frequency compensation