The post explains how an ordinary IC 555 astable multivibrator could be used to make an inverter without involving complex stages.
The idea was requested by Mr. ningrat_edan.
The Circuit Design
Referring to the shown diagram, a single IC 555 can be seen configured in its standard astable mode, wherein its pin#3 is used as the oscillator source for implementing the inverter function.
Using IC 555 as the Astable Oscillator
In an astable mode the pin#3 of IC 555 generates an alternating high/low pulses at a particular frequency rate depending on the values of the resistors and capacitor across its pin#7, Pin#6, 2 etc.
As per the diagram this pin#3 oscillating is fed to a couple of BC547/BC557 buffer driver stages, where one of the stages receives an oppositely oscillating frequency due to the inclusion of an extra BC547 inverter stage.
This ensures that when the left side BC547/BC557 responds to a positive pulse from pin#3 of the IC, the other BC547/BC557 stage is inhibited from the pulse, and their bases are grounded with the aid of the intermediate BC547 conduction.
The above flip-flop functioning of the two BJT stages in turn allow the attached power mosfets to conduct alternately and activate the associated transformer winding with a push-pull current from the battery.
The response allows the transformer to generate the required AC across its secondary winding and implement the intended IC 555 inverter circuit functioning.
The zener diodes at the gates of the mosfets introduce a slight delay time or dead time between the mosfet conduction and inhibits any possibility of both mosfets getting engaged together even for a fraction of a second.
Designing a Compact Ferrite Core IC 555 Inverter
The above concept is based on an iron core transformer, in order to convert it into a compact ferrite cored IC 555 inverter circuit, the iron transformer could be replaced with a ferrite EE core transformer consisting of 9 + 9 turns for the primary, and 300 turns for the secondary, using 0.8mm wire for the primary and 0.3 mm wire for the secondary.
This will also need the 555 frequency to be increased to around 50kHz, instead of the 50Hz assigned for the orin core transformer.
IC 555 Pinout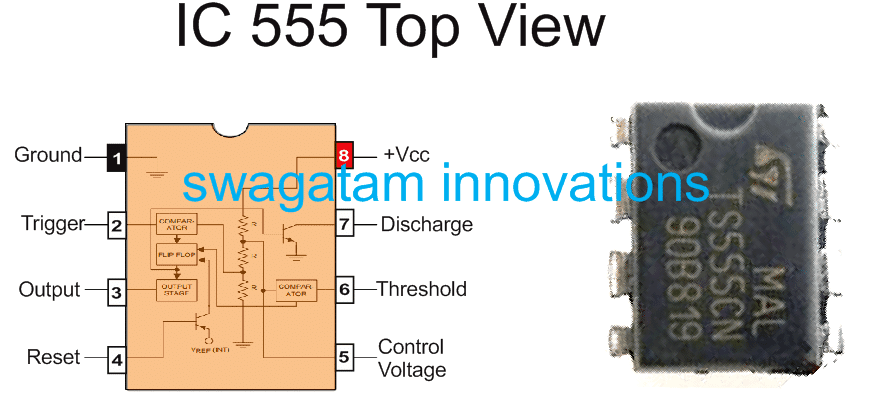 IC IRS2453 Pinouts
For a Ferrite Core Compact Version
Also, for implementing a ferrite core inverter, the output from the transformer will need to be rectified using a bridge rectifier and the resulting DC fed to a 50Hz full bridge or H-bridge processor, as shown below:
In this processor circuit the IC 555 functions as an adjustable PWM generator while IRS2453 constitutes the full bridge driver circuit, together the stages execute a pure sine sine wave waveform for the proposed IC 555 inverter circuit.
For more info you may feel free to express your queries through comments.