In this post we discuss how to build a simple UPS circuit for backing up computers or PCs during sudden power failures or brownouts.
Introduction
Normally when we talk about uninterruptible power supplies (UPS) we imagine large inverter units with complex features, where it imperatively needs to be a pure sine wave type. Such inverters occupy enormous spaces, require bigger batteries and are immensely expensive.
A little innovative thinking shows that the above cumbersome design can be replaced by just batteries and a small circuit for implementing all the necessary actions of an efficient compact transformerless UPS circuit.
However the design also a few downsides. It is specifically intended for CPU type computers only and cannot be used for other applications.
The installations procedures are complicated and time consuming and requires expertise in the field of electronics as well as computers.
Having said these, once installed the unit will provide some very useful services for a very long perid of time. Moreover the efficiency of the system will be far better than the conventional UPS systems.
Looking at the circuit we see that its all about switching the motherboard of the CPU with a set of matched outputs from a battery source which exactly corresponds to the voltages that's obtained from the power supply of the CPU.
Using the Versatile LM338 ICs
The circuit is made up of two ICs LM338, which are set for producing exact 3.3V and 5V outputs which are appropriately bifurcated into many outputs via diodes.
The 12V outputs are taken directly from the battery, while a minus 12V output is derived by employing an extra battery.
One battery feds the LM338 circuit while the other battery generates the required -12V output for the CPU.
The switching action is implemented by a relay when power fails.
The relay simply selects the appropriate grounds while doing the reverting actions.
As long as power is available from the mains, the relay keeps the backup ground disconnected from the CPU ground, and keeps the power supply ground connected to the CPU ground via  the N/C contacts.
The relay is powered by an external AC mains power supply source, which is also used for charging the batteries. Actually it can be an automatic battery charger unit, attached to the system for the required actions.
The moment AC fails, the relay disconnects the power supply ground from the CPU and connects the back up circuit ground with the CPU ground, so that the CPU now gets the required back up from the relevant outputs of the transformerless inverter circuit.
The reverting actions is done within a few ms, providing an interruptible power during power failures or brownouts.
All the outputs shown in the circuit should be carefully soldered to the relevant wires of the power supply by slightly stripping the wire insulation and then taping them. The voltages must be thoroughly confirmed before integrating the two systems together.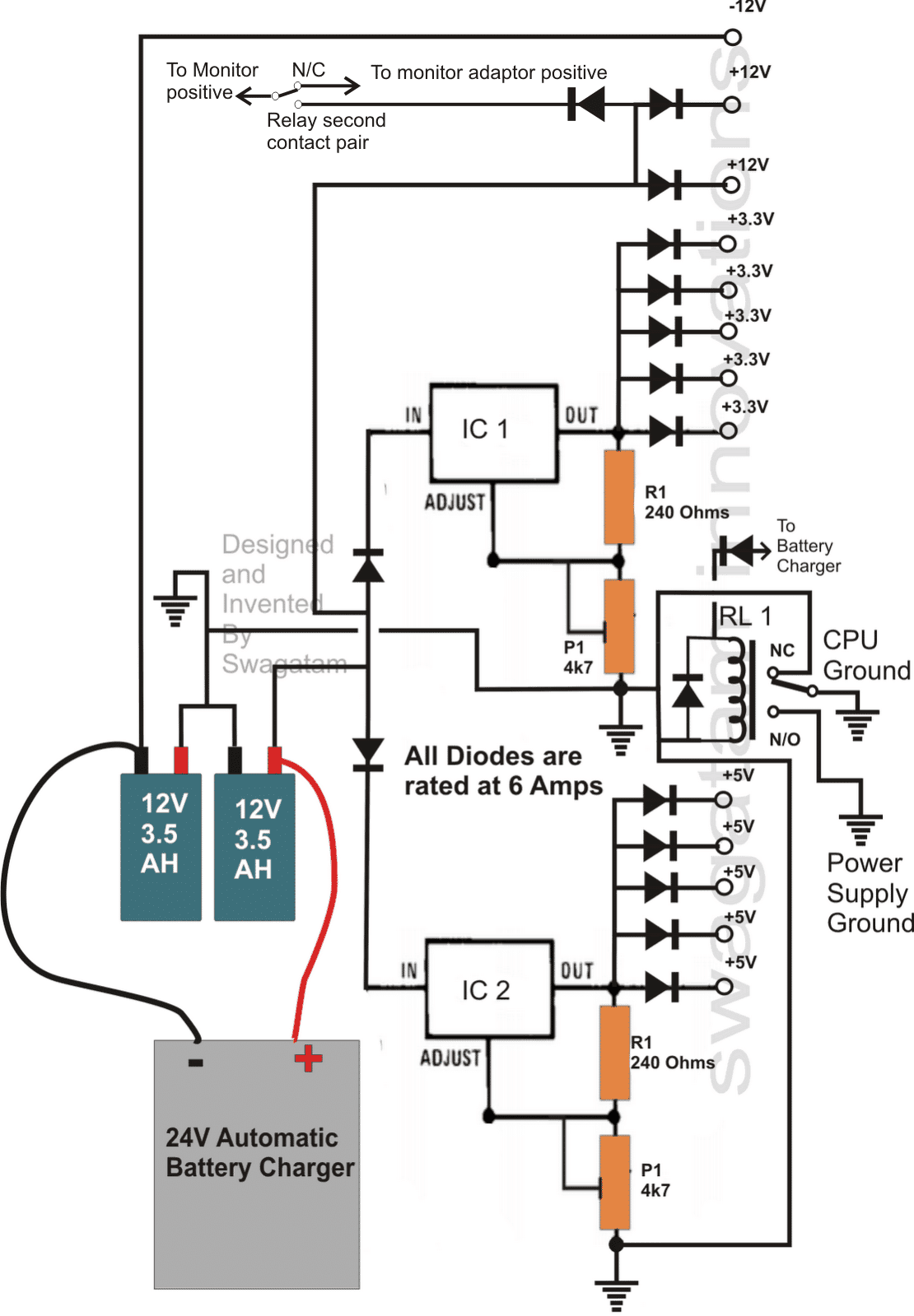 Part List
IC1, IC2 = LM338
R1, R2 = 240 Ohms,
P1, P2 = 4K7 presets
All diodes are 6 amp rated
Relay = 24V, SPDT
Battery as shown
Get New Circuit Diagrams in your Email