In this post we learn to make 3.3V, 5V voltage regulator circuits from higher voltage sources, such as 12V or a 24V source without ICs.
Linear ICs
Normally a step down voltage from a higher voltage source is obtained by using a linear IC such as a 78XX series voltage regulator IC or a buck converter.
Both the above options can be costly and/or complex options for getting a particular desired voltage quickly for a particular application.
Zener Diodes
Zener diodes also become useful when it comes to achieving a lower voltage from a higher source, however you cannot get sufficient current from a zener diode voltage clamp. This happens because zener diodes normally involve a high value resistor for protecting itself from high currents, which restricts the passage of higher current to the output to just milliamps, which mostly becomes insufficient for an associated load.
A quick and a clean way to derive a 3.3V or 5V regulation or any other desired value from a given higher voltage source is to use series diodes as shown in the following diagram.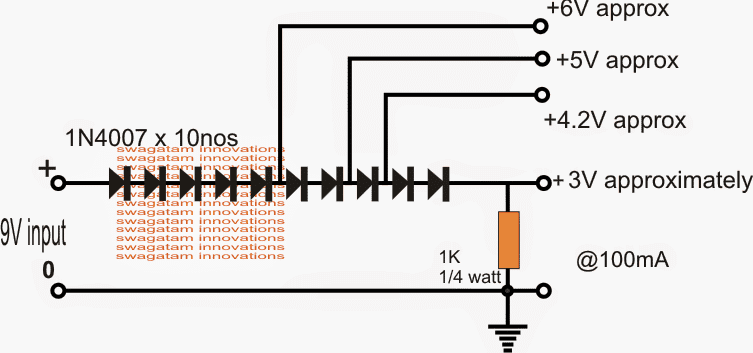 Using Rectifier Diodes for Dropping Voltage
In the above diagram we can see about 10 diodes being used for acquiring a 3V output at the extreme end, while other corresponding values can also be seen in the form of 4.2v, 5v and 6V levels across the relevant dropping diodes.
We know that typically a rectifier diode is characterized to drop around 0.6V across itself, meaning any potential fed at a diode's anode will generate an output at its cathode which would be normally approximately 0.6V less than the input at its anode.
We take the advantage of the above feature in order to achieve the indicated lower voltage potentials from a given higher supply.
Using 1N4007 Diode for 1 Amp Current
In the diagram 1N4007 diodes are shown which might yield not more than 100mA, although 1N4007 diodes are rated to handle upto 1amp, it needs to be ensured that the diodes do not begin warming up, otherwise that would result in higher voltages being allowed to pass.
Because as the diode heats up the rated drop across it begins receding towards zero, that's why not more than a 100mA max should be expected from the above design for preventing over heating and enabling an optimal response from the design.
For higher currents one may opt for higher rated diodes such as 1N5408 (0.5amp max) or 6A4(2amp max) etc.
The drawback of the above design is that it does not produce accurate potential values at the output and therefore might not be suitable for applications where customized voltage references may be needed or for applications where the load parameter could be crucial in terms of its voltage specs.
For such applications the following configuration could become very desirable and useful: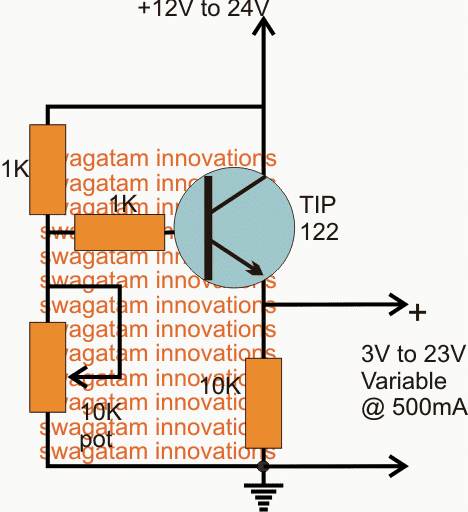 Using an Emitter Follower BJT
The diagram above shows a simple emitter follower configuration using a BJT and a few resistors.
The idea is self explanatory, here the pot is used for adjusting the output to any desired level right from 3V or lower to the maximum fed input level, although the maximum available output would be always less than 0.6V than the applied input voltage.
The advantage of incorporating a BJT for making 3.3V or 5V regulator circuit is that it enables you to achieve any desired voltage using minimum number of components.
It also allows higher current loads to be used at the outputs, moreover the input voltage has no restrictions and may be increased as per the BJT's handling capacity and by some minor tweaks in the resistor values.
In the given example, an input of 12V to 24V can be seen, which can be tailored to any desired level such as to 3.3V, 6V, 9V, 12V, 15V, 18V, 20V or to any other intermediate value simply by flicking the knob of the included potentiometer.
5V Stabilized Regulator
The working of the 5V transistor regulator circuit is as follows.
The 1k resistor attached between the collector/base of transistor BD131 typically means that the BD131 always stays in the conducting mode.
However the 4.3 V zener diode ZD1 clamps the base voltage of the transistor 2N697 to approximately 4.3 volts lower than the emitter voltage of the BJT BD131. The 2N697 begins turning ON as soon as its base voltage reaches around 0.6 V positive with respect to its emitter voltage, and at this point the BD131 emitter reaches a potential of around 4.9 V positive.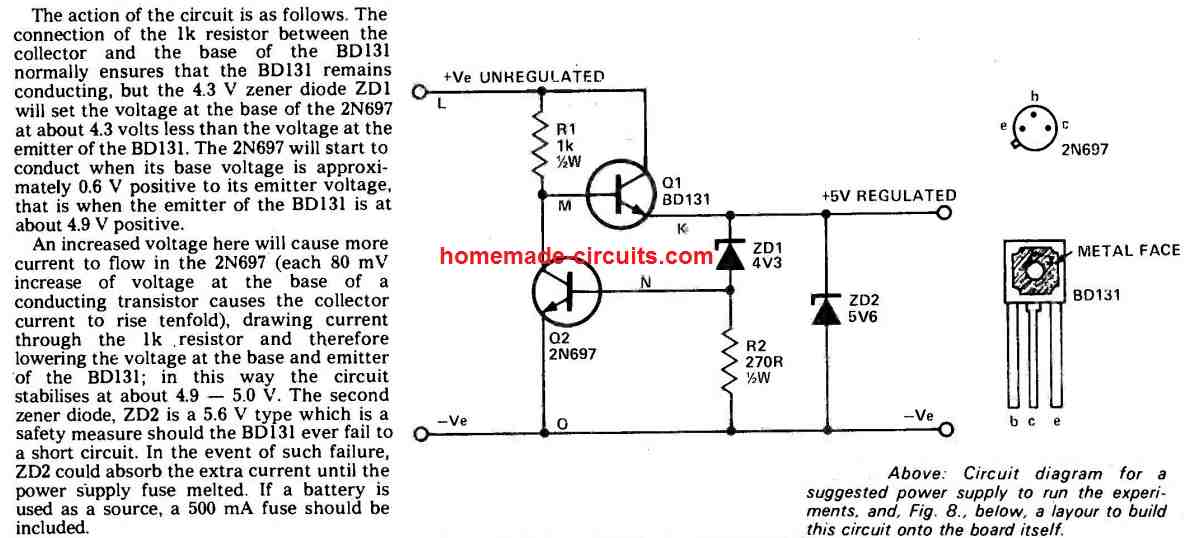 An elevated voltage at this point allows higher amount of current to flow through the 2N697 (every 80 mV rise at the base of a conducting transistor enables the collector current to increase by 10 times value), causing the transistor to pull more current by means of the lk resistor which consequently decreases the base/emitter voltage of the BD131.
By doing this the circuit ensures proper stabilization at approximately 4.9 V - 5.0 V. Another zener diode, ZD2 has a value of 5.6 V positioned for the safety in case the BD131 malfunctions causing a short circuit. In that situation, ZD2 may possibly absorb the excess current until the attched fuse blows. If the circuit is operated with a battery, a 500 mA fuse should be just fine.