This circuit can be used like a tree ornament, however the LED star circuit explained here has a variation; it's completely electronic and it provides the impression of an exploding and imploding 6 arm star.
A block diagram of the circuit can be seen in the Fig. 1 below, configured using 3 components: oscillator, counter, and display. The oscillator stage is built around a LM 555 integrated circuit setup like a multivibrator.

The pulses generated by this oscillator are delivered to a decade up-counter chip using the IC 4017, which has its ten output lines turning high sequentially.
These output channels are sent across four encoding and driving transistors which light up the connected LEDs in the specified pattern. In this LED star circuit, the values of resistors R1, R2, along with C1 could be modified in case you want the Star to light up at some other rate.
Transistors Q1 -Q4 could be any general purpose NPN BJT rated at a 50mA collector capacity. The complete assembly should not take over two hours. Overall expense of the design should cost less than $5 and could be possibly reduced for those who have a couple of components from their electronic junk box.
Design of the LED star is not really crucial apart from the placements of the LEDs. Different modifications from the proposed design might or might not be aesthetically attractive.
If the LED positioning is not done correctly might stop some of the LEDs to light up. The power supply for the simple LED star circuit can vary from 5 -12 VDC with 6 to 9 V being the most suitable.
A 9 V PP3 cell will allow the circuit to operate for approximately five to six hours, however bigger lead acid batteries should emable the circuit to function for a considerably longer time period, due to the fact that the current consumption of the project is 40 mA at 6 volts.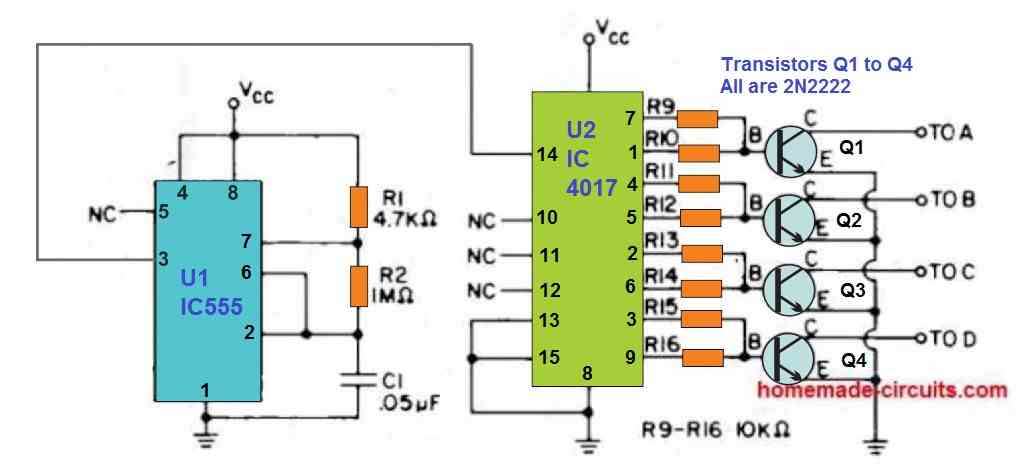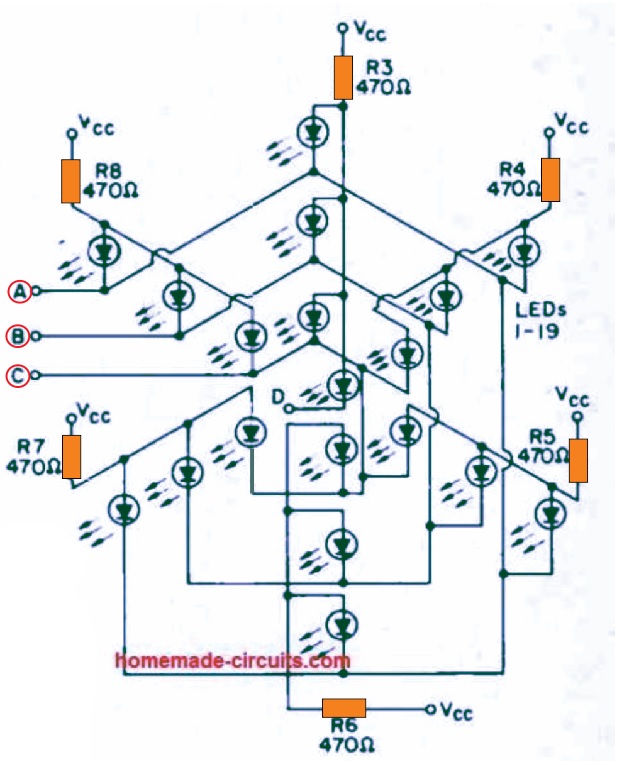 Parts List