The IC 4017 is a versatile counter divider IC which can be applied for making many different interesting electronic circuits. In this post we will learn about a few useful yet simple 4017 IC circuits and projects, assorted and compiled from this blog.


Before we delve into the many circuits built using the IC 4017, it would be very important to first learn how the various pinouts of the IC are designed to work. This chapter explains in details regarding how to configure the pinouts of the IC 4017.
Are you interested to build a sequential mains controlled running lamp circuit? For users who want to build a device which will allow 10 mains AC operated lamps to light in a sequential manner, creating running lamp effect, this simple 4017 project can be the one you are looking for.
We all have played some or the other way, with this thing called the dice, which has a cube like structure with 1 to 6 dots printed on each of its 6 surfaces. In this specific article we learn how to build the electronic version of the dice, which would produce the same results as our old manual dice, but in the digital format.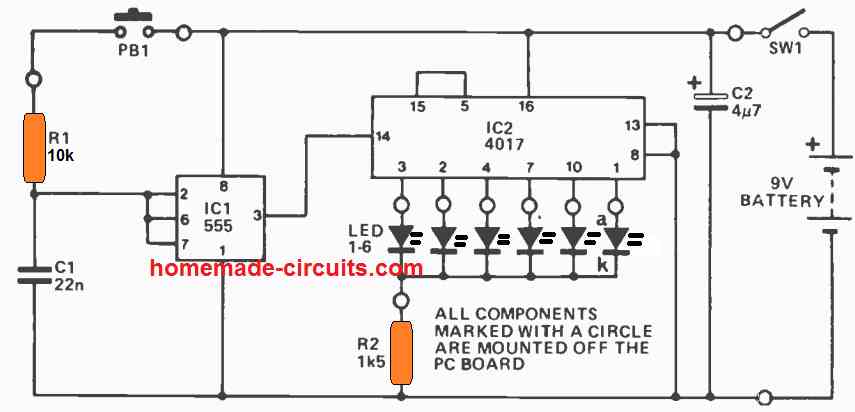 Capacitance meter is a very useful device which can be used for measuring the values of unknown capacitors. This feature is mostly not available in regular digital multimeters. But this can be easily built using the IC 4017 through a simple circuit as discussed in the following article.
As the name suggests this 4017 based circuit has something to do with the saving fuel in vehicles. That's right, the above customized simple 4017 circuit is configured in such a way that its sequential output can be used for converting the unused sparks in a car engine into useful combustion, thereby improving the fuel consumption of the vehicle and the overall efficiency of the vehicle. More can be read in this article.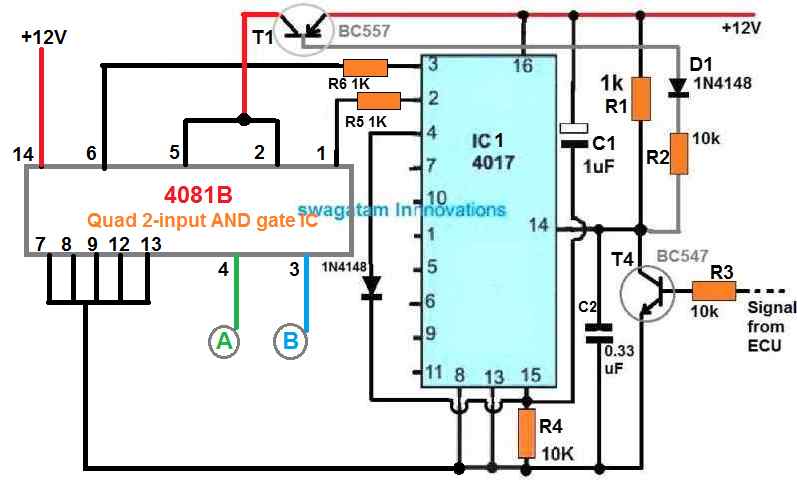 The IC 4017 can be also used for making a touch operated LED lamp, which will simply respond to your fingers for switching ON and Off. You can learn more about this simple IC 4017 based touch activated LED lamp project in the following post.
A rotating LED lamp can be a great way of decorating any specific item, mostly the ones that are related to gods, such as a god idol. Just imagine, some bright colorful LEDs moving in circles at the back of the head of a God idol, this can create an awesome looking decoration item, and can be a great piece of attraction at home. The following article explains how to build one such simple 4017 circuit projects.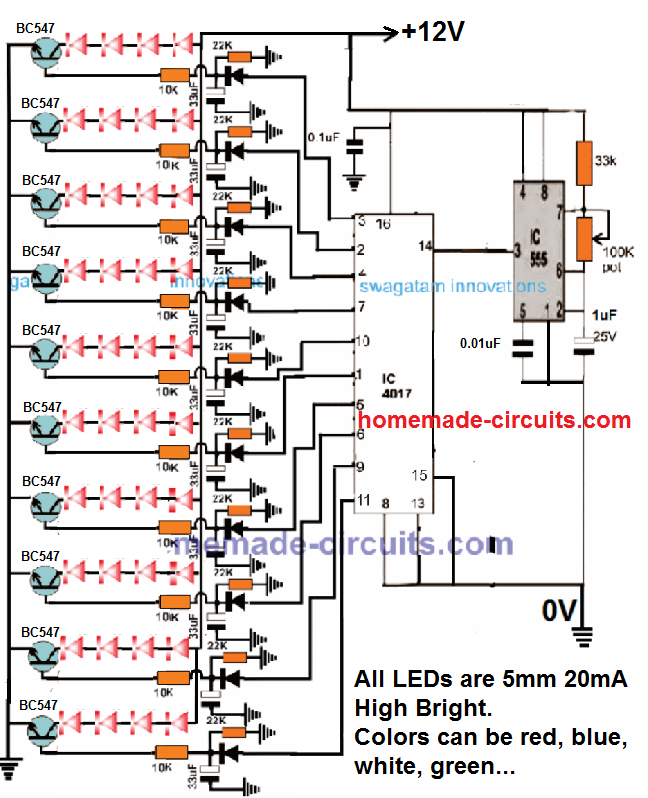 A clap switch is a device that operates a load ON/OFF in response to clap sounds. An ordinary IC 4017 circuit is quite sufficient for configuring a great sound operated relay switch which will switch ON and switch OFF any load connected to the output relay. One such project is explained in the following article: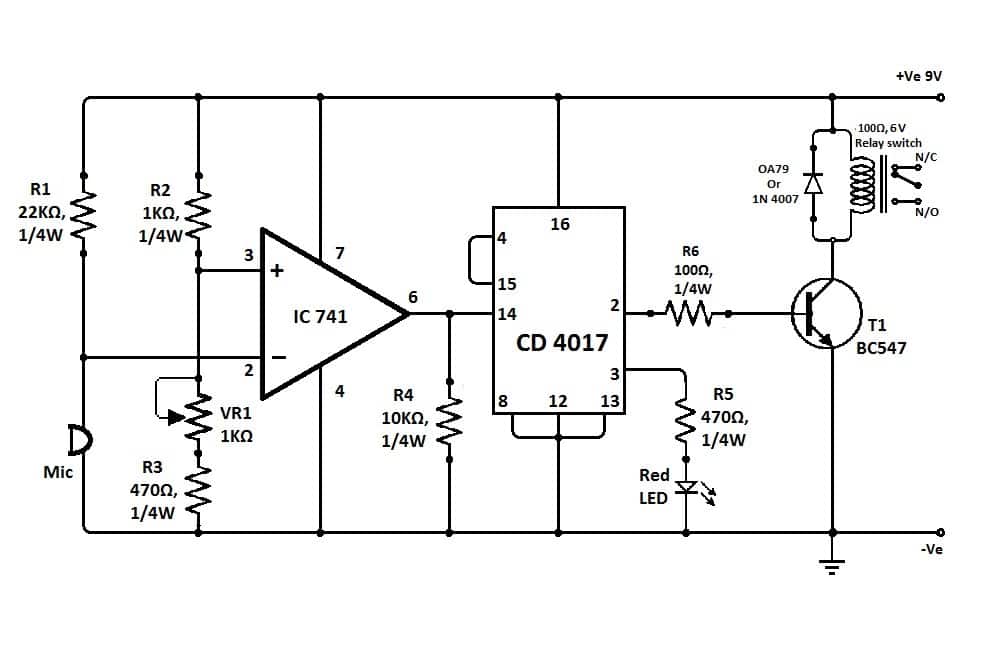 A sine wave inverter is always considered to be a complex project since it allows the generation of the output AC with a pure sine waveform. However, you can easily construct a an almost pure sine wave like 220V inverter using a single IC 4017 and a few other components, as explained in the following article: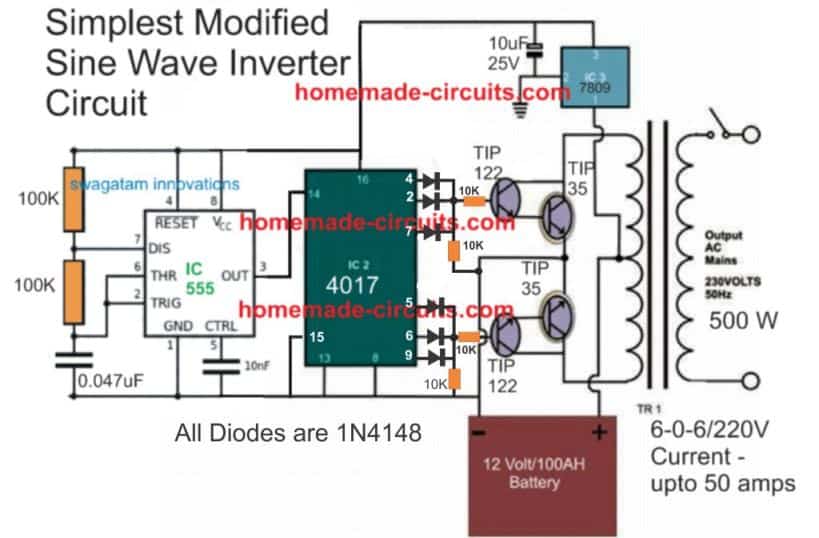 It seems we missed this one of the most popular applications of the IC 4017. The application is about LED chaser circuit which works specifically by suing this Johnson's counter divide by 10 IC 4017. A number of different chser circuit are covered under this post, which includes, the famous knight rider chaser, LED scanner circuit, 16 LED cascaded chaser and many more.

There are plenty of more simple 4017 IC circuit projects that you can build, and exploit the huge application range of this extremely useful IC.
Miscellaneous 4017 Circuit
This is a circuit for a 10-stage sequential LED flasher or chaser, in which a single LED is switched on at any one instant and the other nine are off, with the on LED advancing one step up in response to each input clock pulse.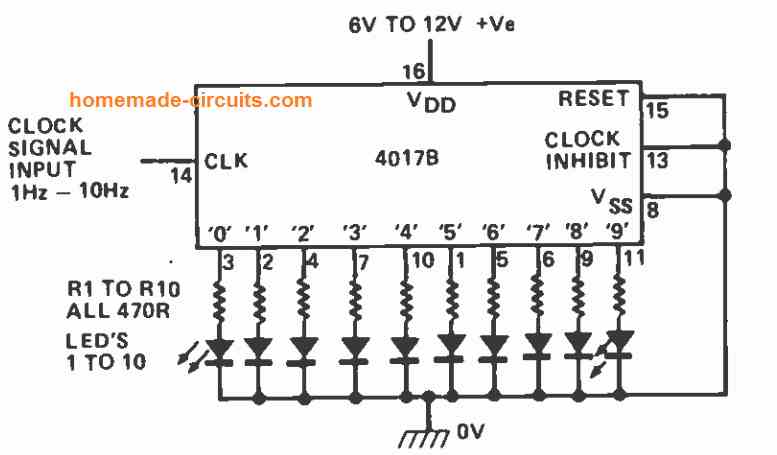 Reversing the polarity of all LEDs and connecting their common point to the positive supply line produces an alternate action in which nine LEDs are on and one is off at any one instant, and advances in response to the clock pulses at pin#14.
Musical Tone Generator


A desired musical tune or melody may be generated with this circuit of a 10-stage 4-note musical sequencer. Several more resistors can be added to the R1-R4 network chain to maximize the number of accessible notes.
How to Create a Single Output Sequence and then Stop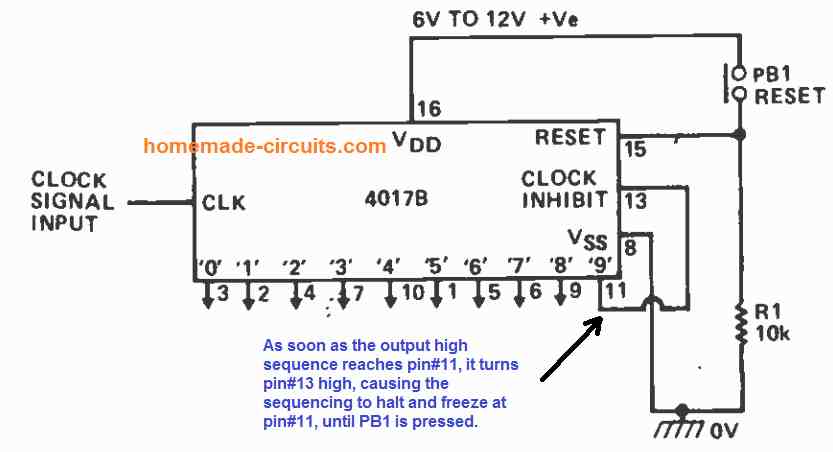 The above 4017 circuit demonstrates a simple way to wire the 4017 such the counting freezes after a preset counting sequence. The counter is configured to halt as soon as the "9" output drives the clock inhibit pin#13 high. By pushing the reset switch PB1, the counting sequence could be reinitialized. This also means that, by connecting any other desired output pin with pin#13., the sequencing could be made to halt on that specific output pin.
More of these projects can be found under the following Link: