LED Chakra is an ornamental lighting system which depicts or imitates a rotating wheel like appearance, by means of sequentially shifting Illuminated LED arrays.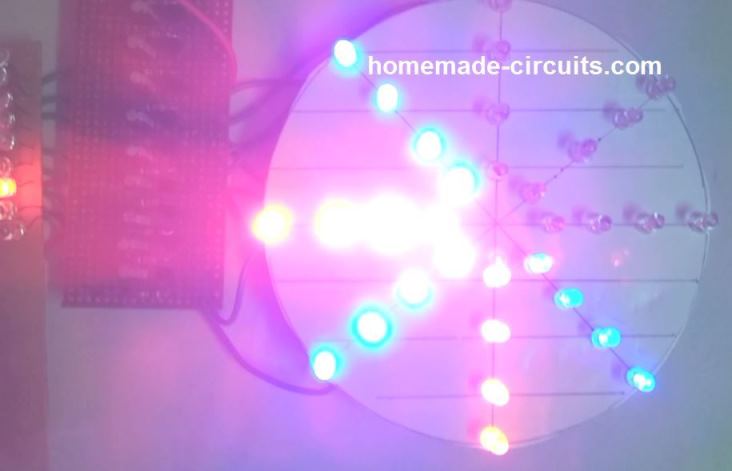 Indian subcontinent is a land of festivals and celebrations which mostly start from the month of August and continues until the New Year. All these festivals have one fundamental thing in common, and that is dazzling colorful lights, flashing and running with all sorts of patterns and sequences. Most of these lights are in the form of LED lights since LEDs are the most efficient in terms of brightness and cost.
In this article we will discuss one such interesting LED ornamental project, which will imitate a rotating illuminated chakra light. These can be commonly seen behind the crown of popular God idols like lord Ganesha, Sai baba, and around the finger of Lord Vishnu.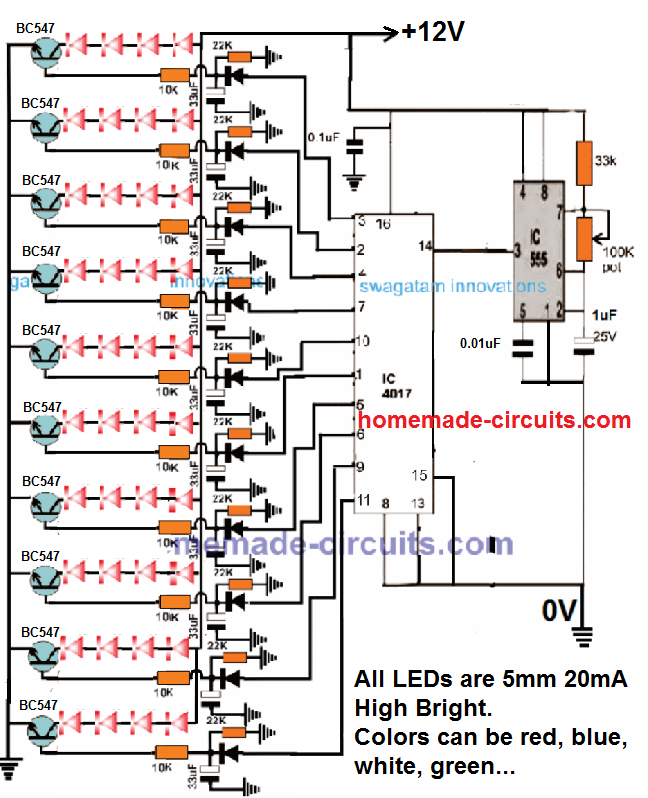 Video Demo
Working Theory
The working principle of this LED chakra circuit is based on the popular IC 4017 and IC 555 chaser circuit. The only difference being in the output driver stages, which has been upgraded with a delay OFF timer stage for introducing an eye catching slow fade effect.
The slow fade effect induces the required persistence of vision effect which we normally experience in real life rotating equipment such as fans, motor, vehicle wheels etc.
This allows the LED chakra to acquire a real shiny rotating metal kind of effect when it's placed behind the crwon of God idols.
Circuit Description
As mentioned above the design works with the IC 4017 which is Johnson's 10 stage decade counter divider IC, and a basic astable multivibrator IC 555.
The IC 555 oscillates at around 50 to 100 Hz rate (adjustable) and supplies the required clock pulses to the pin#14 of the IC 4017.
The IC 4017 converts the clocks into a momentarily ON shifting high logics across its output pins.
These moving logic levels are fed to the array delay OFF transistor stages which hold the sequential triggers for some moment instead of switching off immediately.
This enable the respective transistor stages to keep the LEDs ON for some time and provide the required rotational chakra like effect with a time lag.
Parts List
All resistors are 1/4 watt 5%
10K - 10
22K - 10
33K - 1
100K or 330k pot - 1
Capacitor
0.01uF - 1
0.1uF - 1
1uF/25V - 1
33uF/25V - 10
Semiconductors
1N4148 - 10
BC547 - 10
LEDs - 40
IC 4017 - 1
IC 555 - 1
If you have questions regarding the construction of this LED wheel chakra project, you may feel free to ask through the comments below.