The explained Ultrasonic Pest repeller is a device that generates ultrasound or a very high frequency noise in the range of over 20 kHz which becomes useful for repelling or scaring away animals like stray dogs, cats, mice bats, etc. This becomes possible since these animals are able to easily detect the frequencies at this range and find it disturbing in their ears, while humans remain unaffected due to lower hearing range.
What is Ultrasound or Ultrasonic Frequency
Animals like dogs, mice, bats have the ability to pick up sound frequencies up to 40 kHz. There are various types of bugs and pests which are also able to hear or respond o sound frequencies at this level.
Sound frequency at this level are classified as ultrasounds and could be used in a number of trial and error and functional applications. The unit explained here can be best applied to discourage stray dogs and other undesired animals, in scientific studies, and several other intriguing purposes.
The proposed circuit here generates a non stop sound frequency which may be quite above the capacity of human ear to perceive, that is over a range between 18,000 and 40 kHz.
How the Circuit Works
A single IC 4093 which has quad Schmidt NAND gates is used here for the generation of the required frequency.
Only one gate out of the 4 is used as an oscillator via the RC network, P1, R1 and C1. All these 3 components determine the frequency of the output and can be adjusted for optimizing the output response. The remaining 3 gates are rigged as buffers for providing sufficient driving current for the transistor.
The indicated piezoelectric transducer includes its optimum output power between 700 and 3,000 Hz, although it may also work at greater frequencies but generating a lesser amount of power. The recommended power supply is a 9-volt battery.
This project generates ultrasonic frequencies approximately between 18,000 and 40,000 Hz, although it is possible to easily adjust this range by altering C1, within the values of 470 pF and 0.001 uF. Frequency could be fixed through P1 in the range as determined by C1.
Please note that the maximum range of frequency that can be generated by the IC 4093 is 500 kHz. The complete circuit diagram of the Ultrasonic Generator can e seen in the below shown figure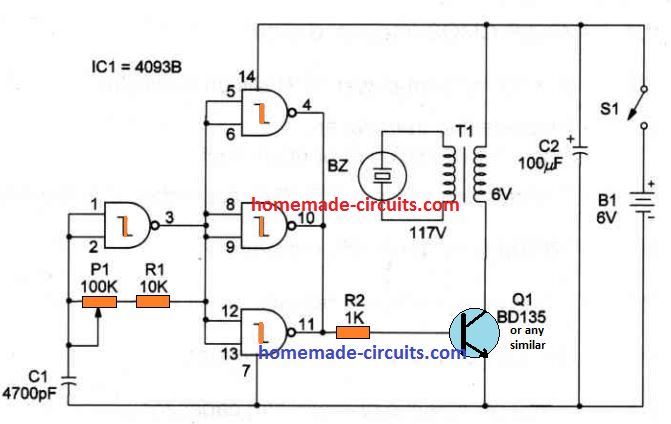 Parts List
lC1 - 4093 IC
Q1 - BD135 medium-power NPN silicon transistor
BZ - Piezoelectric transducer
T1 - Transformer: primary 110 VAC; secondary 6Vx100 mA
R1 - 10K, 1/4W, 5% resistor
R2 - 1K, 1/4W, 5% resistor
P1 - 100K trimmer potentiometer
C1 - 4.7nF ceramic or metal film capacitor
C2 - 100 uF/16V
S1 - SPST toggle or slide switch
B1 - 6V or 9V - AA cells or battery - see text
IC 4093 Pinout Image
Piezo Transducer Image
Components overlay and the PCB track layout can be seen in the following image.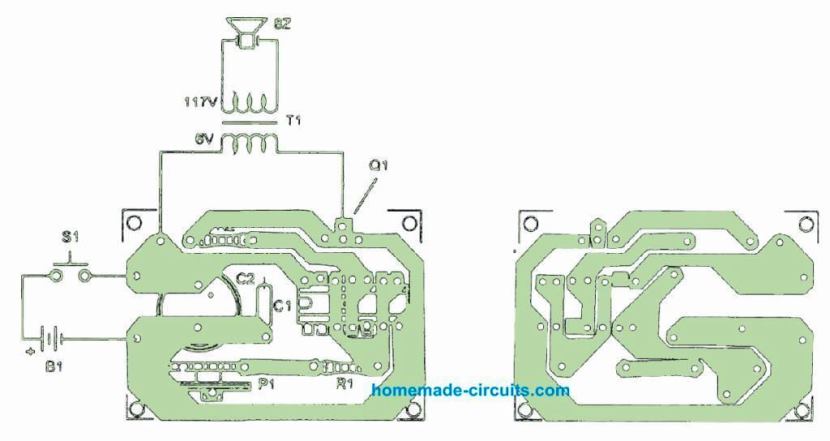 The entire circuit could be encased inside a compact plastic material container. The transducer or the piezo element may be installed on the front board.
Be careful with the placement of the parts that carry polarity, for example the transistor, electrolytic capacitor and power supply input. If the unit is intended to be operated continuously, make sure Q1 is mounted on a proper heatsink.
The transformer specs is not an important factor. Any transformer having a secondary coil ranging from 100 to 500 mA could be used in this ultrasonic pest repeller project.
Ideas you can Tweak Further
To find out more regarding the circuit or to improve its effectiveness:
You could try replacing the piezoelectric transducer with a tweeter and check the response, whether it improves or not.
Remove T1 and BZ and place the tweeter between positive line and the transistor collector. You might also try measuring the level of the generated ultrasound power?
The circuit can also be tweaked to generate sound within the human listening range.
This can be done simply by replacing C1 with any other capacitor having value in between 0.02 and 0.1 uF.
Insect Repeller using IC 555
Using an uninterrupted sound frequency to repel or attract insects may actually be possible in real life.
The range of frequency or depth may depend on the implementation and the type of pest, which can be perhaps determined through some trials.
The circuit displayed below produces a nonstop noise frequency you can use to push away (or draw in) several types of insects.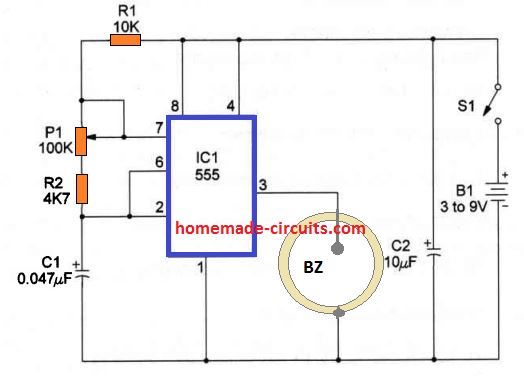 The circuit could be driven by 9V battery packs which may run for a long period of time due to its minimal current consumption. The center of the circuit is the 7555 lC, a CMOS timer configured as an sound oscillator which operates a piezoelectric transducer.
The parts positioning on a do-it-yourself PCB is revealed in the below given Figure.

Precise location may not be too critical. Each of the parts and the power supply could be enclosed in a compact plastic-type container. Transducer BZ can be a crystal earpiece or a piezoelectric transducer.
Location of the polarized items, like c2 and the power supply, should be cautiously wired.
Applying the insect repellent can be quite simple. You have to fine-tune he trimmer potentiometer P1 to generate a noise having the identical throw, matching the insect's range you would like to repel.
Trial and error has to be done before you uncover the ideal frequency to repel a certain insect.
Parts List