Rats are a dreaded pest that may ruin houses, gardens, and other places. They harm furniture, electrical lines, and other objects in addition to being carriers of a number of illnesses. It makes sense that people would constantly seek for strategies to keep rats out of their gardens and houses. Using a circuit that repels rats is one efficient method to do this.
An electrical device that creates high-frequency sound waves that are unpleasant to rats is known as a rat repellent circuit. While these sound waves are inaudible to people and other animals, they have a powerful deterrent impact on rats. This article will go over the construction and operation of a rat-repelling circuit.
Components Required
To build a rat repellent circuit, you will need the following components:
555 timer IC
Resistors (1KΩ, 47KΩ)
Capacitors (0.1µF, 0.001µF for CT)
Piezoelectric buzzer
BC547 transistor
12V or 9V battery
Connecting wires
Piezo Transducer
Circuit Diagram
The circuit diagram for a rat repellent circuit is shown below: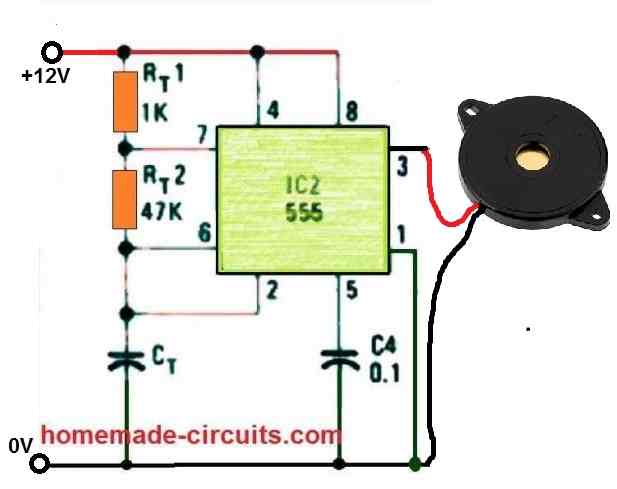 How it Works
The rat repellent circuit uses a 555 timer IC as an astable multivibrator. The 555 timer is configured to produce a square wave with a frequency of about 15 kHz. This frequency is almost beyond the audible range of humans but is within the hearing range of rats. The 555 timer is connected to a transistor that amplifies the signal and drives a piezoelectric buzzer.
The piezoelectric buzzer converts the electrical signal from the transistor into high-frequency sound waves. These sound waves are unpleasant to rats and can drive them away from the area. The sound waves are directional, so it's important to aim the piezoelectric buzzer towards the area where rats are present.
The rat repellent circuit is powered by a 9V battery. The battery is connected to the circuit through a switch that can turn the circuit on and off. The circuit can be easily built on a breadboard, and the components can be easily obtained from electronic stores.
A More Effective Circuit
The above explained circuit might produce a continuous 15 kHz frequency which sometimes not be effective enough to rattle a rat.
In order to make the circuit more effective, we can make the above design in the pulsed form. In pulsed form the 15 kHz frequency will be transmitted in the pulsed mode causing more disturbance to the rat. This increased disturbance will ultimately cause the rat to run away or vacate the place quickly.
The complete circuit diagram for the pulsed rat repellent circuit can be seen in the following figure.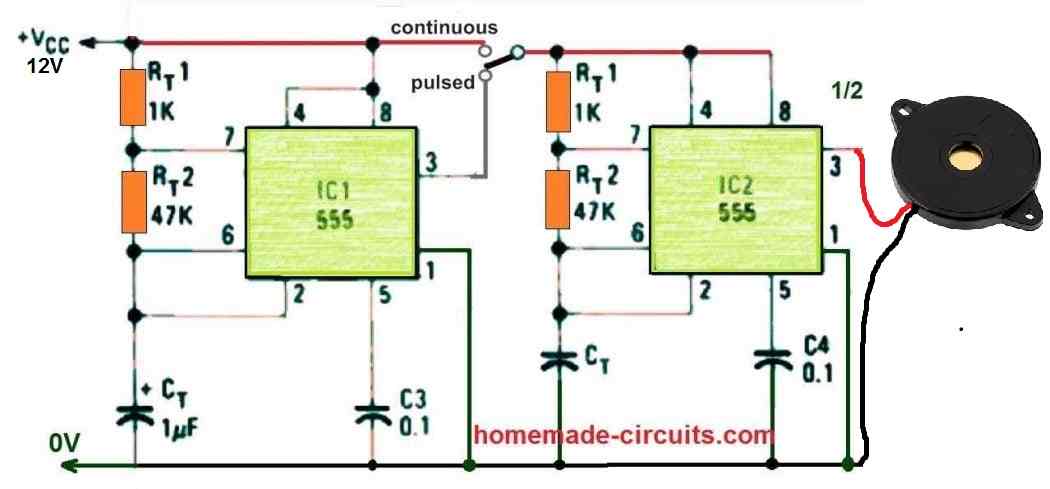 How to Use
Using a rat repellent circuit is easy and straightforward. Once you have built the circuit, you can follow the steps below to use it:
Find the area where rats are present: The first step is to identify the area where rats are present. This could be in your home, garden, or any other area where rats are causing a problem.
Place the circuit in the area: Once you have identified the area, place the rat repellent circuit in a central location in the area. It's important to ensure that the piezoelectric buzzer is aimed towards the area where rats are present.
After the circuit is installed, you may turn it on by turning the switch. Rats won't like the high-frequency sound waves that the circuit will begin to generate.
Track the outcomes: Watch the results and keep an eye on the region where the circuit is located. You ought to observe a decline in the local rat population over time. It's crucial to keep in mind that the circuit's performance may vary depending on a number of variables, including the area's size, the presence of rats, and the circuit's placement.
Maintain the circuit: To make sure the circuit is functioning correctly, it is crucial to frequently examine and maintain it. This can entail making sure the parts are properly connected, cleaning the piezoelectric buzzer, and checking the battery.
Advantages
A rat repellent circuit is an electronic device designed to deter rats and other rodents from entering or staying in a particular area. Some of the advantages of using a rat repellent circuit include:
Rat repellent circuits are a cost-effective solution to a widespread issue since they are reasonably inexpensive to construct or buy and require very little upkeep.
Safe and humane: Rat repellent circuits are designed to repel rats without harming them, making them a safe and humane alternative to traditional rat traps or poison, which can injure or kill rodents.
Rat repellent circuits are a safe substitute for conventional pest management techniques that might hurt people or pets because they don't contain any poisonous chemicals.
Rat and other rodent repellent circuits may be quite successful at keeping them out of a space. They produce unpleasant high-frequency sound waves that drive rats away from the area.
Rat repellent circuits are simple to install and may be utilised in a range of locations, including indoor and outdoor areas of buildings as well as private residences.
Rat repellent circuits are normally made to last a long time; some versions have a lifespan of up to 10 years, offering a long-term solution to rodent issues.
In conclusion, rat repellent circuits provide a risk-free, economical, and compassionate approach to keep rats and other rodents off your property.
Conclusion
The best approach to keep rats out of your house or yard is with a rat repellent circuit. Although inaudible to humans, high-frequency sound waves are unpleasant to rats. A rat-repelling circuit is simple to construct and only needs a few parts. You may create your own rat repellant circuit and keep rats out of your house and yard by following the diagram and directions in this article.