As the name suggests, to build this simple natural mosquito repellent circuit you will just require a high watt resistor, a few drops of lemon eucalyptus oil and  mains supply input.
Chemical Based Mosquito Repellent are Harmful for Health
You might be already familiar with these popular ready made mosquito repellent units which come in the form of coils, liquids, mats etc, and most of us already use these products for keeping mosquitoes at bay.
Although these methods are effective and help our homes to get rid of dangerous mosquito transmitted diseases like dengue, malaria, hay fever, etc, the chemicals ( mainly DEET) used in these repellents in turn have the potentials to cause many unknown body ailments, which could include lung diseases, severe headache such as migraine etc.
Therefore using these ready made chemical based repellents may not be after all safe either.
An alternative and much safer way of driving away mosquitoes could be by using naturally available options, one of which is available by the name Lemon Eucalyptus Oil.
Using Lemon Eucalyptus Oil as a Safer Alternative
Lemon eucalyptus oil is extracted from the tree lemon eucalyptus and can be easily procured from any nearby chemist shop or may be ordered online.
Normally this oil is required to be applied on the exposed areas of the body in order to protect from mosquito bites, however it may be much cleaner and safe if its fragrance could be dispensed through in the air instead of applying on body. This could be probably done using a homemade fragrance dispenser circuit
To build the above suggested homemade mosquito liquid dispenser circuit, you would just need a high watt resistor, and a mains input supply.
Mosquito Repellent Circuit Setup
The set up can be seen in the following diagram: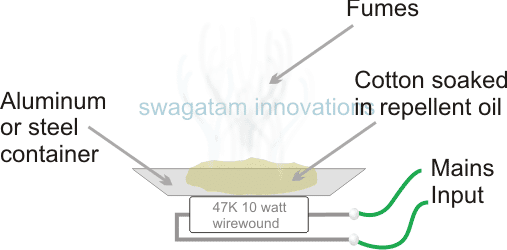 In the shown set up we can see a high watt resistor and an aluminum dish glues over the resistor.
The resistor leads are terminated into a mains 220V or 120V socket.
The aluminum dish is used for placing a piece of cotton wad drenched with lemon eucalyptus oil.
That's all, once this set up is built and plugged in, the high watt resistor could be seen heating up and enabling the aluminum dish to also heat up, causing the heat to evaporate the oil and its fragrance in the air.
This special fragrance which may not be harmful to humans but irritating for the mosquitoes would ultimately help to drive away the creatures away from our homes, naturally and without any health risks.
WARNING: THE SHOWN SET UP IS DEMONSTRATED IN AN UNCOVERED SITUATION AND THEREFORE IS EXTREMELY DANGEROUS TO TOUCH.
PRACTICALLY, IT MUST BE ENCLOSED INSIDE AN APPROPRIATE ELECTRICITY/HEAT PROOF CASE IN ORDER TO ENSURE SAFETY FROM LETHAL MAINS CURRENT.
Get New Circuit Diagrams in your Email