The post explains a solid state electronic switch circuit which can be implemented for controlling lights and fan with a customized sequential pattern. The idea was requested by Mr. Dheeraj.
The Circuit Request
Dear Swagatam Jee, I am Dhiraj Pathak from Assam, India.
I am an IT professional aged 28 years and an electronic hobbyist too. I love to follow your ideas and designs shared in your blog and really appreciate them.
I highly recommend my electronic hobystic friends to follow your blog and we love to discuss about you and your brilliant here. Both the simple and complex designs and solutions that you share are really interesting and we have tried some of them with successful results.
I wish you good health and all the best for your bright career and future endeavors.
I have my basics concepts clear on analog and digital electronic components.
Although my knowledge on micro controllers is limited and hence I am gathering my knowledge on the same.
I am really interested to develop projects using micro controllers but my programming knowledge is limited.
Meanwhile I have an idea on my mind and need your help to make it operate successfully.
As per the below diagram, following following operations should take place -
1. The AC switch S1 when switched ON for the first time, AC load 1 should switch On and stay in ON state till S1 is witched OFF. AC load 2 should stay off during this operation
2. The second time when S1 is again switched ON, AC Load 2 should switch ON and stay ON till S1 is switched OFF. AC load 1 should stay off during this operation
3. The third time when S1 is again switched ON, both the AC loads should switch ON and stay ON till S1 is switched OFF.4. The fourth time when the S1 is switched ON , the operation cycle should repeat as mentioned in step 1, 2 and 3.

Please help me to build this customized electronic switch circuit for fan and lights, using both techniques i.e; with and without micro-controllers.
I would really appreciate your help in this regard.
Also please guide me on how to get started with microcontrollers with hands on ideas. Tutorialls or weblinks would be great !!Kindly revert back with your valuable advice.
My intention is to use this design in my single living room of my rented apartment. The room has concealed wiring and the fan is located at the center of the roof.
The light will be connected parallel to the fan as a center light for the room. There is no extra power outlet at the center of the roof. Only outlet available is for the fan.
I do not wish to run separate wires from switchboard to the center light. Hence, I though of designing a logical circuit which can detect the state (On/OFF) of the power source and switch loads accordingly.
For using the center light, I do not wish to keep the fan ON all the time and vice versa.
With my limited knowledge of microcontroller projects, I think use of EEPROM memory chips might help to record the last known state of the overall circuit.
Every time the circuit is powered ON, the last know state should trigger the next operation of the circuit.
I intend to make myself clear to you as much as possible. Hence I write in details. Thank you for giving your valuable time to me.
I would also like you to know that, building electronic projects is my hobby and I have doing it since class 8 with very limited resources available in my area.
I build small mechanical devices too in my spare time. I have certain ideas in my mind. But lack of microcontroller programming knowledge restricts me from developing my ideas in real.
Searching around the internet I stumbled upon your blog some two years back. It was like a "lake for the thirsty person". I was the "thirsty person" and your blog was like a "lake" for me. Since then I gather ideas and solution from the posts and comments you share.
There are very rare persons who like to share such brilliant ideas and step forward to help others develop there own. I really appreciate your immense dedication to your supportive thinking and hard work.
May success be your stepping stones as you move ahead in your life !!
Thanks and Regards,Dhiraj Pathak
Guwahati, Assam
The Circuit Design
A simple electronic switch circuit customized to perform the above mentioned functions is shown below, without an MCU. A bell push type switch is used for executing the sequential switching for the connected light and fan.
The design is self explanatory, if you have any doubts regarding the circuit description, please feel free to get it clarified through your comments.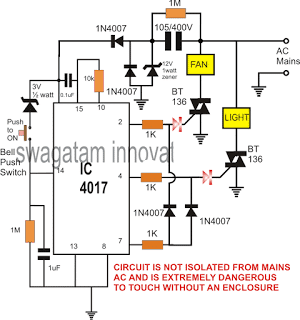 Electronic Switch without Push Button
As per the request and the feedback received from Mr. Dheeraj, the above design can be modified to work without a push button.... that is, using the existing ON/OFF switch at the mains input side for generating the specified toggling sequences.
The updated design can be witnessed in the below given figure: