As the name suggests a preamplifier circuit pre-amplifies a very small signal to some specified level that can be further amplified by an attached power amplifier circuit. It basically acts like a buffer stage between the input small signal source and a power amplifier. A preamplifier is used in applications where the input signal is too small and a power amplifier is unable to detect this small signal without a preamplifier stage.
The post explains 5 preamplifier circuits which can be quickly made using a couple of transistors (BJTs) and a few resistors. The first idea is based on the request presented by Mr. Raveesh.
Circuit Objectives and Requirements
Electronics is my hobby since so many years. Often I will be browsing your website and found many useful projects. I require a favor from you.
I have a FM transmitter module which works on 5 volts DC with provision to connect from Computer through USB or from audio out from any other device through 3.5 mm audio jack.
The module works great in computer USB mode with great signal strength, quality and coverage. But when I connect the same through audio input jack from DTH set top box the signal strength becomes weak even with full volume in both set top box and FM module. I think the audio signal level from set top box is not sufficient for the FM module.
Please suggest me a good quality stereo audio small signal preamplifier circuit which can work from 5 or 6 volts single supply, that would not load the set top box, preferably using good low noise op-amp with detailed circuit and parts label.
1) Preamplifier using two Transistors
A simple pre-amplifier circuit can be very easily built by assembling a couple of transistors and some resistors as shown in the following figure:
The circuit is a simple two transistor pre-amplifier using a feedback loop for enhancing the amplification.
Any music as we know is in the form of a consistently varying frequency, therefore when such a varying input is applied across the indicated C1 end terminals, the same is delivered across the base T1 and ground.
The higher amplitudes are processed normally and is reproduced with a potential that's approximately equal to the supply voltage, however for the lower misc amplitudes T2 is allowed to conduct at the higher ratio which is allowed to pass to its emitter.
At this time when the actual enhancement of the music is implemented by transferring this accumulated higher potential back to the base of T1 which correspondingly saturates at a much optimal rate.
This push pull action ultimately results in an overall amplification of an insignificantly small music or data input into a significantly larger output.
This simple circuit enables boosting extremely small or minimal frequencies to an appreciably bigger outputs which can be then used for feeding lager amplifiers.
The discussed circuit was actually popularly used in old cassette type playback recorders in their preamp stages for boosting the minute signals from the tape head so that the output from this small amplifier became compatible for the attached high power amplifier.
Parts List
R1 = 22K
R2 = 220 ohms
R3 =100k
R4 = 4K7
R5 = 1K
C1 = 1uF/25V
C2 = 10uF/25V
T1/T2 = BC547
Another Transistorized Preamp design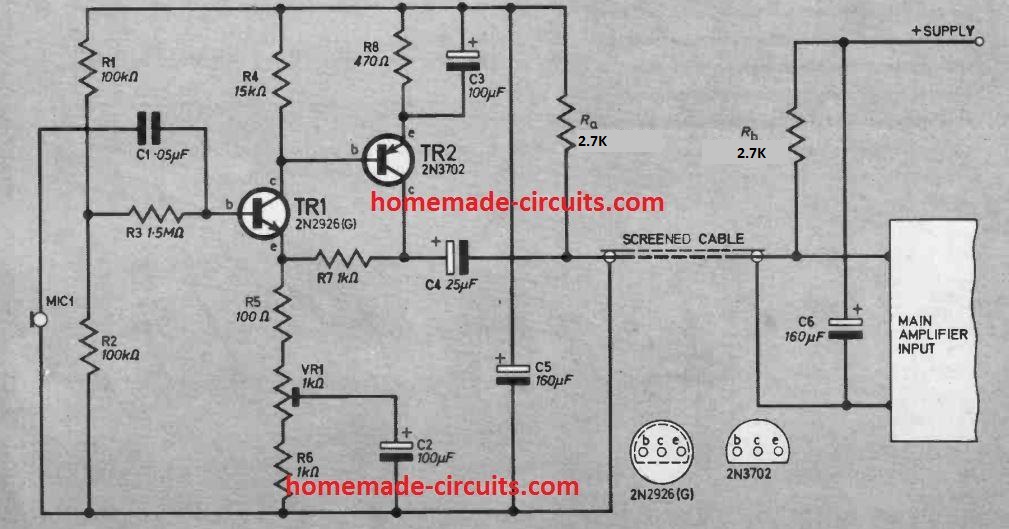 This is a high impedance input 2 stage preamplifier that features an adjustable voltage gain, from 1.5 to 10. This gain can be varied by setting up VRI and becomes handy where the MIC sensitivity required to be varied often.
As shown above, the circuit is actually designed for crystal microphones or ceramic cartridges.
Parts List
2) Using an FET
The second preamplifier design looks even simpler as it works using a single low cost JFET. The circuit diagram can be seen below.
The circuit is self explanatory, and can be integrated with any standard power amp for further amplification.
Guitar Preamplifier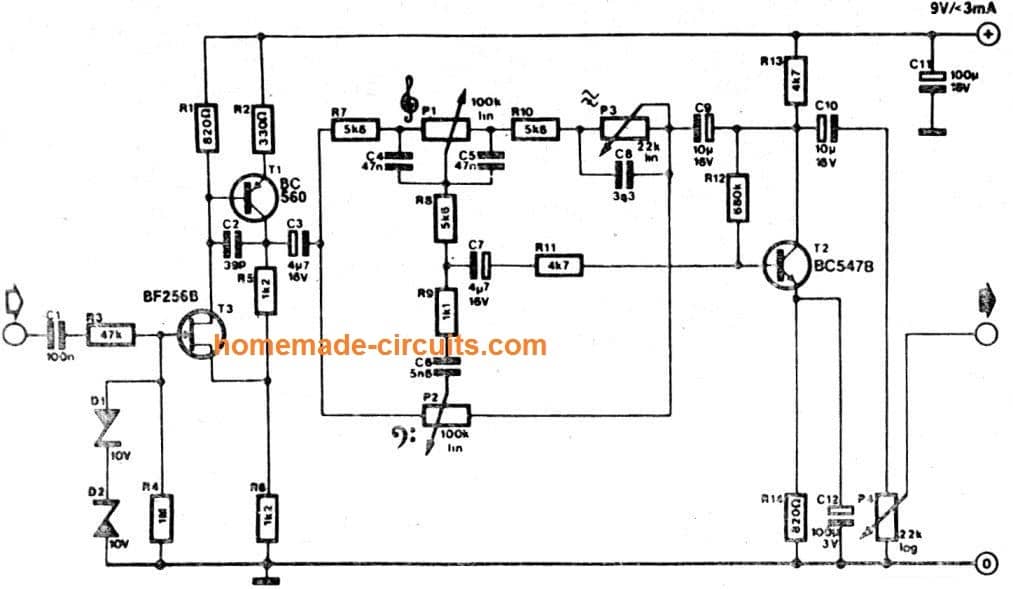 It usually becomes necessary to hook up an electric guitar with a mixing panel, a audio deck or a portable studio.
As much as wiring is concerned, that may be not an issue, however matching the high impedance of the guitar component with the low impedance of the line input of the mixing panel does becomes an issue.
Even the unsuspecting high impedance inputs of those units aren't well suited for the guitar output. As soon as the guitar is plugged into this kind of input, you hardly see a signal feasible for the panel or deck to process.
It might be likely to attach the guitar to the (high-impedance) mic input, however that is commonly way too sensitive for the function, which leads to clipping of the guitar signal too easily.
The matching amplifier introduced in this article answers these difficulties: it features a high- impedance (1M) input that will stand up to voltages of over 200 V. The output impedance is fairly small. Amplication is X2 (6 dB).
Dual tone control, presence control and volume control are offered. The circuit is designed for input levels of up to 3 V. Over this level distortion rises, but that may be, naturally, a decent outcome having guitar music.
True clipping of the input signal is not going to take place until eventually significantly bigger levels above the minimum guitar specs are utilized. The circuit is powered by a 9-V (PP3) battery through which the circuit pulls a current just around 3 mA.
3) Stereo Preamplifier Using IC LM382

Here;s another nice little preamp circuit using a dual opamp IC LM382. Since the IC provides a dual opamp package two preamps could be created for stereo application. The output from this preamp can be expected to be very good.
Parts List
R1, R2 = see the below given table.
R3, R4 = 100K 1/2 watt 5%
C1, C2 =100nF polyester
C3 to C10 = see table
C11 to C13 = 10uF/25V
IC1 = LM382

4) Balanced Preamp
If you are looking for something more sophisticated, you may want to try this balanced preamplifier design. The circuit is elaborately explained in this article which you can refer for your reading pleasure.
5) Preamplifier with Tone Control
A tone control normally includes bass and treble features for tweaking the dynamic quality of the music. However, since a tone control also has the ability to amplify the incoming it can be effectively used like an outstanding Hi-Fi preamplfier circuit stage. This we have a system which works two ways, foe enhancing the tone quality of the music and also preamplifying the music for the subsequent power amplifier stage.
The complete circuit of this fifth preamplifier can be seen below: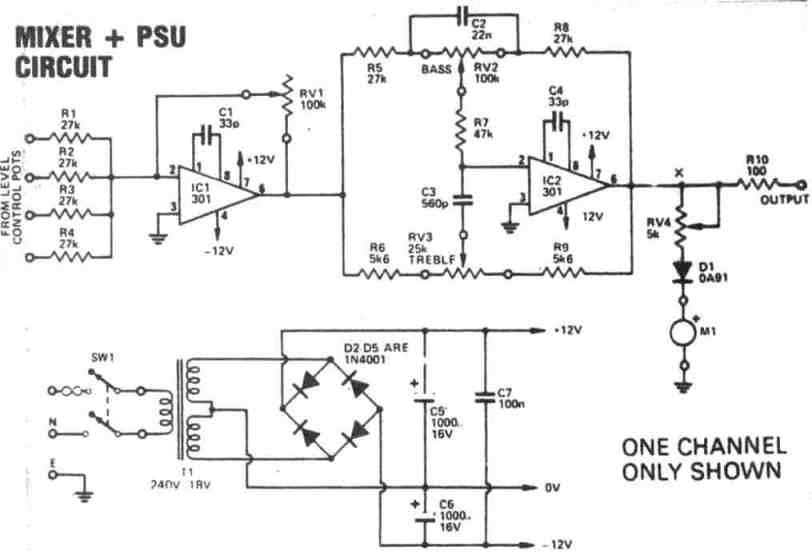 UPDATE
Here are a couple of more preamplifier circuits that may interest you.