In this article we analyze some important voltage regulator circuits using discrete components such as transistors, zener diodes, resistors etc. These regulators are highly flexible with their design specifications, and can be customized for generating any level of constant voltage and constant current, as desired.
What is a Regulator
The main function of a DC regulator circuit is to generate a voltage and current that is fixed and constant at a certain specified levels. Thus, a regulator is used in a power supply to keep the output voltage or current within certain fixed limits.
---
Also Recommended for you: Voltage Regulator Circuits using Transistor and Zener Diode
---
A perfect power supply would have zero internal resistance (ideal voltage source) or indefinite internal resistance (ideal current source), causing the output voltage or current to be independent of load. These supplies would have to be able to produce endless quantities of power, and these would, obviously, simply exist in theory only.
When a really pure DC supply is required, linear regulators often become useful since they produce lesser noise, ripple, and better control. These regulators are typically three-terminal devices (input, common ground, and output), and therefore only a handful of external components are required (the popular 7800 and 7900 series regulators ICs just require a couple of capacitors of 0.01uF to 1 uF, and only under specific conditions.)
These regulators could literally exhibit far below 1% regulation while also providing considerable current limiting and integrated fault prevention feature. There are also switching regulators and voltage converter ICs that really need very few external capacitors and nothing else. These inexpensive regulators and converters make it feasible and simple to provide discrete circuits with voltages which cannot be supplied through a system's primary power source. Such configurations frequently avoid power supply constraints, allowing greater design freedom.
Simplest Regulator
The most basic regulator employs a two-terminal device such as a zener diode with the characteristic of keeping a constant voltage across it. Figure 1 below depicts the basic circuit.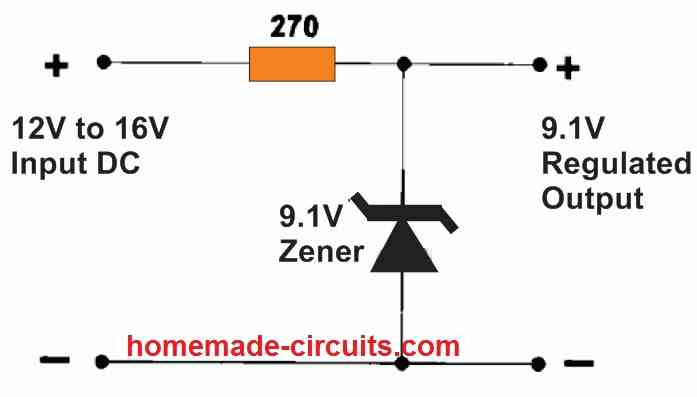 Zener diodes could be connected in series in any configuration for achieving even higher voltages. A current-limiting (ballast) resistor must be incorporated, as these devices would try to retain constant terminal voltage by pulling whatsoever current is available from the power source.
Efficiency is essential.
The regulating device's impedance might be quite low, and it could rapidly drain catastrophic quantities of current in the absence of a limiting resistor, and get damaged.
Therefore a limiting resistor becomes necessary for a zener diode. Because the regulating component is shunted across the load, this type of zener circuit (Fig. 1) is often called a shunt-type regulator.
This method works extremely well for low-power applications when just a few milliamperes of current are needed and regulation (% change of voltage or current under different loads) of just few percent is enough.
Since the entire current flowing through the limiting resistor is the sum of the load current plus the regulator current required to maintain the voltage, efficiency is often poor, particularly at low loads.
High amounts of current is able to pass through the regulator when the load is disconnected or changed. While this is not an issue for tiny circuits such as an oscillator circuit that draws only a few milliamperes, it can be an issue in a circuit like a tiny digital device that might require around 1 amp at 5 volts.
In some circumstances (LED lights, on-off switches), the system may use less than 50 milliamps in standby mode and 1 amp in active mode. A zener-diode regulator would be highly ineffective in such cases as it will have to pass roughly 1 amp through the zener while the system were idle and therefore not consuming its operational current.
In such scenario if the input voltage was 12 volts, the efficiency of the 12V to 5V regulator might be extremely low due to the presence of a constant load of above 1 amp on the 12 volt supply, even if the load on the 5 volt supply side was small.
This equates to 12 watts or even more heat creation, which is an extremely inefficient condition.
An easy remedy is to employ an active regulator which might not demand so much current to operate.
It should be noted, however, that there will always be some voltage loss across the regulator. Because the regulator circuit is an amplifier, it will itself require some voltage to function.
The pass transistor's base-emitter voltage is 0.6 to 0.7 volts, and there will be some voltage loss in the bias resistors. The input voltage must be consistently at least 2 to 5 volts higher than the highest anticipated output voltage; it must never go below this level or else the output control will be affected.
This minimum voltage must always be maintained under minimal-input-line-voltage situations at full load. Below this threshold, instantaneous changes owing to input-supply ripple, load transients, and so on will result in a loss of regulation ( "drop-out ").
Regulator using Transistor Emitter Follower
In Fig. 2 below, an emitter follower transistor is employed to minimize the current used by the regulator device. The zener diode is receiving 10 or 20 mA. This voltage is applied to the base of the transistor, which is referred to as the "pass" transistor since it is positioned to pass the load current.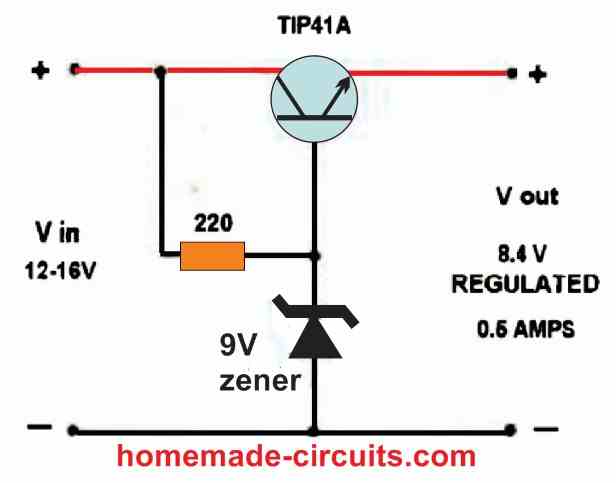 This could be a high-power transistor rated to handle many amps of current.
The load current is made up of the collector current, which makes up the bulk of the current, and the base current. The base current is equal to the collector current divided by the transistor's DC gain (or beta, which is normally equal to 50).
Assuming the transistor has a current gain β of 50 and a load current of 1 amp, the collector current can be calculated as given below
Collector current = β/(β+1) = 1 amp or 50/51 amps.
Base current can be calculated using the following formula:
Base Current = 1 /(β +1) or 1/51 amp.
This is somewhat less than 20 milliamperes. Figure 2 above depicts the basic regulator design.
Using a Darlington with Pass Transistor
Figure 3 below illustrates how an auxiliary transistor could be used as an intermediate stage if the pass transistor happens to be a very high current, low hFE device.
The intermediate transistor is configured as a Darlington pair with the pass transistor significantly increase its current gain and also enhance its current transfer ability.
It should be noted that when there is no load, the only current consumed by the circuit is that of the zener diode only.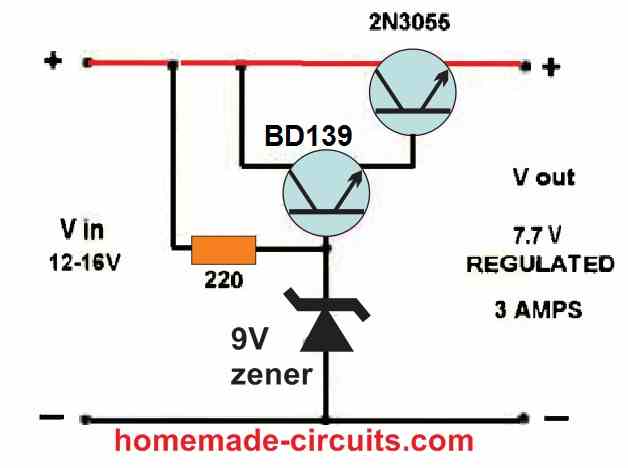 Creating an Adjustable Regulator
It is also possible to attach a variable resistor or a pot across the zener diode and if you connect the wiper of the pot to the base of the transistor, you can achieve a variable output voltage as depicted in Fig. 4 below.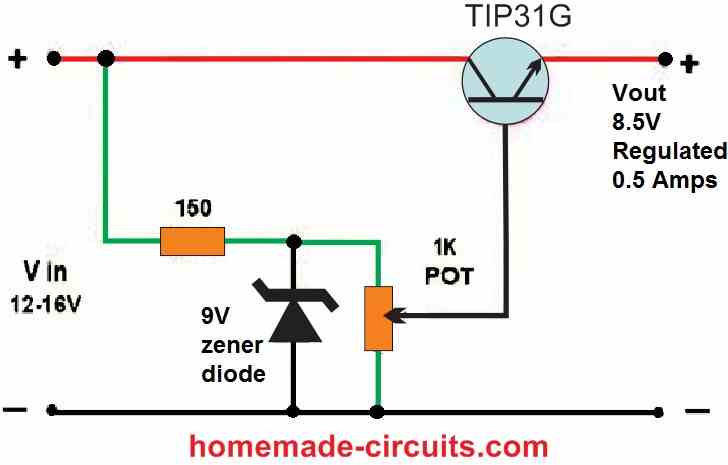 The issue with this circuit is that it is no better (in fact, somewhat worse) than a zener diode as a regulator. There is no system in place to ensure that the output voltage to the load remains constant.
Furthermore, the base-emitter drop in the pass transistor causes a tiny reduction in output voltage (0.6 to 0.7 volts per transistor typically). If the potentiometer is being used to change the output voltage, you may find an extra loss due to the pot resistance.
This resistance results in a decrease in regulation. The regulator has no way of knowing if the output voltage has dropped. What's truly needed is a means to sense the output voltage, compare it to a set reference, and change the output voltage to the appropriate value automatically.
This necessitates the use of a feedback mechanism to regulate the output voltage. With a few more elements, we'll show you a really simple approach to achieve this.
Regulator with Feedback for Enhancing Output Accuracy
Figure 5 below depicts a very basic feedback regulator wherein the output voltage has some control over its exact level. R1 and R2 form a voltage divider that samples the output voltage and sends it to transistor Q1's base.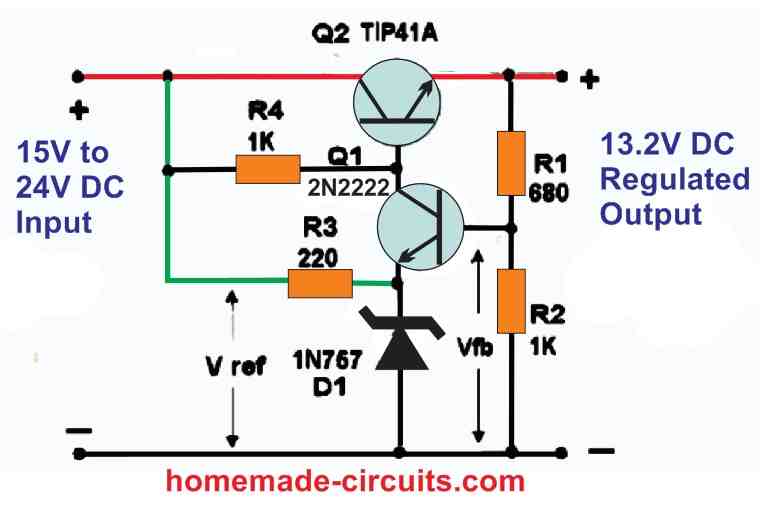 The drop across zener diode D1 holds the emitter of Q1 at a set and regulated voltage. The bias current from R3 and the emitter current from Q1 cause this dip.
This drop is generated by R3's bias current and Q1's emitter current.
If the output voltage drops, Q1 would be switched off, allowing less current to flow via bias resistor R4. The collector voltage will increase, enhancing the voltage at the base of pass transistor Q2 and, hence, the emitter of Q2, that tends to be the power supply regulator's output terminal.
This voltage increase will be sent to the base of Q1, compensating for the original dip. The total impact will result in an increased output voltage stability.
100% Perfection is not Possible
This adjustment, however, is not the ideal one. The regulator circuit is a limited gain feedback amplifier. Because the voltage gain is mostly provided by Q1, the circuit could have a net open-loop voltage gain of may be around 20-100, depending on Q1 gain, power supply load, zener diode impedance, and other parameters. Loop gain can be defined as the product of total gain multiplied by the feedback factor.
In this situation, the feedback factor is the ratio R2 /(R1 + R2). Everything else being equal, the greater the loop gain, the better the regulation. In reality, this circuit will offer a 10X or greater enhancement in regulation compared to the earlier circuits. However, t his circuit has certain restrictions, a few of which are as follows:
In Q1, the output voltage cannot be lower than the zener voltage + the base-emitter loss.
There is no current limiting or short-circuit protection. Since there will always be a voltage loss across R4, the maximum regulated output voltage is restricted.
Because the feedback factor R2 /(R1 + R2) declines with increasing output voltage, regulation becomes gradually worse.
Because part of the bias currents (via R3 and R4) originate from the unregulated side, the output would be impacted by fluctuations in the input voltage, worsening regulation.
These issues could be resolved with circuit adjustments and with the installation of a few additional components. The first problem can be solved by using a low voltage zener diode, even though the best reliable zeners are approximately 5 to 8 volts.
It is feasible to utilize a secondary floating power supply circuit to deliver voltages below (negative) ground and transfer R2 to a negative voltage rather than ground.
Connect a resistance to the input, and the voltage drop across it can work as a function of load current which can influence the regulator output. Extra open-loop gain could be obtained by using additional transistors or an op-amp.
Current Limiting
Figure 6 below depicts one way for incorporating current limiting. Resistor R4 is connected in series with a PNP transistor, Q1, which serves as a current source.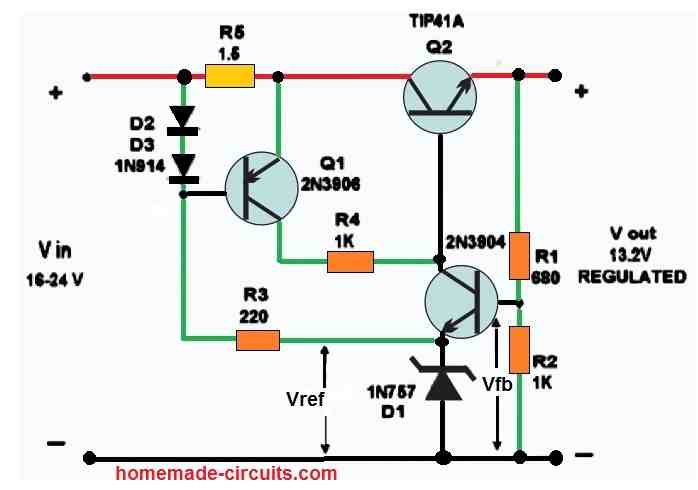 This resistor is required to restrict the current sent to D1. At the base of Q1, diodes D2 and D3 generate a very constant voltage which is 1.4 volts lower than the regulator input voltage.
Q1 conducts so long as the voltage drop caused by the pass -transistor collector current is less than around 0.7 volts across sampling resistor R5. As the load current builds, the drop over R5 rises to the extent where it begins to cut off Q1.
R4 can now force the base voltage of pass transistor Q2 to drop, causing the regulator output voltage to decrease. Because this current also biases reference zener diode D1, the reference voltage falls, lowering the output voltage. The current taken from the regulator could thus be limited in this manner.
A 0.7 volt drop across R5 will initiate current limiting, hence R5 should have a value of 0.7 /(Current Limit), or around 0.7 ohms for 1 amp, 0.35 ohms for 2 amps, and so on.
Using an Op Amp
Figure 7 below shows how an op-amp can be introduced to enhance control. Take note that the gain will now increase drastically. Nevertheless, frequency correction will almost certainly be required in certain circumstances, as loop phase shift may produce oscillation under some or all stages of loading.
Although the bias for the op-amp can be supplied from the regulator directly, an additional auxiliary low-power supply is usually desirable.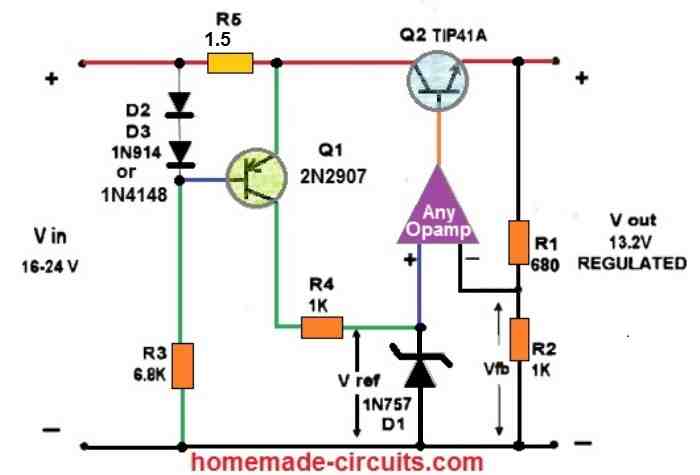 A negative source may be required for the op-amp, particularly in case the regulator is intended to be adjustable or to swing down to zero volts output, as in a laboratory power supply.
This concludes our article on simple voltage regulator circuits. If you have any queries or modifications related to the above concepts please feel free to comment below for quick replies.
Simple Switchable Voltage Regulator Circuit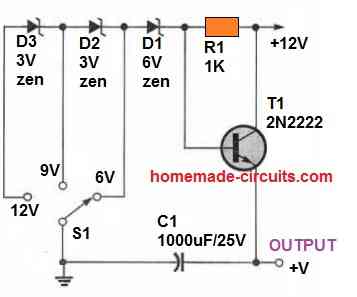 Referring to the figure above, it is possible to build a three-step voltage controlled supply by combining three Zener diodes in series with a switch and with a few other readily accessible components.
The power supply can be a 12V or a 15 volts DC.
When switch S1 is set to the 6 volt mode, the 6V DC from the supply source passing via resistor R1 biases input transistor T1. The same 6V is replicated at the circuit output.
Since T1 is configured as an emitter follower, the forward voltage of the transistor base/emitter leads which is 0.6 V will be deducted from the 6V, and the final output will be 6 - 0.6 =5.4 V.
The output is increased by 3 volts when a 3-volt Zener (D2) is introduced to the circuit when the switch S1 is moved to the 9-volt position. By including a second 3 volt Zener, the transistor will be biased at 12 volts when the switch is pushed to the 12 volt position. The circuit's output is filtered by capacitor C1.