You might have probably come across these fantastic high power, high efficiency LED modules and wondered how do you make these? Here we learn how to make a 100 watt LED flashlight out of it?
Introduction
The article revises the datasheet of this LED module and explains a simple driver circuit which can be used for operating it safely for the intended lighting purpose.
So far we have learned about LEDs with rather smaller features and applications. However the present article finds out how a LED module in the order of 100 watts can be actually used for illuminating a house at costs probably 5 times lower than the conventional lighting devices.
100 Watt LED Module Image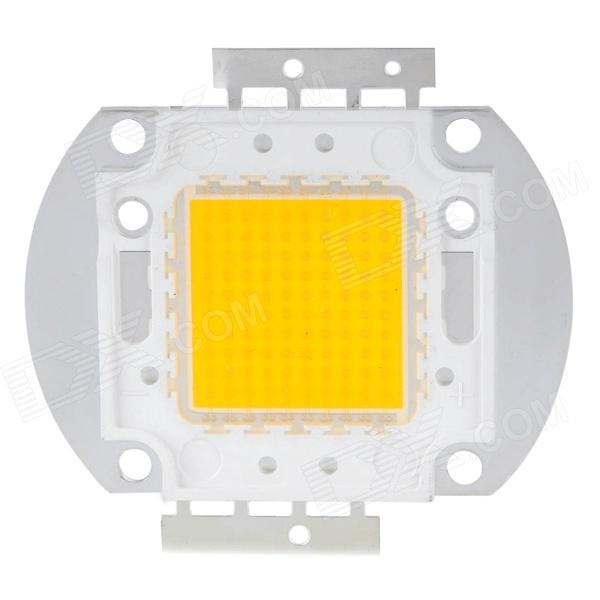 We have all studied a great deal about LEDs and about their high-efficiency with power consumption.
The LED technology has helped us to design and incorporate very high intensity light installations at minimal consumptions as compared to the other conventional form of lighting concepts.
Lower power consumption also means low heat emissions, which again is an added feature and helps to keep the crucial issue of global warming at bay when LEDs are utilized.
As days pass by, technology keeps on improving and we are able to witness many incredible and unbelievable results with these outstanding lighting devices.
The 100 watt LED module is one such marvel of modern science which has created a breakthrough in the field of LED lighting.
Not surprisingly, the device is able to generate an astonishing 6500 lumens of light intensity at a consumption of mere 100 watts, but the interesting part is the size, which is barely 40 square mm.
The saving made by these devices is estimated to be five times more than any other form of light producing device and the if we compare the specified intensity of 6500 lumens, that corresponds to an excess of 500 watts light power that might be acquired from a halogen lamp.
Let's discuss the important specifications of this amazing LED in brief and in such a way that even a layman understands:
100 Watt LED Datasheet
Typically the preferred color is white, as that produces the most favorable and desirable illumination for all applications.
The power consumed is 100 watts for optimal performance.
The emanated heat for the specified white color is up to 6000 Kelvin.
The intensity of light generated with the above specs is a staggering 6500 lumens.
Typical operating voltage of the device is around 35 volts.
The current required for producing the above light intensity is around 3 Amps.
ESD level is safe and very high up to 4000 V.
The safe operating temperature level is very wide, ranging from minus 40 to 110 degrees Celsius.
The optimum angle of viewing is also wide, up to 120 degree.
Dimension of the unit is truely mini, the height being 4.3 mm, length 56 mm and width 40 mm only.
Typical Specifications
LED Type: 100W COB LED
CRI: Ra70-80/ Ra80-85/ Ra90-95 / Ra95-98
IF (Forward Current): 3500mA
VF (Forward Voltage): 29-34volts
Chip Category: Bridgelux
Power Output: 100 Watt
Angle of Beam: 120 degree
Illumination Magnitude: 10000-14000lm
Substrate: high-grade copper
CCT: 3000K, 4000K, 5000K, 6000K.(any CCT can be customized)
Main application areas: Spotlight, Roving head light, light in stage shows, photography, High intensity rescue floodlight, etc
The specification narrated are sufficient for illuminating a 20 square meter space amply, almost at flood light levels ….. baffling.
Main Features of the 100 Watt LED
The advantages include the following:
High power light output without degradation even after long usages.
Highly robust mechanical specifications, involving less wear and tear and high resistance to changing atmospheric hostilities.
The overall performance is consistently optimal throughout the operating life.
Having discussed the above features of the proposed 100 watt LED lamp, it would be interesting to also learn regarding a useful recommended circuit that may be used for driving or operating the device at safe levels.
How to Make a Current Controlled 100 watt LED flood Light Circuit
A simple two transistor, powerful current limiter, LED driver circuit, which can be used for converting the above discussed device into a 100 watt LED flashlight or to be more accurate, a floodlight is described below:
The circuit of a 100 watt LED flood light shown below has been discussed in few of my other articles also, due its versatile and rather straightforward design; the circuit becomes very suitable in places where current limiting at low costs becomes an issue.
Though the discussed designs mostly dealt with low current applications, the present circuit is specifically intended for handling high currents and up to 100 watts and more power.
Circuit Diagram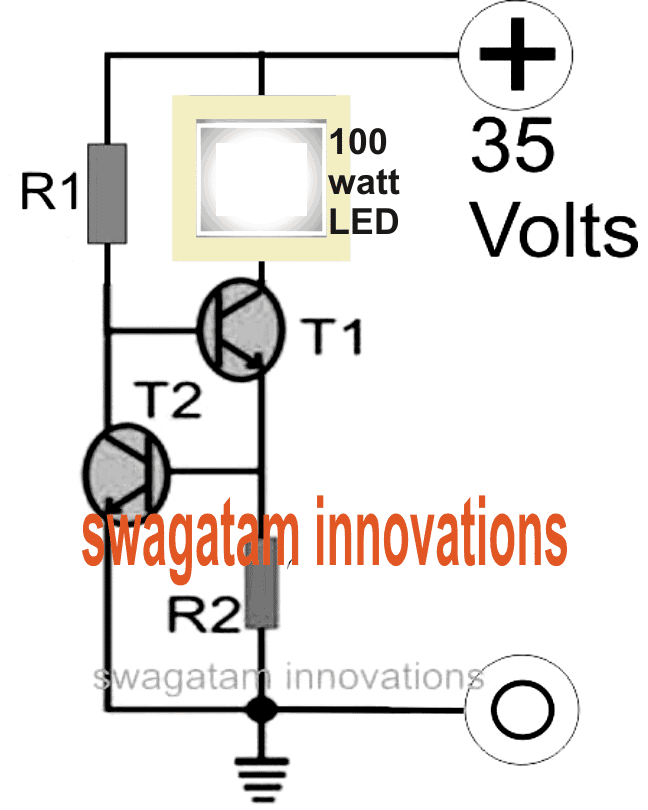 Looking at the figure we can see a couple of transistors are coupled together such that the base of the upper transistor T1 becomes the collector load of the bottom transistor T2.
The upper transistor T1 which actually carries the LED current is quite vulnerable itself, and is not equipped to control the amount of current through itself and the LED.
However since the base current of this transistor decides the amount of collector current that can pass, it simply means that by restricting its base current to some safe specified levels, it might be possible to keep the overall consumption within tolerable limits.
A current sensing resistor connected at the emitter of T1 is used to convert the current consumed, into a potential difference, across it. This potential difference becomes the base trigger for R2.
However as long as this voltage is below 0.6 volts or simply below the minimum forward voltage drop of T2, T2 remains unresponsive, but once it starts exceeding this value, triggers T2 which in turn clamps the base voltage of T1, rendering it inactive.
This instantaneous cut off of the base drive to T1 shuts the LED for some fraction of a second, bringing the current and the potential drop across the current limiting resistor to zero.
This action reverts the circuit to its original stance and the LED is again switched ON.
The process repeats a number of times per second to keep the LED and the current to safe and precisely tolerable limits.
The value of R2 is calculated in such a way that it keeps the potential difference across itself below 0.6 volts until the LED current reaches 100 watts, after which the restricting process begins.
Warning: The LED must be mounted on a correctly optimized heatsink as per the specifications provided in its datasheet..
How to Calculate the Constant Current Limiting Resistor
For calculating R1 you may use the following formula:
R1 = (Us - 0.7)Hfe/Load Current,
where Us = supply voltage, Hfe = T1 forward current gain, Load current = LED current = 100/35 = 2.5 amps
R1 = (35 - 0.7)30/2.5= 410 Ohms,
wattage for the above resistor would be = 35 x (35/410) = 2.98 or 3 watts
Formula for calculating R2 is:
R2 = 0.7/LED current
R2 = 0.7/2.5 = 0.3 ohms,
wattage may be calculated as = 0.7 x 2.5 = 2 watts
For an SMPS driver circuit please refer to this article
Current Controlled 100 watt LED Lamp complete schematic
---
---
Get New Circuit Diagrams in your Email