The post explains a simple relay changeover circuit for extracting single phase AC from a three phase AC source irrespective of the condition whether all the three phases are present or not. The circuit was requested by Mr. Biannz.

Technical Specifications
hi sir please i need something I've been searching everywhere but not avail so please I'm appealing to you if you can do it for me, this is special request,
The thing is in my country we have 3 phase meter and single phase meter so if you use single phase meter you are able to get one phase AC power and negative from the electricity-pole,
But sometime one phase go off and also low voltage problems exist, so sir what i am requesting you is to design for me a 3 phase changeover which will bring all the 3 power from the electricity pole for the attached single phase meter so that when any one phase power goes off or low current then it changes to another phase.
I have tried one such circuit for changing the second alternate phase when one phase goes off, however when it comes back again while the other one is not off which becomes very dangerous. so i will be glad if you can design me one 3 phase changeover circuit. thank you sir looking forward to hear from you.
The Design
The circuit of the proposed changeover circuit which can be used for getting a single phase AC from a three phase AC source even with missing phases is shown the following diagram.
Although the circuit looks technically correct and safe, it won't respond to low voltage or brownout conditions, so perhaps additional stages would be required for facilitating this feature.
As can be seen the circuit would be able to supply a single phase power to the load no matter whether all the phases are present or if a couple of them are missing and also irrespective of the phase serial number.
Suppose all the three phases are present, this would allow the left transistor relay to stay activated while keeping the other two stages switched OFF.
With only phase1 present, the same would be applied as above.
With phase2 and phase3 present and phase1 off, the center transistor stage would operate while the remaining would remain switched OFF.
With only the third phase present and the other two missing would activate the right most relay stage while keeping the other two switched off.
Therefore under all situations the load would be allowed to access the single phase power from the given 3 phase source.
The ground indicated connection must be terminated to the pole as suggested by Mr.Biannz.
Circuit Diagram

Parts list
All resistors are 10k, 1/4 watt
All non-polar capacitors = 105/400V
All polar capacitors are = 100uF/25V
All zener diodes are = 12V/ 1watt
All transistors are = BC547
All relays are = 12V/spsdt, 12amp/400mA
All rectifier diodes are = 1N4007
WARNING: THE ABOVE CIRCUIT IS NOT ISOLATED FROM MAINS AC AND ALL THE CIRCUIT POINTS COULD BE AT LETHAL MAINS POTENTIAL, EXERCISE EXTREME CAUTION WHILE MAKING IT, AND DO IT AT YOUR OWN RISK.
Upgrading the above Circuit
The following single phase voltage from three phase voltage source circuit shows how the above earlier circuit can be upgraded using a bridge network circuit for better response.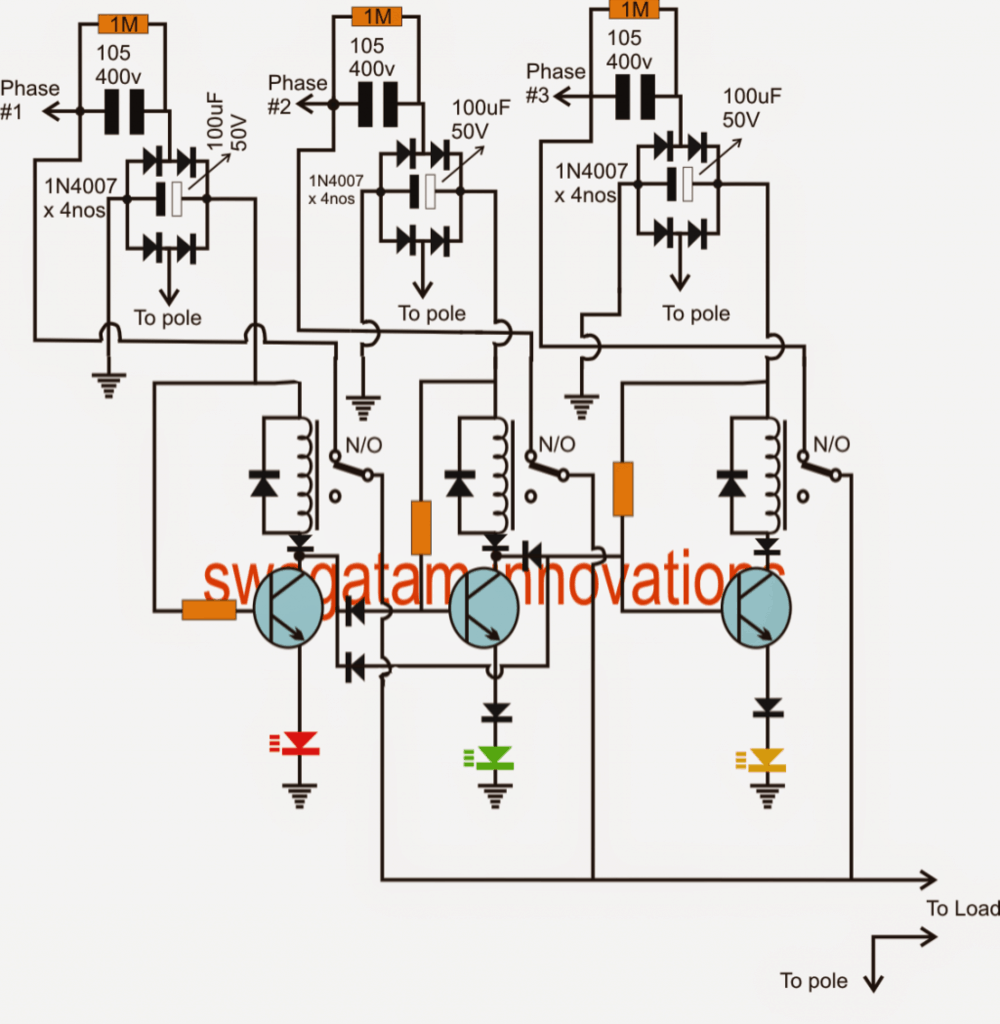 Get New Circuit Diagrams in your Email