A rather easy way of disinfecting humans and objects on a large scale and in public places could be by irradiating them with ultraviolet rays (UV-C), in special UV-C illuminated chambers or passages.
This includes the pandemic COVID-19, which can be suppressed by installing and implementing these specially created UV-C germicidal lamps.
The following article provides a detailed overview regarding how the concept can be used for making ultraviolet light chambers and disinfecting humans safely from cornavirus.
Warning: The information presented in the following article were referred from various external sources, and the author takes no responsibility for the consequences resulting from the experiments specified in the below article.
Why Sun Rays are Harmful to Skin but not to Coronavirus
Sun rays that reach us mostly consist of UV-A and UV-B type of ultraviolet rays, (UV-C being blocked by the earth's ozone layer).
UV-A and UV-B due to their longer wavelength than UV-C are able to penetrate human skin, and trigger development of cancerous cells and sun burns, but are quite ineffective in breaking the RNA of a virus cell. Hence, prolonged exposure to sun rays can be harmful to human skin, but may have no effect on some special viruses like coronavirus.
Unlike UVA and UVB, UV-C can be fatal for viruses as well for human skin, but since these are naturally blocked by the earth's ozone layer are never a matter of concern.
On the other hand since UV-C can be generated through artificial germicidal lamps, they work very well in eliminating viruses like coronavirus.
However, since UVC is equally dangerous to human skin, it is strictly advised by WHO not to try UVC lamps for disinfecting hands or body sections.
There's another range of ultraviolet light called the far-UVC, which has been tested with extremely promising results. Far-UVC has the capability of selectively eliminating pathogens like coronavirus, without causing any harm to human cells.
What is Far-UVC and Why it is a Safe UV Germicidal
Although it is a proven fact that normal ultraviolet light (UV-C) is highly effective in killing bacteria and inactivating all types of viruses, humans are advised to avoid UV lights emitted by typical germicidal lamps due to the risks of developing skin cancer.
However, extensive research in this field have proved that UV-C light in the range of 200 nm and 222 nm wavelength (also called far-UVC) are capable of traversing virus and microbial cells, but not human cells. This is simply because virus and microbial cells are much smaller than human or mammalian cells and unable to resist the far-UVC wavelength penetration.
If we take the example of coronavirus cell diameter, it is around 0.06 μm and 0.14 μm (1 μm = 1 micron), which is significantly smaller than a human cell (between 10 to 25 μm).
Due to their tiny cell size far-UVC rays are able to overwhelm and disrupt virus cells easily, but are absorbed by human cells preventing the rays from reaching the nucleus of the cell.
When far-UVC light having wavelength of 222 nm hits a human cell, it is vigorously absorbed by the cytoplasm protein of human cell, causing the rays to get severely attenuated, and harmless.
This implies that far-UVC emission is ineffective in penetrating the stratum corneum of our skin, and thus cannot reach underlying melanocytes which form the critical basal cells of the skin.
Even human eyes can remain unaffected due to the many protective outer layers which can easily absorb and far-UVC rays rendering them harmless.
Controlling Pandemics like Coronavirus with far-UVC rays
Based on a research at the Center for Radiological Research at Columbia University Irving Medical Center (New York, NY), installing overhead far-UVC lights in susceptible areas like hospitals, doctors' offices, schools, airports, airplanes, etc may be an ideal and safe way to get rid of seasonal flu epidemics from viruses.
This likewise means, far-UVC lights can be effectively used for inactivating and eliminating the novel coronavirus from different surfaces, objects and human body externally.
Which Type of Lamp will Produce far-UVC Light?
As per the sources, researches have shown that filtered krypton-bromine (Kr-Br) excilamp can be used for emitting the required far-UVC at 207 nm wavelength. The light from this lamp has high antiviral and antimicrobial efficacy, yet is negligibly cytotoxic to human cells.
Further research have also shown that filtered krypton-chlorine (Kr-Cl) excimer lamp which are specified to generate 222 nm monoenergetic UV rays can be effective in inactivating viruses but may not be cytotoxic or mutagenic to mammalian cells.
Remember, cheap germicidal lamps sold at online stores like amazon and eBay will never produce far-UVC and therefore must never be tried for the specified disinfection purpose.
The units which are specifically designed to produce 222 nm wavelength UV rays are suitable for killing coronavirus, an example lamp can be visualized in the following image:


How to Make UV Lamp Human Disinfection Chamber
Portable chambers and corridors with far-UVC lamps could be manufactured and installed in places like markets, shopping malls.
Authorities may perhaps then guide the people to walk through the UV lit chambers so that externally their bodies are completely eradicated from all forms viruses. This could be perhaps effective for suppressing severe pandemic like COVID-19.
An example set up of the human disinfection chamber can be seen in the following image: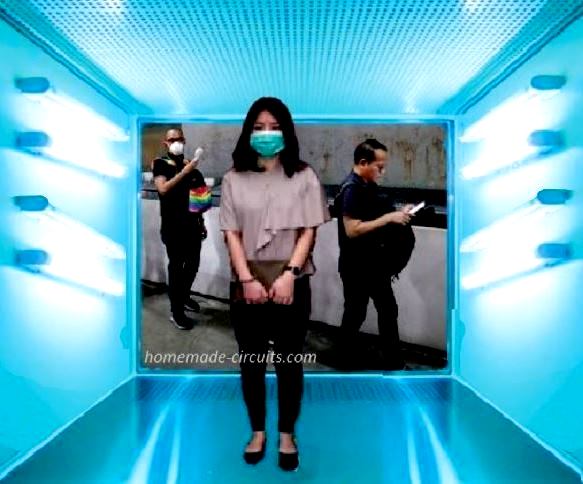 Building Procedure
Possibly, to build such disinfection chambers on large scales, the construction has to be straightforward and cheap. The easiest way is to assemble sheets of good quality plywood to make narrow channels with dimensions of 7 by 5 feet, and 20 feet long.
The inner wall of the chamber could be painted with shiny metallic texture, so that the UVC light is reflected from all angles for generating maximum antiviral efficacy over the target.
The example image above shows only 4 lamps on either walls, which could be increased to higher numbers for enabling faster elimination of pathogens like coronavirus.
Similarly, garages could be also installed with UV bulbs for disinfecting buses, automotive bodies, and even food crates in massive scales.
However, for sterilizing non-living things, and objects, costly far-UVC may not be required, instead the conventional UVC bulbs could be used for the purpose.
In China UVC is already being implemented extensively for disinfecting pubic transport systems, as shown in the following image: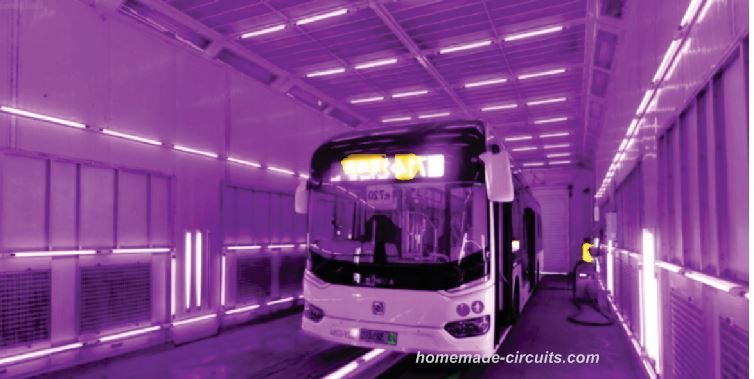 Reference: Using far-UVC on mammalian skin