The post explains the making of a simple, cheap yet effective ultraviolet or UV-C home sanitizer circuit using ultra violet rays or UV-C. The idea was requested by Mr. Shah (kristin).
Using UV Rays against Coronavirus
The UV-C sanitizer circuit explained below can be effectively applied for sanitizing all external materials such as cellphones, vegetables, clothes, shoes, watches, or any material susceptible to a Coronavirus infection.
Ultraviolet UV-C rays can also be used to disinfect all food materials bought from the market to ensure these are well sterilized from all types of pathogens, bacteria, and even Coronavirus.
UV-C does not have any negative effect on food materials, so it can be safely used for disinfecting food items such as juices and apple cider, as well as grains, cheese, baked items, frozen foods, fresh fruits and vegetables, and liquid egg products, among other food and beverage items — are processed using UV-C,
Technical Specifications
Respected Sir,
I love your blog. I spend a lot time for searching circuit for countdown timer switch for 120v but I cannot find it. Can you please upload one or can guide me for the same?
I really need your help. Can you please able to give me circuit for countdown timer for 120V AC unit. I really tried in your blog to find one but I failed. Please Please give me circuit if you can.Thank you very much
I am making one UV sanitizer for disinfecting materials from Coronavirus. I want to have countdown timer in that which can countdown from couple of seconds to minutes. I want to connect it to 120 vac. Let say I want to place an iphone in that device for 3mins and 20 seconds for sanitization purpose after that time machines shuts off.
Shah
What is UV Rays
Ultraviolet (UV) light is generated in the form of electromagnetic radiation which have wavelength ranging from 10 nm to 400 nm (750 THz).
This wavelength is shorter than our normal visible light but longer than X-rays.
The sunlight also has UV content, which is only around 10% of the overall electromagnetic radiation generated by the Sun.
Other more effective sources of UV rays include the electric arcs and special lamps, for example mercury-vapor lamps, tanning lamps, and black lights.
Though ultraviolet with longer wavelengths is not really viewed as an ionizing radiation due to its photons not having sufficient energy to ionize atoms, this might still induce chemical reactions with numerous elements causing those elements to glow or fluoresce.
As a result, the chemical and biological outcomes of UV tend to be a lot more than other effects generated from heating elements, or effects from other UV radiation applications due to their reactions with organic substances.

Types of UV Light
Due to their short wavelength Ultra-Violet (UV) light is invisible to human eyes. It can be sub-characterized into three fundamental types: UVA, UVB and UVC. UV-A wavelength ranges from 315 to 400 nm, UV-B wavelength ranges from 280 to 315 nm, and UV-C between 100 to 280 nm.
It is this third type UV-C which works most effectively as a disinfector, due to it ability to cause quick and maximum damage to any DNA or RNA material coming within its range of contact.

UVC radiation having wavelength between 100 nm and 280 nm has the ability to burst the DNA of bacteria, viruses and spores causing an immediate deactivation of their cells.
It can easily rupture the RNA protein of any virus, even Coronavirus, and therefore could be effectively applied for sanitizing purposes against novel Coronavirus pandemic.
UV radiation may be applied for several sterilization applications in water and air treatment, however mainly it works the best for disinfection process which eliminates all forms non-chemical based micro-organisms.
However, since human skin also contains DNA material, can be extremely susceptible to UV radiation causing burns, skin damage and skin cancer.
Therefore UV rays of any level must be strictly avoided from skin contact. The disinfection process must be implemented only inside a well shielded container with the required materials packed inside, which needs to be disinfected.
---
Must read: UVC disinfecting lamps which can inactivate Coronavirus and yet be safe for humans.
---
Typical Bulb Specifications
There are many variants of bulbs, and LEDs available that are specifically created for generating the UV-C type of ultraviolet rays, and can be used for the making the proposed UV disinfector, for disinfecting a selected household material.

A popular, effective and cheap UV-C bulb is the 3 watt UV germicidal bulb, as shown below, having the following specifications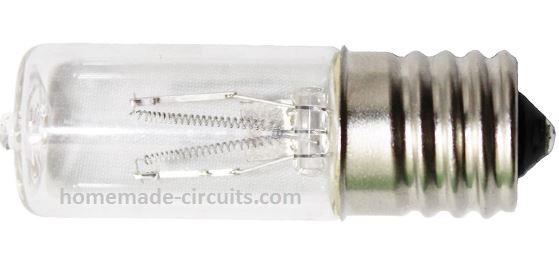 Item Type: Ultraviolet UV-C Lamps
Voltage: 85-265V
is_customized: Yes
Certification: CE, LVD, RoHS
Temperature: Warm White (2700-3500K)
Features: Germicidal
Average Life (hrs): 1000
Warranty: 1000 hours
Base Type: E17
Wattage: 3W
Circuit Description
A UV-C sanitizer is a device which cleans or sanitizes (by disinfecting) the surface in contact from all possible microbes, bacteria and germs that might be housing within the crevices of the material.
Since objects associated with us may travels with the owner across different places become prone to providing a cozy shelter for a virus like coronavirus.
Making of the proposed UV sanitizer is actually very easy, it's more about fabricating the enclosure than electronics.
The UV bulb which is in fact a disinfecting UV bulb can be easily procured readymade or through online stores, you will find a wide range of these bulbs, the one which is reasonably small with the following specs can be picked.
The image of the UV bulb can be seen in the above picture.
A simple DIY UV-C box is shown below, which could be built by anybody at home. The box can be a wooden box with aluminum foil glued on the inner surface. The UV bulbs may be installed as indicated in the picture. The quantity of bulbs is matter of choice, higher numbers may yield increased effectiveness against the viruses.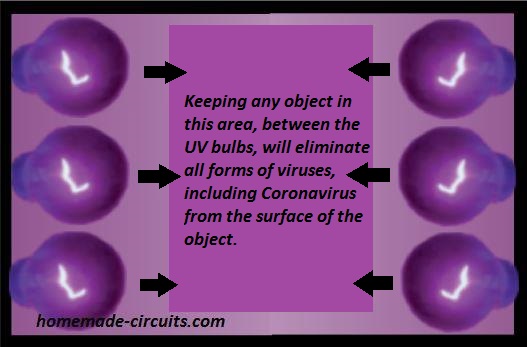 Among all other materials, our cellphone may be the most vulnerable to Coronavirus infection or harboring, therefore we will discuss a method of using UV-C based enclosure that could be used for disinfecting a cellphone, or other similar objects from all possible microbes.
Making the UV Cell phone sanitizer cabinet
It can be done with appropriately cut and dimesioned acrylic sheets. Basically a rectangular transparent or colored acrylic box able to hold two UV bulbs vertically and the cell phone in the middle needs to fabricated and joined as shown in the following image.
Two UV bulbs can be seen fixed over a small wooden box. If a countdown timer is used in the design, it can be housed inside this wooden box ans wired with the bulbs as indicated in the following counter down timer circuit.
If a manual switch ON/OFF is desired ten the timer circuit can be eliminated and the two bulbs wired in parallel directly with the mains cord.
The acrylic box should have a few projected pillars at the the bottom and on the walls such that the cell phone can be inserted between these pillars and stands erect.
The above position would facilitate an optimal exposure to the two UV bulbs residing within a couple of mm from the cell phone
The Countdown Timer Circuit
The optional countdown timer can be associated with the above UV cell phone sanitizer assembly for automatically switching OFF the bulbs after a set predetermined time.
The entire circuit description and the parts list can be studied in this article.
The two UV simply needs to be wired in parallel with each other, and in series with the triac as shown in the below given diagram.
Circuit Diagram
UV Disinfection Box with Timer
The next UV based disinfection concept is also similar to the above, except the IC which is an IC 555 here. Along with an automatic timer cut off, the design also features use of a reed relay which ensures that the UV bulbs are never switched ON when the door of the cabinet is in the open condition.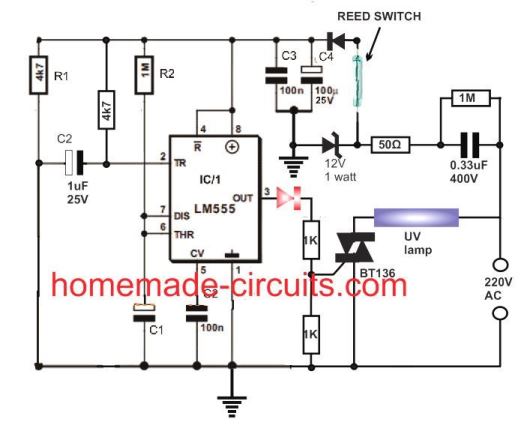 The circuit working can be understood with the help of the following points.
The IC 555 is wired as a standard monostable multivibrator, powered through a stabilized transformerless power supply circuit, comprising of C3, C4, 0.33uF, and the 12V zener diode.
As soon the circuit is powered from the AC mains, the 12V DC across the monostable instantly triggers the circuit via the 1uF capacitor connected pin2 of the IC. The capacitor momentarily grounds the pin2 of the IC activating its output pin3 with a positive supply.
The positive supply at pin3 activates the triac and the UV lamp.
The monostable now begins counting, and depending on the values of the C1, and R2, the pin3 and the triac remain switched ON for a stipulated period of time. When the time elapses, the pin3 becomes zero, switching off the triac and the UV lamp.
We can also see a reed relay connected in series with the positive line of the input supply.
This reed relay is coupled with a magnet, associated with door mechanism of the UV box cabinet. As long as the door is in the open position the magnet is pulled away from the reed relay, causing its contacts to remain open, and the monostable to be powered off. When the door is closed, the magnet is pulled close to the reed relay, forcing its contacts to close, and switch ON the supply for the monostable. The monostable now switches ON, causing the timer and the UV lamp to activate for the intended actions.
For DC Operation:
For DC operation using a 12V battery, the following type of the bulb could be employed:
A timer is not shown here, the unit could be simply plugged in to any 12V automobile battery and switched ON for a specified amount of time inside an opaque container along with the device which needs to be sanitized. After this the unit could be unplugged.