The article discusses a simple method through which large amounts of oxygen and hydrogen could be generated at home using an ordinary electrical setup, and very cheaply.
Importance of Oxygen and Hydrogen
We all know the potentials of these two gases and how important they are on this planet.
Oxygen is the life sustaining gas without which no living creature on this planet can live.
Hydrogen on other hand has its own merits and can be considered as the future fuel which would ultimately power our vehicles and cook our foods once all the naturally available fossil resources goes out of stock and gets depleted.
What is Electrolysis of Water
In school days we all have learned and witnessed the process called the electrolysis of water, where water which is made up of two main constituents H2O (two parts hydrogen and one part oxygen) is broken down forcibly with the help of electric current.
However in this process, normally a pinch of salt is added or sometime a drop of sulfuric acid is added for enhancing the electrolysis process.
This results in speedy electrolysis process, and we are able to see large and thick amounts of gas bubbles come out across the two electrodes which are connected to a potential difference source or simply to a battery.
However there's an misconception that the above process generates oxygen and hydrogen with ease, in fact that may not be the case and if we carefully assess the process you will find it's not the water but the added chemical which is getting broken in the influence of the electric current.
That means if we add salt to water, the electrolysis process will generate the gas chlorine and sodium deposits over the two electrodes and not oxygen or hydrogen.....you can expect the generation of H and O, but in very negligible volumes.
For generating pure oxygen and hydrogen through the process of breaking down water components we need to implement the process of electrolysis without the addition of any foreign chemical into water. However, adding a very small quantity of H2SO4 or sulphuric acid could be added to enhance the process to a great extent. Make sure the quantity is correctly calculated, else it may lead to massive bubbling or even explosions in the water.
Simply put, the procedure must be carried out breaking H2O directly without the help of any catalyst medium.
However if you try to do this, you will find the process to be very lethargic and absolutely impossible, because the bond between the H2O components are so great, it might become impossible to disintegrate them into parts.
But it can be done through brute force, meaning instead of using low power DC, if we use mains AC, and introduce it into a container filled with water, we might just be able to force the liquid to separate into its pure forms.
THIS METHOD OF ELECTROLYSIS OF PURE WATER USING PULSED 220 V WITHOUT ANY CATALYST HAS BEEN DISCOVERED BY ME, I ASSUME SO, BECAUSE IT'S NOT BEEN DISCUSSED ANYWHERE ELSE ON THE NET SO FAR.
Why Use a High Voltage AC instead of Low Voltage DC
Technically, a 1.4 V DC is the ideal power for breaking water molecules into HHO. Anything above this is considered a waste of energy.
However, using 1.4 V would demand a heck lot of current and the electrodes will need to be placed very close to each to other, making the set up extremely infeasible at home for any lay person.
Using 220 V DC may look highly inefficient in electrical terms, but if you test it practically it turns out to be quite efficient due to the following reasons:
220 V or 120 V is easily accessible in our homes. Making a bridge rectifier is also very easy.
Bridge rectifier converts AC into 100 Hz or 120 Hz pulses which enhances the electrolysis process significantly, compared to the specified 1. 4 V DC.
The heat dissipation can be easily optimized by decreasing the electrode cross-sectional area, and distance between the electrodes.
Using tap water means high water resistance, which in turn allows less current to be used.
This also means less HHO production but practical results show that the process produces a continuous bubbling across the electrodes, yet the water staying at normal temperatures.
The above factors ensure that a 220 V approach is much efficient in many other ways compared to using a 1. 5 V DC.
Easy set up for Generating Oxygen and hydrogen at Home in Large Quantities
OK, the method is as simple as it can be, while experimenting I found that by converting mains AC to DC, the process aggravates more rapidly and thick fogs of gases can be seen across the respective electrodes.
And it is definitely important to use DC. otherwise the gases will alternately produced over the two electrodes haphazardly completely ruining the results.
So....it's all about making a bridge rectifier circuit using four diodes, 1n4007 will do. take four of them and construct the bridge rectifier module and next wire up the system as per the shown diagram.
The glass apparatus will need to be carefully set. As can be see in the figure, the two glass tubes are inverted inside a container filled with water.
The two tubes should be filled with the water such that both the tubes share the container water among themselves.
A couple of GRAPHITE electrodes are fitted in such a way that they get inside the tubes water content just as shown in the figure.
The electrodes are terminated out through respective wires connections which are further connected to the bridge rectifiers positive and negative outputs.
The bridge rectifier inputs are in turn connected to mains AC.
The moment power is switched ON, thick surfs of bubbles can be seen coming out from the electrodes and exploding into the respective gas forms into the vacant area of the tubes.
No External Catalyst used
Since there's no external chemical involved here, we can be sure that the gas formed and collected inside the tubes to be pure oxygen and hydrogen.
As the process is allowed to continue, you will find the water level gradually coming down and getting transformed into oxygen and hydrogen within the two tubes.
The tubes should have a valve type arrangement at their top termination, so that the accumulated gas can be either transferred to a larger container or directly accessed from the nozzles by releasing the taps or the valve mechanism.
Video Clip show the minimum set up required for the electrolysis process:
Increasing Oxygen Production through Series Connections
Since technically, only 1.4 V is required for an efficient implementation of electrolysis, implies that the 220 V could be divided into a number of series arrangements for multiplying the production rate of oxygen to many folds, as shown in the following example set up.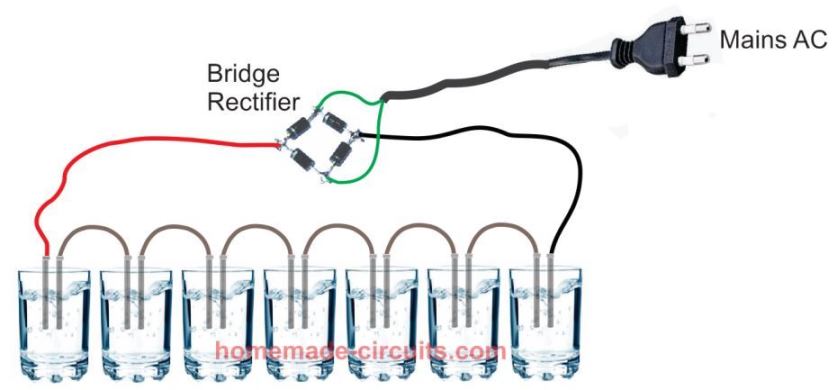 Here, we find that each glass/electrode set up is able to produce its own share of oxygen and hydrogen, thus making the total production 7 times higher. Actually, with a 310 v supply (after 220 V rectification), the above setup can be increased to 310 / 1.4 = 221 apparatus's, generating 221 times more oxygen than a single apparatus which was shown in our first example. That looks awesome, isn't it.
Remember the electrodes are graphite electrodes to avoid corrosion and oxidation. And, the water is pure tap water, no catalyst in the form of salt, acid, or baking soda must be used, which may otherwise cause false and dangerous outcomes.
Note: The concept has not been tested practically, so make sure to test it on a small scale first, to confirm its efficacy.
Increasing the Efficiency Rate by using nano pulse.
The results are not yet confirmed by me, but research has shown that decreasing the pulse width can further increase the efficiency of the electrolysis. It is called nano pulse electrolysis.
Perhaps the easiest way of implementing a nano pulse could be to put a capacitor in series with the AC input, as shown in the following figure:
What the capacitor does is it allows only a short, narrow, peak pulse to appear across the electrodes, causing the oxygen, hydrogen production to increase to much higher levels compared to any other conventional set up.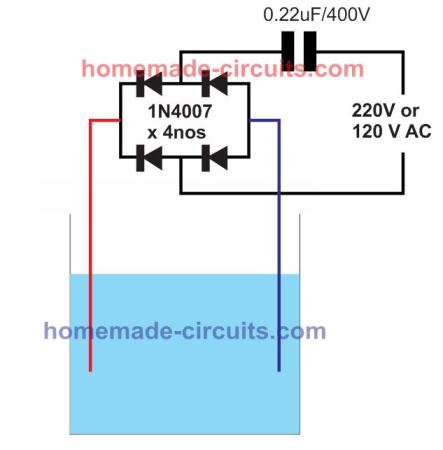 Warning
THE WHOLE SYSTEM INVOLVES HIGH AC AND DC POTENTIALS, DEATH CAN COME WITHIN MINUTES IF ANY OF THE PART OF THE SYSTEM IS TOUCHED, EVEN THE WATER IS HIGHLY DANGEROUS TO TOUCH IN SWITCHED ON POSITION. DO NOT SHORT CIRCUIT THE ELECTRODES, WHICH MAY RESULT IN FIRE AND HUGE EXPLOSIONS. GREAT CAUTION MUST EXERCISED WHILE HANDLING THIS SET UP.
USE OF A 200 WATT SERIES BULB IS RECOMMENDED TO AVOID A POSSIBLE SHORT CIRCUIT, AND FIRE HAZARD SITUATION.
DO THIS AT YOUR OWN RISK.