An emergency lamp using SMD LEDs is able to generate illuminations with extreme brightness due to the high efficiency of the SMD type LEDs. Moreover, SMD LEDs also ensure the unit will be very compact and lightweight.
The following post explains a simple circuit diagram of an automatic emergency lamp using 36 nos. SMD LEDs. The circuit has been presented in response to the following request sent by Mr.Ali Adnan.
Circuit Request for SMD Emergency Lamp
I've 36 SMD LEDs(Side View Type), I Extracted them from my Broken Laptop's LED LCD screen. I tested them with multimeter and found all LEDs in working condition.
Now I want to make some useful from them like an emergency LED lite. I'll remove all 36 LEDs from strip and mount them on a PCB (will be Tough JoB Mounting SMD's) once you will design a circuit for me to drive them.
I don't know much about SMD LEDs so that's why I am bothering you. I googled for data sheet for that type of LEDs and I think I found right data sheet for this LED, please also compare the pictures of LEDs and data sheet.
I am attaching actual pictures of LEDs that I have and also attaching data sheet, please check and help me with a simple circuit with simple parts. and just for information I've not found the IC ZXSC310 (that you used in your 1 watt LED circuit) here in Lahore Pakistan 🙁 and I am too sad for this.
Waiting for your Reply.
Best Regards,
Ali Adnan Khan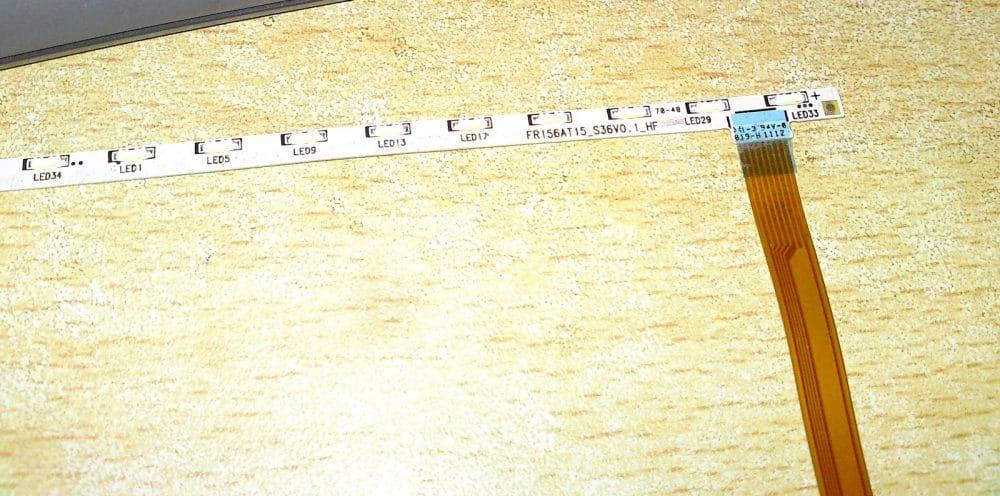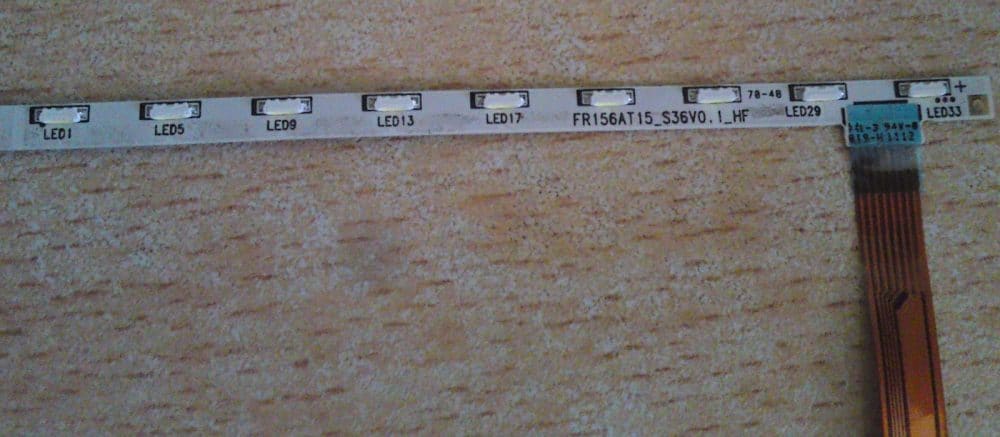 "Hi Bro,
What kind of emergency light do you want to make? Automatic AC/Dc operated or just direct on battery?
The datasheet and the pics are OK.
Best Regards,
Swagatam"
"Hi, thanks for your reply bro. Automatic AC/DC operated with battery backup."
OK, here's an automatic ac/dc emergency light circuit using the proposed 36 SMD LED lights which is easy to build, cheap and yet reliable.
CAUTION - THE CIRCUIT IS NOT ISOLATED FROM AC MAINS, UTMOST CARE MUST BE OBSERVED WHILE TESTING THIS CIRCUIT IN UNCOVERED POSITION.
ALTERNATIVELY YOU MAY INCORPORATE A 12V, 500MA DC ADAPTER ACROSS THE ZENER DIODE INSTEAD OF THE SHOWN TRANSFORMERLESS POWER SUPPLY FOR AVOIDING THE ABOVE CAUTION.
The Design of a an Automatic SMD based emergency lamp is shown below, as per the above request specification: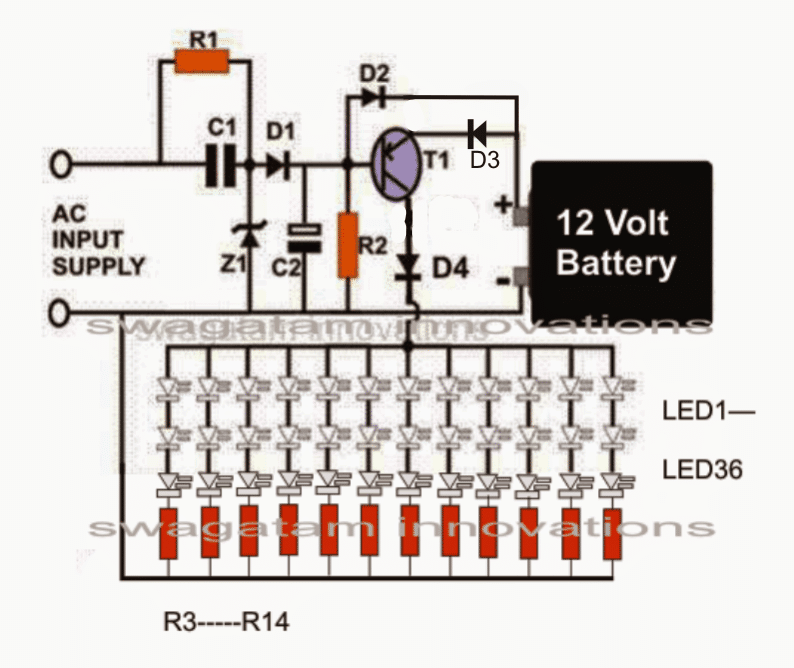 Parts List
All resistors are 1/4 watt, 5%,
R1 = 1M
R2 = 1K,
R3---R14 = 56 Ohms
C1 = 2uF/400V PP Capacitor
C2 = 100uF/ 25V
D1, D2 = 1N4007,
D3, D4 = 1N5402
T1 = TIP127
Z1 = 15V 1 watt zener diode
Battery = 12V/2AH
LEDs = SMD, 3V white, 20 mA
Get New Circuit Diagrams in your Email