IRF640 is a N-channel Power MOSFET designed for applications such as switch mode power supplies (SMPS), DC-DC converters, motor control, and general purpose switching.
Here is the complete datasheet for the IRF640:
Pinout Configuration
The pinout configuration of the MOSFET IRF640 is as given in the following diagram.

Electrical Characteristics:
Drain-Source Voltage (Vds): 200V
Continuous Drain Current (Id): 18A
Pulsed Drain Current (Idm): 72A
Gate-Source Voltage (Vgs): +/- 20V
Continuous Source Current (Is): 18A
Total Power Dissipation (Pd): 150W
Avalanche Energy (Eas): 170mJ
Avalanche Current (Iar): 18A
Threshold Voltage (Vth): 4V - 5V
Input Capacitance (Ciss): 1500pF
Output Capacitance (Coss): 500pF
Reverse Transfer Capacitance (Crss): 250pF
Thermal Characteristics:
Operating Junction Temperature (Tj): -55°C to 175°C
Storage Temperature (Tstg): -55°C to 175°C
Thermal Resistance, Junction-to-Case (RθJC): 1.25°C/W
Thermal Resistance, Junction-to-Ambient (RθJA): 62.5°C/W
Mechanical Characteristics:
Lead Temperature (TL): 300°C (soldering, 10 seconds)
Mounting torque: 1.1 Nm (10 lbf-in)
Package Information:
TO-220AB package with through-hole mounting
Applications
SMPS: The IRF640 can be utilised in SMPS for applications requiring voltage control and power conversion.
DC to DC Converters: MOSFETs are used in DC-DC converters to transfer electricity from one voltage level to another in an effective manner.
Motor Control: Applications involving the speed and direction control of DC motors and stepper motors are also carried out using the IRF640.
Audio Power Amplifiers: The MOSFET may be utilized as an output device to regulate the current flowing through the load in audio power amplifiers.
Lighting: Light-emitting diodes (LEDs), LED drivers, and high-intensity discharge (HID) lamps are some examples of lighting applications for the IRF640.
Solar Controller: IRF640 MOSFET can be utilized in solar power systems for voltage and current regulation as well as power conversion.
High Voltage Switch: Many applications requiring high current and voltage ratings can use the IRF640 as a general-purpose switch.
Making a 12V to 110V Boost Converter Circuit
The IRF640 MOSFET can be effectively used for making a 12V to 110V boost converter circuit as shown in the following diagram.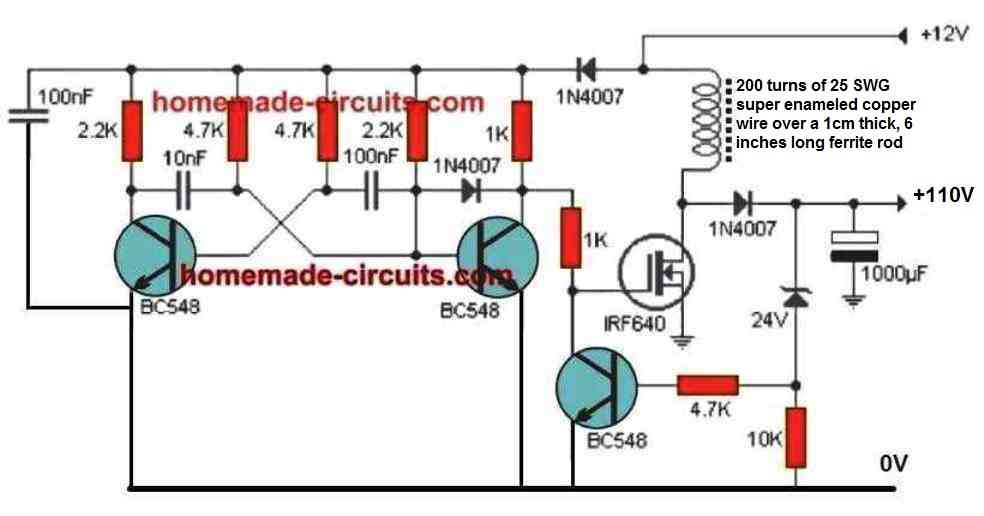 Get New Circuit Diagrams in your Email