In this post we will learn how to use IC 555 to create 7 interesting siren and alarm sound effect generator circuits.
The versatile astable multivbrator configuration of IC 555 allows us to implement it for making various types of sirens and alarm circuits.
This becomes possible because an astable is basically a waveform generator, and can be customized for generating different types of sound waveforms, resembling alarm and sirens sounds.
What we will Learn
Here we will learn how to build the following siren and alarm circuits using IC 555:
Monotone Alarm
Pulsed Alarm
Warble He-Haw Siren
Police Siren
Red Alert Star-Trek Alarm
Destroyer Whooper Siren
Ambulance Siren
1) Monotone Alarm
In the first figure below we can see the IC 555 configured as a 800 Hz frequency monotone alarm circuit.

The speaker can have any impedance value, due to the presence of the current limiting resistance Rx. A safe value could be around 70 Ohms 1 watt.
For making a high power continuous tone alarm circuit we cam upgrade the above circuit through a power transistor driver Q1 and a more powerful loudspeaker, as shown below: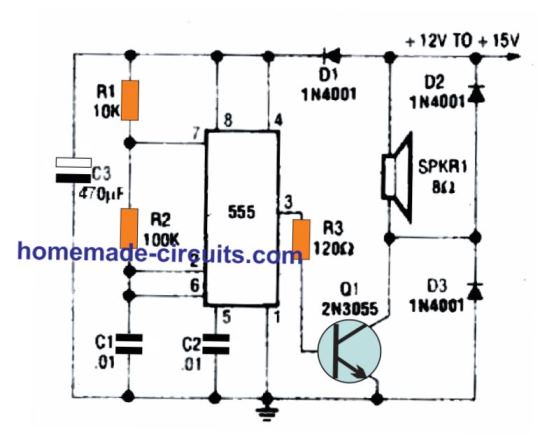 Since the design may produce a high level of ripple voltage, D1 and C3 are included to prevent the ripple interference with the IC 555 functioning.
Diodes D2 and D3 are included to neutralize the inductive switching spikes generated from the speaker coil, and to safeguard the transistor Q1 against damage.
2) Pulsed IC 555 Alarm Circuit
The previous 800 Hz monotone alarm could be converted into a more interesting pulsed 800 Hz alarm by adding another astable multivibrator with the tone generator circuit as shown in the second concept below.
We have already studied how pin 5 can be used for controlling the pulse width of the IC 555.
Here IC 2 is configured as a 1 Hz oscillator circuit which causes pin 5 of IC 1 to alternately become low at a 1 Hz rate. This in turn causes pin 3 800 Hz pulse width to narrow to an extent which almost turns OFF Q1. This produces a 1Hz sharp pulsed alarm effect on the loudspeaker.
3) Warble He-Haw Alarm Siren Circuit
If you want to convert the previous design into an ear piercing warble alarm, you can do it by simply replacing the D1 diode with a 10 K resistor as revealed in the above diagram. Also known as he-haw alarm, these are commonly used in European emergency vehicles.
We know that pin 5 can be used with an external high/low signal for modulating the pin 3 output with a corresponding widening/narrowing pulse widths. The 1 Hz alternate high low supply at pin 5 of IC2 forces the output pin #3 voltage of IC 1 to generate a symmetrically changing frequency varying from 500 Hz to 440 Hz. This causes the speaker to generate the required sharp high volume warble alarm sound at 1 Hz rate.
4) Making a Police Siren
The IC 555 can be also used for making a perfectly imitating police siren circuit as demonstrated above.
This fourth circuit is designed to produce the typical wailing sound commonly heard in police sirens.
Here IC2 is connected as a low frequency oscillator with a frequency set at a 6 second ON OFF rate.
The slow exponential triangle wave ramp generated across its C1 is fed at the base of Q1 configured as an emitter follower.
The frequency of IC1 is set at 500 Hz which becomes its center frequency.
The slow rising and falling ramp at base of Q1 follows at its emitter and modulates pin 5 of IC1. The slow ramp causes alternate cycles of slow rising voltage for 3 seconds, and slow decaying voltage for the 3 seconds on pin 5. Due to this pin 3 frequency and PWM also modulates accordingly generating the wailing police siren sound effect.
5) Red Alert Star Trek Alarm Circuit
The fifth circuit in the list is another very interesting sound effect generator using the IC 555 astable. It is the red-alert alarm sound generator, also called the star trek siren due to its frequent use in the popular TV series star trek.
Typically, the red alert alarm sound initiates with a low frequency tone, that rises to a high frequency note within a quick span of around 1.15 seconds, and cuts off for 0.35 seconds, and again rises from a low to high frequency, and the cycle continues giving rise to the star trek red-alert alarm sound.
Just like the previous alarm and siren sound circuits, this circuit also keeps repeating the sequence as long as it remains powered.
The IC 2 here is configured as a non symmetrical oscillator circuit. The capacitor C1 is alternately charged through the elements R1 and D1, and is alternately discharged through R2.
This produces a quick rising and fading sawtooth pluses across the capacitor C1. This ramping signal is buffered by the emitter follower and applied as a modulating voltage to the control input pin 5 of IC1 via R7.
Due to the sawtooth nature this waveform causes the pin 3 output frequency of IC1 to gradually rise for the slow decaying portion of the waveform, and then quickly drops during the collapsing part of the waveform.
During each of the decaying section of the waveform cycle, the corresponding rectangular pulse from pin 3 of IC2 instantly switches OFF Q2, which in turn causes pin2 of IC2 to go low.
This interrupts the C2 output and the rising tone on the speaker, giving rise to the peculiar red alert star trek alarm sound effect.
6) Destroyer Whooper Siren
Have you seen those good old WWII navy movies, where you might have listened to that special "whoop-whoop-whoop" siren sound as a destroyer ship cruised through the ocean waves, with its firearms blasting, and all crew members screaming "battle stations!".
The IC 555 circuit below will create the same distinctive "whooper," siren sound effect and that might cause quite many heads turn.
If you actually wish to draw attention of the folks, you can use an amplifier to boost the whooper sound effect. IC U1 is hooked up as a low-frequency asymmetrical oscillator.
Q1 inverts the output signal and supplies it to the reset terminal of U2 at pin 4. IC 555 U2 is wired as an audio oscillator and starts operating as soon as the UI 555 output goes low.
Since the U2 pin 5 constant potential constant, the circuit might only create a "bleeping." sound.
The voltage over capacitor C is applied to the transistor Q2 base, switching it on, which grounds the pin 5 of U2 555.
Once the pin4 reset signal frequency on pin 4 drops, causes the U2 output frequency to increase.
The of U2 555 then starts sounding like the "whoooop", which begins with low frequency tone, and gradually ends with a high ear piercing tone.
7) IC 555 Ambulance Siren Circuit
The sound produced resembles that of a Victorian-era ambulance siren and is intensified by incorporating components such as C2, C3, Q1, Q2, R1, and R2.
When operated with a 12-volt power source and one or two 8-ohm, 5-watt horn speakers, the output is incredibly loud at close proximity.
Besides the audio output, the only alterations made to the original circuit pertain to both timing sections of the IC 555 timers, which are responsible for generating the required frequency and modulation for the desired sound type.
For added sound modulation variety, R7 can be substituted with a 220-ohm resistor, and R8 can be replaced with a 100k trimpot, with its wiper connected to pin 7 of IC2, as illustrated.
This adjustment transforms the sound from a rapid 'whip-whip' effect in one direction to a 'wow wow' effect in the opposite direction.
The modulation ranges from approximately 6 to 7 Hz to just under 1 Hz before reaching the end of the wiper's travel.
Please note that if this alarm is intended to be used with two speakers and/or a power source exceeding 6 volts, it is crucial to equip Q1 and Q2 with moderate heatsinks.
When two speakers are employed with a power supply ranging from 9 to 16 volts, a more favorable outcome is achieved by replacing C2 and C3 with 470uF capacitors.
Here is a summary of the current consumption at different voltage levels when using 220 pF for C2 and C3, and a single 8-ohm speaker:
16 V: 420 mA
12 V: 320 mA
9 V: 250 mA
6 V: 160 mA
4.5 V: 100 mA
When two speakers are used, both the current draw and sound output nearly double.
Additionally, it's important to note that C1 is indispensable with any power source as it serves as a power storage element to accommodate the rapid fluctuations in current consumption.
Lastly, please exercise caution and consideration for others when testing and employing this alarm system.
Back to You
Well these were some hints regarding how to use IC 555 for creating useful alarm and siren circuits. Do you have any other interesting sound effect generator using IC 555?
If you do, please provide the details here, we will be most happy to include it in the above list.