The L296 is a monolithic power switching regulator IC, incorporating an adjustable output voltage, current limiting, and thermal shutdown. Due to these features, this IC has become a favorite option for a many different applications such as bench power supplies, battery chargers, and motor controllers.
The IC L296 will be used in this circuit to create an adjustable output voltage between 5 V and 40 V from a DC input voltage of up to 50 V. Furthermore, we're going to use the L296's current limiting capability to safeguard the circuit and the load from high currents. This adjustable switching power supply circuit is ideal for both beginners and professionals looking for a diverse and dependable power source.
Electrical Characteristics:
Input voltage range: 4.75V to 40V
Output voltage range: 5V to 40V
Output current: up to 4A
Dropout voltage: 1.5V typical (at 3A)
Quiescent current: 8mA typical
Standby current: 100uA typical
Operating temperature range: -25°C to +125°C
Storage temperature range: -65°C to +150°C
Technical Specifications:
The L296 is a voltage regulator and step-down switching regulator integrated circuit that offers an extremely effective and reasonably priced power supply solution.
The device is designed to operate with a high efficiency of up to 80%, the also provides a maximum output current of 4 A.
The device features a built-in thermal shutdown functionality that guards against IC damage from overheating situations.
Short-circuit and overvoltage problems are protected against by the L296's internal safeguards.
A step-down switching regulator could be constructed from the device by connecting an additional NPN transistor to the output.
The IC can work with input voltages as low as 4.75 V and as high as 40 V due to its extensive input voltage range.
The device provides the facility of a low dropout voltage of 1.5V, normally at 3A and also the facility to adjust the output voltage through an external variable resistor.
The TO-220 package for the L296 has a built-in heatsink tab for simple installation and heat dissipation.
Circuit Diagram
The following figure shows the complete circuit of our high current switching regulator power supply using the IV L296.


Why the Resistor R5 is Used
In our high current switching power supply circuit, the only important external passive component is resistor R5, which is only present if you use an L296P.
With this circuit, it limits the short-circuit current. The value indicated here sets this limit to around 4 A, while it is 7 A without the resistor, or with the L296 that does not have this capability.
We have not provided an output filter in the proposed L296 high current switching power supply circuit. Nevertheless, you can add one if you deem it necessary. It will then be identical to the one placed at the output of the LM2576 circuit.
We have not shown the classic transformer and its rectification and filtering circuit on these figures, which must precede either of these circuits as they have nothing special about them.
Power Supply
Regarding the power supply based on L296 or L296P, the limit will be 50V. Therefore, in both cases, be sure to size your transformer accordingly, keeping in mind that the open-circuit voltage across the filter capacitor following the rectifier bridge is equal to 1.4 times the available effective AC voltage at the transformer secondary.
Construction
For any respectable switch-mode power supply, the capacitors will be imperative low-ESR models, at least for those for which we have explicitly indicated in the component list.
Such capacitors are commonly available at FARNELL and RADIOSPARES, as well as for certain values at SELECTRONIC.
For this high current switching L296 adjustable power supply circuit, you will need to choose the P version of this circuit if you wish to be able to limit the short-circuit current to around 4 A using R5.
Otherwise, R5 will disappear, and the version without the P suffix is suitable.
The following figures present the printed circuit board drawings.

If we have planned to mount the voltage adjustment potentiometer directly at the end of the printed circuit board, it can be delegated to the front panel of the case receiving the assembly if necessary.
It can also be replaced by a fixed resistor if you do not want to make a laboratory power supply but only a power supply with a particular output voltage.
Although switch-mode power supplies have low thermal dissipation, the power of the proposed high current adjustable switching circuit still requires the use of a heatsink on the regulators.
However, it will be of a size that is much smaller than what would be needed for a linear power supply of the same power. In fact, the metal cabinet of the assembly can serve as a heatsink provided the metal is aluminum.
Note that in this regard the L296 has its metal tab connected to the electrical ground, making any insulation accessory unnecessary and facilitating the assembly and heat dissipation.
About the 220 uH Inductor
The inductor will need to be built over a large ferrite torroidal core, with a specific number of turns that corresponds to 220 uH. An example image of the inductor can be seen in the following figure.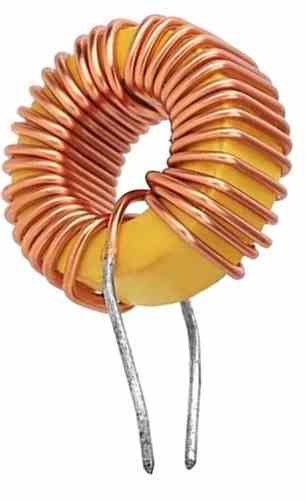 How to Use
We won't be teaching you how to use an adjustable laboratory power supply, and this paragraph is only here to specify and remind you of the limiting characteristics of this high current adjustable switching regulator circuit.
As for the L296 or L296P version, the maximum input voltage is 50 V, and the output voltage is adjustable from 5 V to 40 V.
Regulation is ensured for an output current of less than or equal to 4 A. The short-circuit current is typically 7 A with an L296 and 4 A with an L296P and an R5 resistor of 22 kOhms.
Note that if you want to modify this value, the current increases as the resistance value increases and vice versa.
ST Microelectronics does not provide a calculation formula but offers a graph in the circuit's datasheet to determine this resistance based on the desired short-circuit current.
With all of these parameters in hand, you can now make good use of this high current switching power supply and appreciate the advantages of switching technology they offer.