This circuit goes beyond being a simple two-tone doorbell. Instead, it utilizes envelope modulation to produce an authentic 'ding-dong' chime sound.
Additionally, it incorporates a power-saving feature, consuming zero power in standby mode.
Circuit Diagram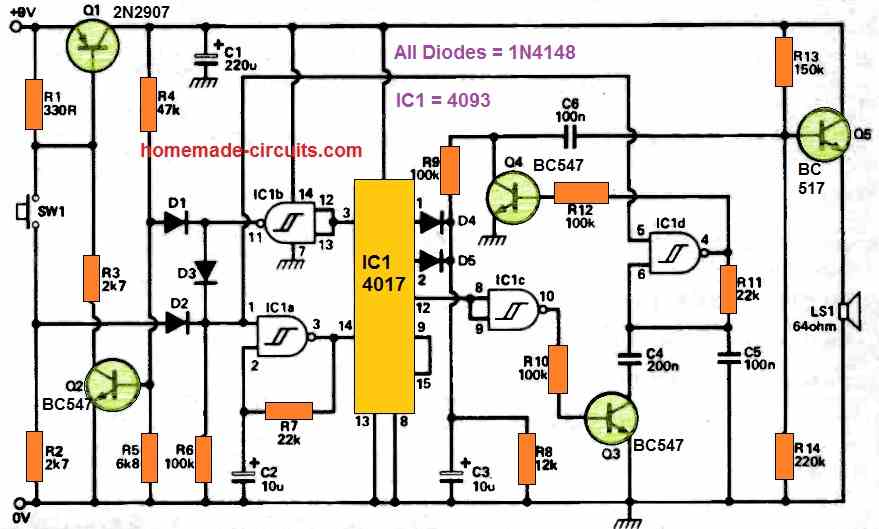 How the Circuit Works
When SW1 is pressed, it triggers Q1 to power the remaining circuitry.
IC1a serves as a low-frequency oscillator, generating clock pulses for the decade counter IC2.
Q2 activates when the counter reaches zero, sustaining power for a complete cycle.
The envelope, characterized by rapid attack and gradual decay, is shaped by D4, C3, and R8 during the initial count.
Q4 modulates the output of the audio oscillator IC1d, which then feeds into amplifier Q5 and the loudspeaker. When the counter reaches count 5, a new envelope begins using D5, C3, and R8.
Simultaneously, the carry-out pin goes low, introducing C4 in parallel with C5 to produce the deeper 'dong' sound.
Upon reaching count 9, the counter is reset, and Q1 and Q2 are deactivated through IC1b, making the circuit ready for another ringing cycle.
Parts List
All Resistors are 1/4 watt 5% CFR
R1 = 330 Ohms
R2, R3 = 2.7 K
R4 = 47 K
R5 = 6.8 K
R6, R9, R10, R12 = 100 K
R7, R11 = 22 K
R8 = 12 K
R13 = 150 K
R14 = 220 K
Capacitors
C1 = 220 uF / 25 V Electrolytic
C2, C3 = 10 uF / 25 V Electrolytic
C4 = 200 nF Ceramic
C5, C6 = 100 nF Ceramic
Semiconductors
Q1 = 2N2907
Q2, Q3, Q4 = BC547
Q5 = BC517
IC1a, b, c, d = Gates from IC 4093
IC2 = 4017
SW1 = push button
LS1 = 64 ohm Loudspeaker
Ding Dong Bell Circuit using Two IC 555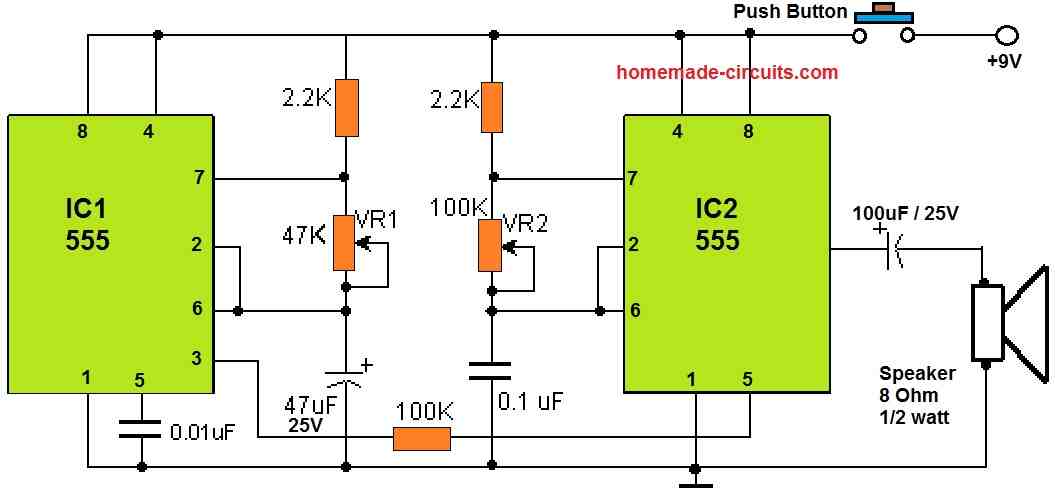 This circuit generates the iconic chime of the Big Ben clock. When activated, it emits the characteristic "ding dong" sound.
Fundamentally, the circuit switches back and forth between two frequencies, which can be customized. This action results in the formation of the "ding-dong" sound.
The initial integrated circuit (IC1) generates oscillations at approximately 1Hz. The subsequent integrated circuit (IC2) is influenced by the fluctuating voltage from the first IC, which modulates the tone.
The speed of the transition between the two frequencies is governed by IC1, determining the switching pace. On the other hand, IC2 influences the quality of the sound produced in the end.
By manipulating potentiometer VR1, the rate of frequency alternation can be fine-tuned, and by adjusting potentiometer VR2, the pitch of the sound can be modified.
Parts List
Resistors are 1/4 watt 5% CFR
2.2 K = 2nos
100 K = 1no
47 K preset = 1no
100 K preset = 1no
Capacitors
0.01 uF Ceramic = 1no
0.1 uF Creamic = 1no
100 uF / 25V = 1 no
Semiconductors
IC 555 = 2nos
Loudspeaker 8 ohms 1/2 watt = 1no
Battery 9 V = 1no
Push button Switch = 1no