The shop shutter guard circuit discussed here guards your shop when its shutter is closed i.e., at night if an intruder tries to break the shutter, the piezo senses the vibration and the relay is fired to which a 230 volt bulb can be connected which makes the intruder think that someone's inside.....but he don't know he's fooled by you!
You can also use this circuit for various applications like shock sensor or you can install it in your home to sense the door knock and buzzer rings( if buzzer is connected to circuit ) . It can also be used for automobile safeguard purpose. . .
CIRCUIT DESCRIPTION:
The circuit uses a piezo electric sensor to detect the vibrations. Usually piezos produce a voltage from few millivolts to 1 volt. But this voltage cannot have any use for our purpose. It have to be further amplified. So the four transistors are used here to amplify this voltage.
The amplified signal is fed to the pin2 of IC555 as trigger input. It in turn makes the output of the IC i.e., pin 3 of IC and this fires the relay and the buzzer(optional).
The output of the IC remains high for a preset time and after that time period, the output goes low and the relay and buzzer are turned off.
This time period can be varied by reducing or increasing the value of capacitor that is at pin6,7 and negative pole of DC source.
A 220uf (micro farads) capacitor can be used here. Its value may be varied to get desired timing interval. The sensitivity of the circuit can be adjusted using the 2M preset. Take caution while soldering piezo as it is sensitive.
The shop shutter guard circuit works on any voltage from 6- 12v but don't forget to use the relay that matches with the voltage rating.
PLEASE REFER THE DIAGRAM OF PIEZO ELECTRIC SENSOR AND CONNECT THE MIDDLE WIRE OF PIEZO TO C1's NEGATIVE AND OTHER WIRE OF PIEZO TO DC SOURCE NEGATIVE.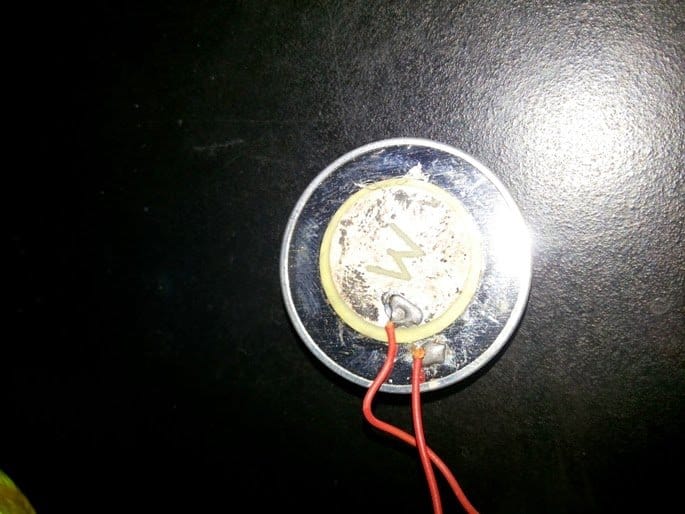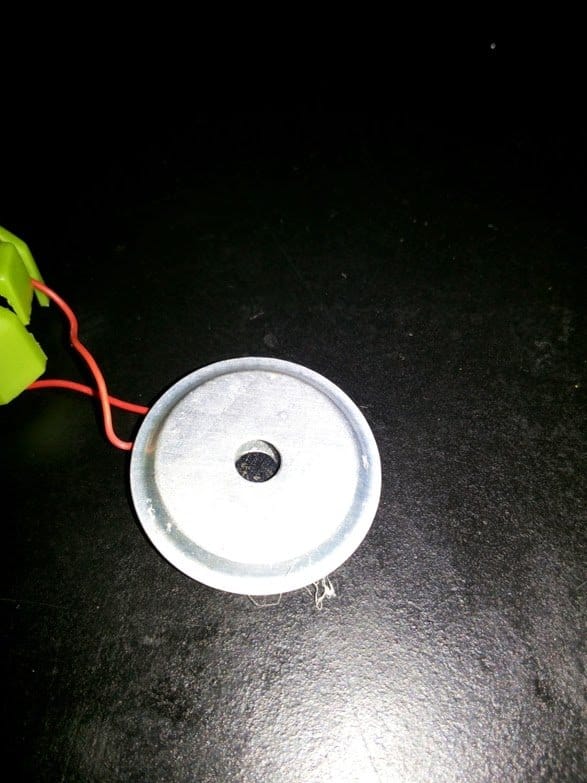 FIXING INSTRUCTIONS:
You can use a 0-12v transformer to power this up or in case of automobiles, connect this to the battery directly using a SWITCH to switch the circuit on and off.
And connect the car/bike's horn to battery using relay contacts as a switch. When someone moves the bike or tries to steal petrol or something from a bike, it senses the vibration and gives continuous horn for a predetermined fixed time, as set by the values of R5 and the series electrolytic capacitor.
You may use a buzzer instead if you don't want to connect it to horn. If you are using this for a shop shutter, you may connect relay contacts to a 230VAC bulb and fix the bulb outside the shutter.
You can assemble the circuit and enclose it in a plastic casing with holes for the sensor and power supply wires to reach the circuit.
Circuit Diagram

Written and Submitted by: SS kopparthy
PARTS LIST:
IC-NE555,
R1- 2meg preset,
R2- 10K,
R3- 1K,
R4- 10K,
R5- 1Meg,
R6- 470ohms,
C1- 2.2uf, 35v,
C2- 0.1uf,
Q1, Q2, Q4- 2N4401,
Q3- 2N4403,
L1- red led,
PZT1- piezo electric sensor,
D1- 1N4148,
Relay- (as per voltage of power supply),
Power supply- 9v-12v.