The semiconductor tester circuit explained below performs continuity tests on SCRs, bipolar transistors, and diodes.
How the Circuit Works
A squarewave oscillator with a frequency of about 350 Hz is produced by a couple of IC 4049 gates, U1a along with U1b, R1, R2, and C1.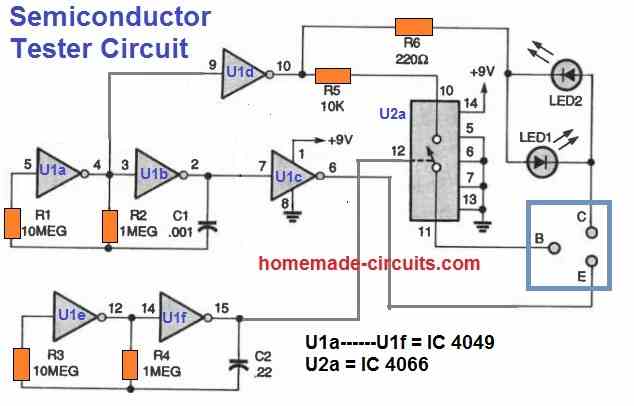 The complementary outputs required for testing both NPN and PNP devices are provided by the NOT gates U1c and U1d, which work like buffers.
A square wave oscillator with a frequency of about 2 Hz is created by the NOT gates U1e and U1f, along with R3, R4, and C2. A 4066 quad bilateral switch IC, U2a, is controlled through one switch using the output of the above oscillator.
With the help of this switch, the AC signal is sent to the tester's "B" (base) port after passing via the current-limiting resistor R5. Current to LED1 and LED2 is controlled by resistor R6.
Testing BJTs
Bipolar transistors can be tested by attaching their emitter, base, and collector leads to the tester's corresponding terminals and pressing S1.
The transistor can be considered a good NPN transistor if you see LED1 flashing. Similarly a PNP transistor can be deemed good PNP, if you see LED2 flashing.
Testing Diodes and LEDs
In order to test diodes, LEDs, and other similar semiconductor components, you need to insert the component's pins inside the tester's E and C ports and then toggle S1 ON.
LED1 or LED2 would continue to illuminate whenever the component is functioning properly and good.
In the event that LED1 glows, you can assume the anode (positive side) of the device is inserted to the tester's "C" (collector) port.
In the event that LED2, the cathode (negative side) may be assumed to be inserted into the collector port.
Testing SCRs
SCRs can be tested by connecting their cathode, gate, and anode terminals to the tester's E, B, and C ports, respectively, and pressing S1.
In the case of a "good" SCR, LED1 will indicate this by flashing. The tester's E and C ports could be used for continuity tests.
LEDs 1 and 2 will illuminate to confirm a continuity and a good device.
Get New Circuit Diagrams in your Email