I have already discussed one 50 watt inverter circuit in one of my earlier posts, the only difference between the previous and the present design is in the output stage. The previous circuit involved power transistors where as here we have utilized mosfets making the configuration much easier and straightforward.
Circuit Description
Rest of the stages are pretty much the same, in the earlier circuit we saw the involvement of  a transistor based astable multivibrator for the generation of the required 50 Hz oscillations, here too we have incorporated a transitor operated AMV.
The earlier circuit had a couple of 2N3055 transistors at the output and as we all know driving power transistors efficiently requires proportionate amount of base drive, relative to the load current, because transistors depend on current drive rather than voltage drive, in contrast to mosfets.
Meaning, as the proposed load becomes higher, the base resistance of the relevant output transistor also gets dimensioned accordingly for enabling optimal amount of current to the base of the transistors,
Due to this obligation, in the previous design a additional driver stage had to be incorporated for facilitating better drive current to the 2N3055 transistors.
However when it comes to mosfets, this necessity becomes completely insignificant.
As can be seen in the given diagram, the AMV stage is instantly preceded by the relevant gates of the mosfets, because mosfets have very high input resistance, which means the AMV transistors wouldn't be unnecessarily loaded and therefore the frequency from the AMVwouldn't be distorted due to the integration of the power devices.
The mosfets are alternately switched, which in turn switches the battery voltage/current inside the secondary winding of the transformer.
The output of the transformer gets saturated delivering the expected 220V to the connected loads.
Parts List
R1, R2 = 27K,
R3, R4 = 220 Ohms,
C1,C2 = 0.47uF/100V metallized
T1, T2 = BC547,
T3, T4 = any 30V, 10amp mosfet, N-channel, or a couple of IRF540
Diodes = 1N5402, or any 3 amp rectifier diode
Mosfet: IRF540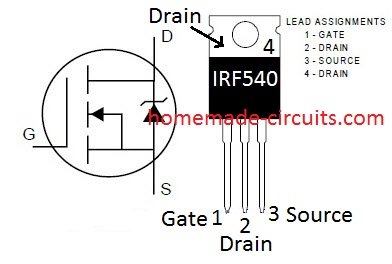 Transformer = 9-0-9V, 8 amp
Battery = 12V,10AH
Video showing the Testing process of the 50 watt inverter circuit: