In this post  we discuss the construction of a simple emergency charger pack using Nicket Cadmium (Ni-Cd) batteries for your cellphones and smart phones for emergency charging of your cellphone, so that next time you are never stuck on a highway with a full discharged dead cellphone battery.
Circuit Concept
It often happens, our cell phone goes into a low battery condition right in the middle of an important conversation, and even worse it happens while we are travelling or situated in some remote outdoor location where there's no charging facility available.
No matter what, this little pack will give your cell phone an immediate refill every time it tends to get flat outdoors.
We all know that at 3.7 V DC, a cell phone battery is considered to be fully charged.
For charging it at the above level a charging source needs to provide around 4 to 5 volts to the discharged cell phone battery.
Since here we are discussing an energy transfer from one battery to the other or rather from some power source to the cell phone, we need to have some sort of chargeable battery pack which would generate the required 4 volts and which could be used anytime for charging a flat cell phone simply by integrating the two together.
The above emergency battery pack can be very easily made by putting four Ni-Cd cells in series.
Let's learn how to do it.
Materials you will Require
It's not difficult, you would require four 1.2V Ni-Cd AAA penlight cells, a four cell holder assembly and a 1 Ohm 1 watt resistor.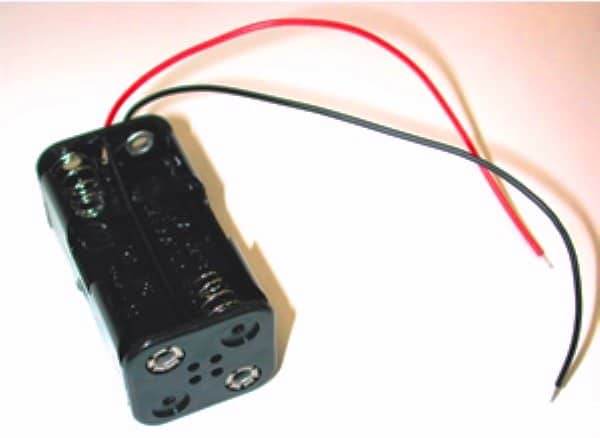 How to Build the Cellphone Battery Bank
The above holder would generate a voltage of about 4.8V at its wire terminals with four AAA 1.2 Ni-Cd attached to within the given slots correctly.
The 1 Ohm resistor can be connected at the center of the red wire by cutting the red wire at the center and bridging the resistor terminals such that it comes in series with the red wire. The resistor should covered under a plastic tubing or sleeving.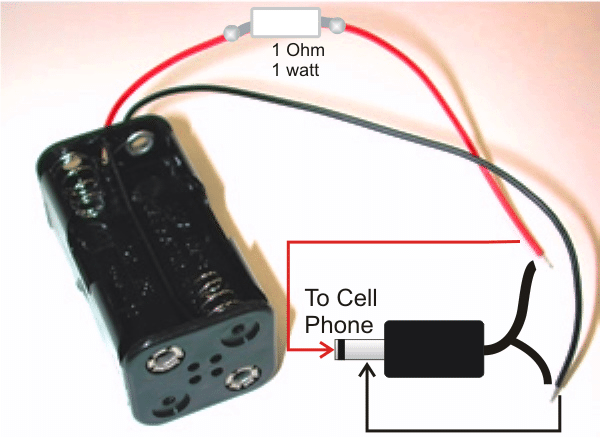 The red and the black wires of above assembly should be terminated with a suitable cell phone charger-pin so that it can be easily inserted into the cell phone charging socket whenever required.

Now let's learn how we can charge the above emergency battery pack at home.
Ni-Cd cells can be charged safely for about 10 to 14 hours using a constant voltage charger at C/10 rate. The very useful 7805 voltage regulator IC can be used here for charging the Ni-Cd battery pack.
The following diagram shows a very simple Ni-Cd charger circuit which can be used for charging the above battery pack so that it remains in a standby position and can be taken outdoors in the form of an emergency cell phone charger unit.