In this post we learn the datasheet of the IC TDA7560 which is a cutting-edge BCD (Bipolar / CMOS / DMOS) technology class AB 4 x 45 quad Audio Power Amplifier in Flexiwatt 25 package made for super high power car radio.
The thoroughly interdependent P-Channel/N-Channel output composition makes it possible for a rail to rail output voltage swing which, linked with high output current and minimized saturation cuts sets latest power references in the car-radio niche, with optimal distortion activities.
DC OFFSET DETECTOR
The TDA7560 integrates a DC offset detector to evade that an anomalous DC offset on the inputs of the amplifier could possibly be multiplied by the gain and contribute to an unfavorable significant offset on the outputs that might cause speakers problems for overheating.
The feature is allowed by the MUTE pin and fits well with the amplifier umuted and without signal on the inputs. The DC offset diagnosis is signaled out on the HSD pin.
STAND-BY AND MUTING STAND-BY and MUTING facilities are both CMOS-COMPATIBLE. In shortage of correct CMOS ports or microprocessors, an immediate connection to Vs of these two pins is admissible still a 470 kOhm similar resistance ought to give between the power and the muting together with stand-by pins.
Specifications:
Fantastic OUTPUT POWER Potential:
4 x 50W/4 Ohm Maximum.
4 x 45W/4 Ohm EIAJ
4 x 30W/4 Ohm @14.4V, 1KHz, 10%
4 x 80W/2 Ohm Maximum.
4 x 77W/2 Ohm EIAJ
4 x 55W/2 Ohm @14.4V, 1KHz, 10%
EXCELLENT 2 Ohm DRIVINGCAPABILITY
HI-FI CLASS DISTORTION
Minimal OUTPUT NOISE
ST-BY Functionality
MUTE FUNCTION
AUTOMUTE AT MIN. SUPPLY VOLTAGE Identification
Minimal Outside COMPONENT Estimate:
– INTERNALLY Predetermined GAIN (26dB)
– NO EXTERNAL COMPENSATION
– NO BOOTSTRAP CAPACITORS
ON BOARD 0.35A HIGH SIDE DRIVER
PROTECTIONS:
OUTPUT SHORT CIRCUIT TO GND, TO VS,
ACROSS THE LOAD
VERYINDUCTIVE LOADS
OVER RATING CHIP TEMPERATURE WITH
SOFT THERMAL LIMITER
OUTPUT DC OFFSET DETECTION
LOAD DUMP VOLTAGE
FORTUITOUS OPEN GND
REVERSED BATTERY
ESD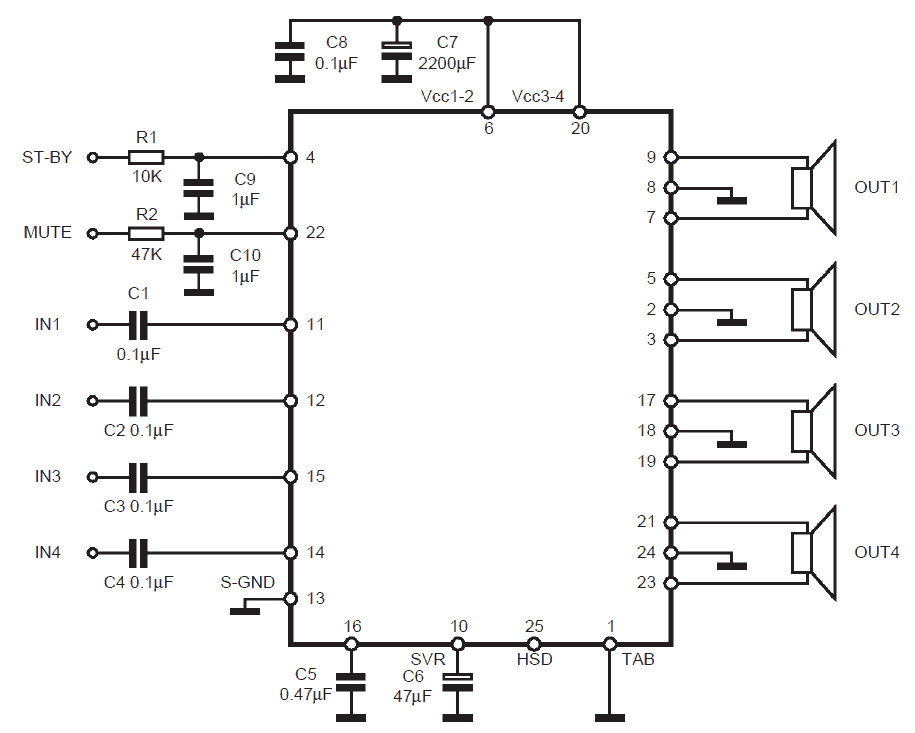 FOR MORE DETAILS PLEASE REFER TO THE DATASHEET BELOW:
Get New Circuit Diagrams in your Email