In this article we learn how to make a dimmer circuit for LEDs bulbs and LED tubes which are intended to be operated with mains 220V or 120V.
We know that our ceiling fans and incandescent bulbs can be easily controlled using triac dimmer switches, and we are quite used to with dimmer switches in our homes installed for controlling such devices.
However with the advent of LED bulbs and tubes, incandescent bulbs are slowly making an exit, and our home bulb holders are getting replaced with LED bulbs.
LED bulbs come with a built in SMPS driver within their holder cabinet, and an SMPS circuit makes it difficult to operate or control through a triac dimmer switches, until and unless its suitably modified for the application.
Because, the SMPS driver inside LED bulbs and tubes strictly employ inductor or capacitive based circuits which are never recommended to be used through triac dimmers, since triac dimmers utilize phase chopping technology for the dimming purpose which unfortunately does not suit inductive/capacitive load control.
If used then the LED bulbs do not dim correctly rather show erratic dimming or brightening behavior, due to an incompatible reaction.
The best method and probably the technically correct approach is the PWM technology which can be effectively used for controlling or dimming LED bulbs or tubes. The figure shows the design may be implemented.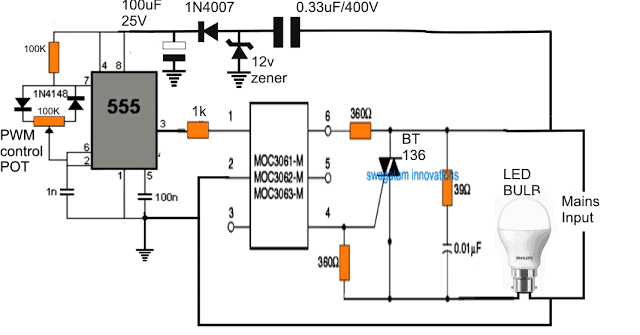 The idea is actually very simple, thanks to the MOC series opto couplers which make triac control through PWM extremely easy and compatible.
The right side of the figure comprises a standard MOC3063 IC based triac controller circuit which is operated through an IC 555 based PWM circuit shown at the left side of the figure.
The IC 555 is configured as a standard adjustable PWM generator which feeds the desired PWM to the input pin#1/2 of the MOC IC.
The adjustable PWMs are appropriately processed by the IC through its built in zero crossing detector circuit and photo triac which is ultimately used for controlling an external triac BT136 via its output pin#4/6.
The connected LED bulb now responds to the PWM content applied by the 555 circuit and proportionately adjusts its brightness as per the user preference.
The PWM control is executed through the associated 100K pot, which must be suitably insulated, as the whole circuit is not isolated from mains current.
The circuit is not isolated from mains despite of the opto coupler due to fact that the IC 555 requires a DC supply for operating which is supplied from anon-isolated transformerless power supply, this is done in order to keep the design compact and avoid the use of costly SMPS module which could have been otherwise an overkill.
If you have any concerned question regarding the above explained dimmer circuit for LED bulb, you can express them through your comments.
UPDATE
I regret to say that the above concept was assumed incorrectly by me, and design won't work for the mentioned purpose.
However by adding a bi-directinal switch, the circuit could be made to work for the dimming application of an LED bulb, as shown below: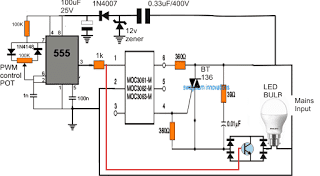 The indicated bi-directional switch consists of 4nos of 1N4007, and an IGBT rated appropriately as per the LED bulb specifications.
Using a Dimmer Switch
Although I believe that a dimmer switch may not be suitable for dimming an LED bulb, it could be modified with a bridge/capacitor network and then tried with an LED bulb as shown below.
The motor here could be replaced with a LED bulb for the dimming through the 220K pot.