The following article explains the main technical features and specifications of 3 watt white LEDs. Let's learn more regarding their operating parameters and safe-operating limitations.
Main Features
Extreme luminosity capability
Extreme working life > 50K hours.
Very Low thermal resistance.
SMD technology allows embedded PCB type sodering.
Completely UV free design
Enhanced ESD protections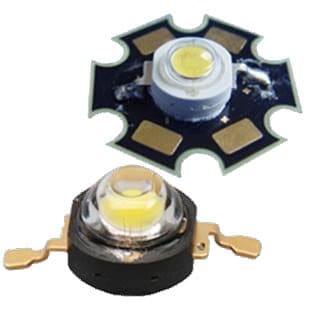 Image Courtesy - https://www.led-display.cc/High-Power-LED/Q1B/LP5W-80-SERIES:-5-watt-high-power-LED.jpg
The soldering details and dimensions of a typical 3 watt LED may be checked in the following diagram: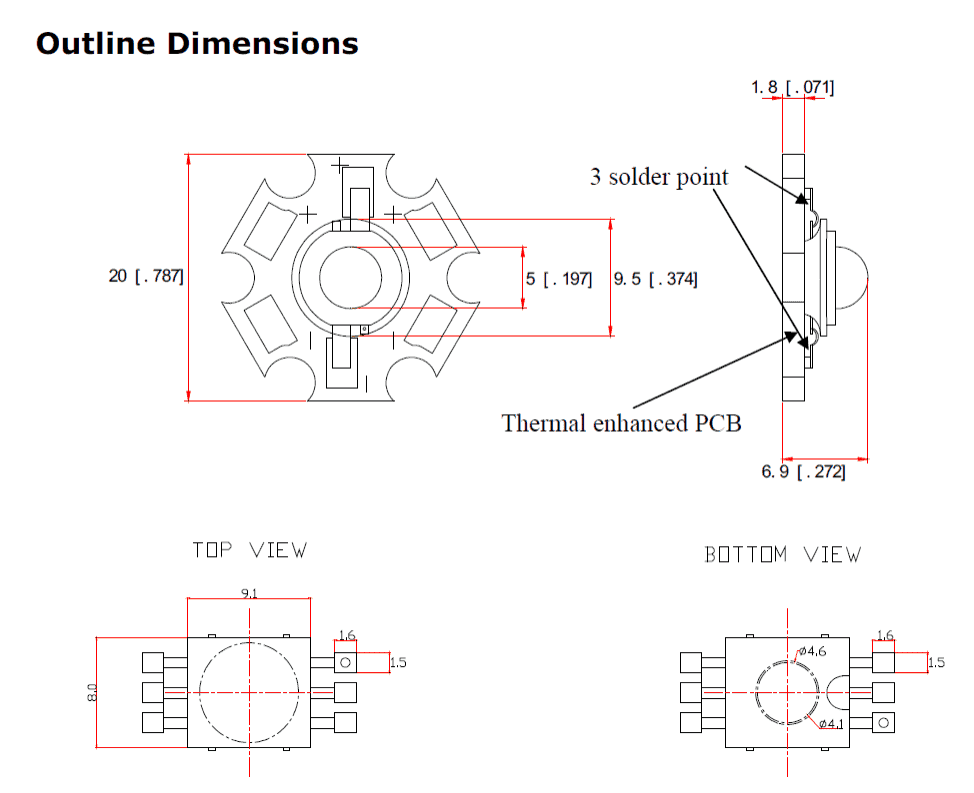 The dimensions are in millimeters.
The anode side of the LED can be identified by the given hole on that particular side.
The PCB heatsink pad must be tightly in contact with the body metal or the slug of the device. Remember the body metal is neutral and has no connection with either the anode or the cathode of the device, and must not be linked with any of the leads of the LED.
The lens of the device is sensitive to rough cntacts so excercize caution not to brush any hard or shrp material with the lens which might considerably reduce the light intensity from the LED
Technical parameters of the device:
Luminous Flux - 100 to 120 lm
Forward Voltage - 3.3V to 4 V maximum. These are the minimum and the maximum limits for operating the LED.
Optimal viewing angle - 90 degrees.
Absolute Maximum Ratings
These are the values which indicate the extreme limits of the relevant parameters above which the device might get instantly damaged.
Forward Current - 1 ampere
Power Dissipation - 4 watts
Junction Temperature - 125 degrees Celsius
Operating temperature - minus 30 to 85 degrees Celsius
WARNING - THE EXPLAINED 3 WATT LED SHOULD BE OPERATED WITH THE ABOVE PARAMETERS ONLY AFTER MOUNTING IT OVER A SUITABLE HEATSINK FACILITATED PCB. THE DEVICE WILL NOT WITHSTAND THE OPERATIONS FOR MORE THAN 5 SECONDS WITHOUT A SUITABLE HEATSINK ATTACHED TO ITS BODY.
Courtesy - https://www.futurashop.it/pdf_eng/8220-L-HP3PW.pdf
Get New Circuit Diagrams in your Email