A thermometer may be required for the precise measurement of temperatures. However, in many cases, an absolute value isn't required and a relative estimate is sufficient. For example, the consumer may be alerted to the fact that an electric drill or vacuum cleaner is becoming hot, through a basic LED illumination, or through changing color of an LED.
It would be much better if a green light on these devices indicated that everything was fine in terms of temperature. The light must gradually change color as the temperature increases to signal the user that the equipment is becoming too hot.
In this post we learn how to build a simple temperature indicator circuit using an NTC and a PTC thermistor.
As we know, an NTC thermistor is a temperature dependent resistor whose resistance decreases in response to an increase in temperature. Hence it is called a negative temperature coefficient thermistor (NTC) due to its negative resistance response to increasing temperatures.
A PTC thermistor is also a temperature dependent resistor but it exhibits an opposite function.
The resistance of a PTC thermistor increases in response to an increase in the temperature around it. Hence it is named as positive temperature coefficient thermistor (PTC) due to it positive resistance response to increasing temperatures..
In the following simple temperature indicator circuit we exploit the above characteristics of both NTC and PTC thermostors to get a quick indication of temperature through illuminated LEDs.
Circuit Description
The following simple thermistor based temperature indicator does exactly this.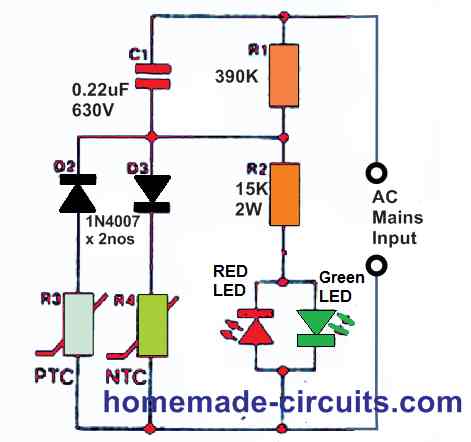 The value of R3 is low and that of R4 is high at a comparatively low temperature. During the positive half cycle of the mains voltage, there will be a voltage across R3-D3 that is high enough to illuminate the green LED.
The value of R3 is set to ensure that the voltage across it is very small to cause the red LED to illuminate during the negative half cycle of the mains voltage.
When the temperature rises, the value of NTC thermistor R4 decreases while the value of PTC thermistor R3 increases. Eventually, the green LED illuminates with less and less brightness, while the red LED will starts lighting up with greater and greater brightness, until just the red LED is totally illuminated.
The current drawn by the LEDs is kept under control by resistor R2 and capacitor C3. This approach minimizes dissipation to a minimum.
Both R3 and R4 should be of fair size, with a diameter of at least 6 mm and no less. The NTC thermistor must have a value of 22 to 25 k and the PTC thermistor must have a value of 25 to 33 Ohms at 25 °C. Because it conducts the entire mains voltage, the circuit should be handled with caution.