The post discusses a small induction heater circuit for school project and exhibitions, using a very ordinary IC 555 astable PWM circuit. The idea was requested by Mr. Anthony
Technical Specifications
For a school project i need to construct an AC induction cooktop and was wondering if you could help me put together a part list for a much weaker induction cooktop than yours, it only has to warm up a few ML's of water.
is this something that is possible?
The Design
An induction heater is considered as an amazing circuit which is capable of converting electricity into heat with utmost efficiency and without much losses.
However a little contemplation will make you realize that actually it's just the opposite. An induction heater circuit is an extremely inefficient circuit which converts all the electricity into heat.
This opinion is with regards to the general view about electrical and electronic circuits where the emission of heat is considered to be inefficient and undesirable.
But for an induction heater, this inefficiency attribute becomes its positive aspect, and the more inefficiently it is designed, the more beneficial it becomes for the user.
To be precise, an induction heater is an inefficient transformer which is purposely mismatched with its frequency and the core material specifications.
In this concept the core is normally a ferromagnetic material such as iron having a copper coil wound over it. The copper winding around this iron core is oscillated at a relatively higher frequency which may be not suited for the iron material.
The bad conductor nature of iron finds it difficult to resonate at the high winding frequency resulting in the generation of high back emf eddy currents which in turn causes high temperatures on the core material.
This feature is exploited in induction heaters for the intended purpose of achieving high temperatures
Although massive induction heater units can be built for generating extremely high temperatures using the same concept, a small induction heater circuit for school exhibition project can also be implemented easily using ordinary parts such as a IC 555 and some other inexpensive passive components.
Circuit Diagram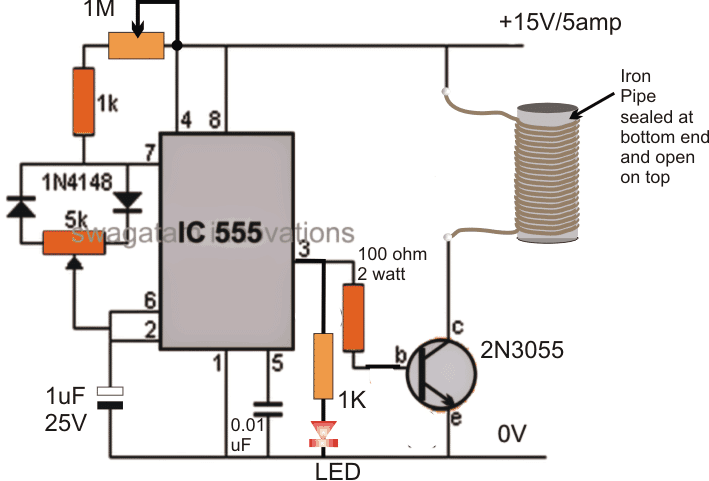 Circuit Operation
A simple IC 555 induction heater circuit for school project is shown in the above figure.
Here the IC is configured as a PWM generator circuit, which is adjusted using the 5 K pot. The frequency is adjusted by tweaking the 1M pot or the 1uF capacitor specifically for achieving the optimized heating effect on the work coil.
The working coil here is made by winding around 50 turns (not critical) of 1mm super enameled copper wire over a fabricated iron pipe whose dimensions may be selected as per individual preference, and could be anywhere between 10 to 20 mm in diameter and 30 to 40 mm long.
Once the above set up is built and switched ON, the coil and the iron pipe could be seen developing heat gradually, and anything placed inside the pipe could be witnessed getting heated up.
If it's water inside the pipe, then it could begin warming up and even reach the boiling point if the coil is optimized correctly through the frequency and PWM adjustments.
The idea behind this small induction heater circuit is simple, it is to force the iron pipe atoms to electromagnetically oscillate at an incompatible frequency resulting in the production of huge amounts of opposing eddy currents and a proportionate amount of heat due to this opposing current in the metal.
If you have more questions regarding this induction heater circuit for school science project, do feel free to ask them through comments, below.