In this discussion we try to learn the right procedure for selecting a charger for a Li-ion battery. The question was raised by Mr. Akshay.
Li-Ion Charger Related Question

I have a 5000mAh Li-ion battery. Can i select a charger for my Li-ion battery having the following specifications, the product is available on ebay?
I will be thankful if you can help me with a better option or alternate options over this.
Thanks & Regards,
Akshay G. Anarse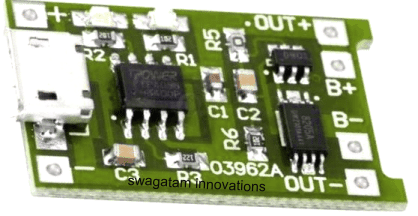 Specifications of the Li-ion Battery charger
Lithium Ion Battery/Cell Charging Module with CC-CV operating mode, high performance output.
Just because you can Charge your Li-ion battery optimally, a Li-Ion charger would need 5V mini from a PC USB source, in order to ensure a direct charging of the battery from the PC.
RED led illumination indicates charging mode, while the BLUE Led glows as soon as the battery is Full.
Module Specifications: non-isolated module with Li-ion/Li-Po protection chip.
Size: 25x19mm
Color: As shown in the ebay picture
Maximum current charging Temperature: 30 c
Input voltage: 5V via Micro usb or from any external 4.5V -5.5V DC power supply.
Output voltage for charging the battery to full level : 4.2V
Output current: 1A, and self-adjusting as per the battery mAH specs
Charging Method: CCCV (Constant Current-Constant Voltage)
Protection Chip included: S 8205A
Operating Temperature for this module is as per the Industrial grade (-10 to +85 )
Solving the Circuit Problem
Hi Akshay,
Your Li-ion Battery is rated at 5000mAH, so charging it at a 1 amp rate could cause a slow charging of the battery, and could take many hours, therefore selecting the charger for your Li-ion battery is OK, but will have this drawback.
In order to charge your battery at a faster rate, a preferable rate would be 3 amp, higher charging rates up to 5 amps could be tried but that would cause some heating of the battery and therefore might demand a temperature controlled circuit.
A fan cooling could be used for keeping the heat of the battery under control so that the battery is able to charge quickly at a 1C rate.
Here "C" refers to the AH rating of the battery, therefore 1C signifies charging of the Li-ion at its full 5 amp rate.
Instead of going through the hassles of selecting a charger for a Li-ion battery from the market the unit could be built and used at home by following the instructions as explained in this Li-ion battery charger circuit with auto cut off
Get New Circuit Diagrams in your Email