A public address system (PA system) is an electronic system that includes a set of audio electronic devices such as microphones, amplifiers, loudspeakers, and other similar audio equipment. It is designed to boost the volume of a human speech, or a musical source, or some other audible sound input to an amplified version through an attached loudspeaker.


PA systems are normally employed in different public areas that calls for an human speaker, artist, etc. to be loudly audible over a substantial distance so that the speech of the person using the PA system becomes audible to a large gathering or crowd. Common places where a PA system can be used are sports stadiums, public vehicles, and live rock and music venues, and occasions.
A PA system can consist of several microphones or additional audio sources, an audio mixer unit which are able to blend and customize the audio signals coming from the various sources, and amplifiers. The output is subsequently fed to a loudspeaker for getting an amplified volume, resulting in a wider distribution of the sound.
How the Circuits Works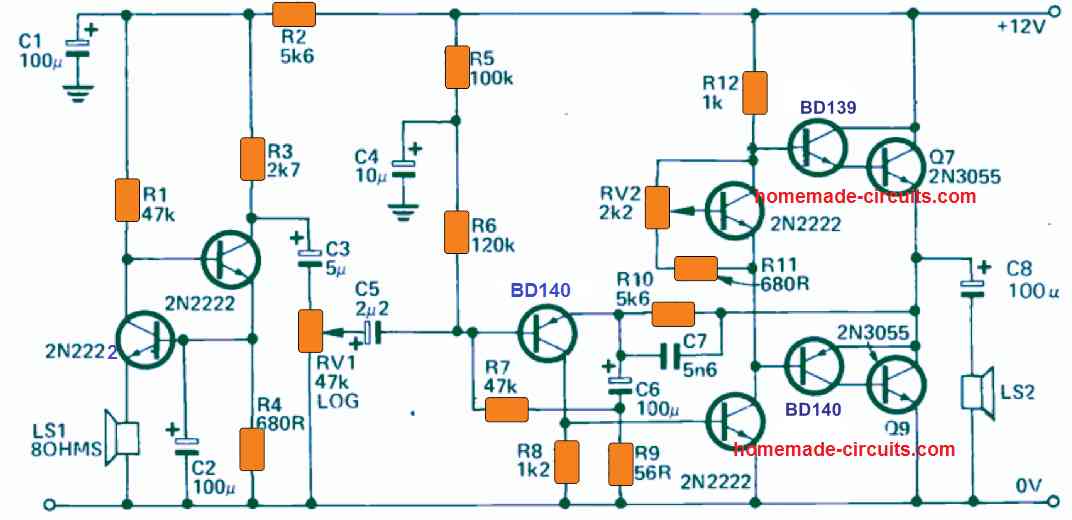 The proposed public address circuit explained in this article works with a small speaker, whose impedance is unimportant. This speaker is hooked up across the emitter of Q1.
The above tiny speaker is used like a microphone, where the user needs to speak for getting his voice amplified.
Q1 is configured in the common base format which causes an extremely increased signal to be generated and fed across its collector.
Transistor Q2, is wired up in the common emitter configuration. Q2 is used for increasing the amplification further. The audio or the speech signal from the collector of Q2 is applied by means of the C3 which acts like a blocking capacitor to VR1, configured like a volume control.
The general de-stabilisation is achieved by having the base biasing of Q1 through the emitter of Q2.
The design of this public address power amplifier circuit is reasonably standard and is configured using a robust looking output stage.
This strong output stage is employed so that the amplifier is able to drive a couple of large P.A. type horns in parallel.
With these types of load at the output we can expect an output power of 8W over the horns or the speakers.
Because the public address or PA amplifier circuit is supposed to be used for amplifying mostly the human speech, a wide bandwidth specification is not important.
Therefore, the capacitor C7 is included to roll off any frequency response that may appear over the 5kHz range. The capacitor C6 is additionally employed for delivering a fast roll off around the bass frequency region.
Power transistors Q7 and Q9 must be installed with a 5" x 4" finned type heatsink. Make sure the body of the transistor Q4 remains thermally in contact with the heatsink.