The LM311 is a versatile, fast voltage comparator with multiple capabilities. Its output stage is "open collector" and "open emitter," allowing for various configurations. It can directly control relays and its output can be compatible with several logics, including TTL.
Technical Specifications and Datasheet
Here are some of the technical specifications of the LM311 comparator IC:
Type: Voltage comparator
Pin Configuration: 8-pin DIP (Dual In-line Package)
Output Type: Open-collector and open-emitter
Input Voltage Range: -0.3 V to Vcc - 1.5 V
Response Time: 200 ns typical, 1.2 µs maximum
Power Supply Voltage Range: Single supply: 5 V to 30 V, Dual supply: ±15 V
Input Bias Current: 250 nA typical, 500 nA maximum
Input Offset Current: 20 nA typical, 200 nA maximum
Input Offset Voltage: 2 mV typical, 7 mV maximum
Maximum Output Current: 50 mA
Maximum Input Voltage: ±30 V
Temperature Range: -25°C to +85°C
Package Type: 8-pin DIP, 8-pin SOIC (Small Outline Integrated Circuit)
Description:
Figure 1 below shows the pinout of the LM311 in a DIPS package. This comparator is designed to operate with a single supply voltage between 5 and 30 volts or with a symmetrical supply between +/- 15 volts.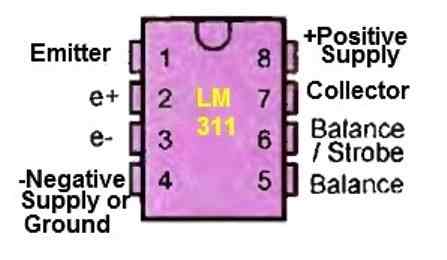 Its output stage is buffered by a power transistor, as shown in Figure 2 below, which presents an internal structure schematic of the LM311.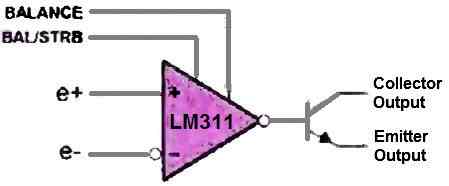 This feature allows for various configurations of this comparator, as shown in Figure 3 below. The LM311 can command DTL, RTL, TTL, and MOS logic circuits indiscriminately.

Its open collector output allows for obtaining a wired logical OR. Additionally, the LM311 has an offset adjustment (Figure 4 below) and a strobe function, which forces the output to the high state (next Figure 5).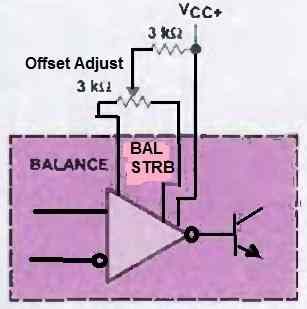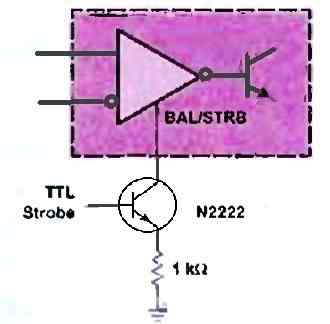 If pins 5 and 6 are not used, they must be connected together.
The stability of the LM311 with certain sources, such as a very slow change in voltage, is achieved by placing a capacitor on the differential input of the comparator.
This capacitor, C2, will have a capacitance between 100 pF and 1 nF and will be directly connected to both inputs (Figure 6 below).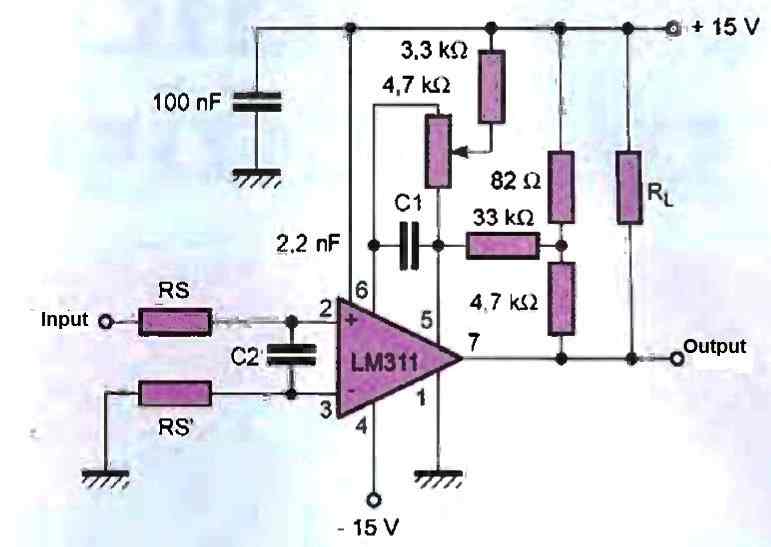 Thanks to its output transistor, a load of up to 50 mA under 50 V can be controlled, which is another advantage often exploited. Therefore, the LM311 is capable of controlling relays, lights, and small motors.
Maximum characteristics:
The maximum voltages of the LM311 are 36 V for the supply between pins 4 and 8, and +/- 30 V for the differential input voltage between pins 2 and 3.
The maximum voltage difference between the output and the negative supply, i.e., between pins 7 and 4, is 40 V, and 30 V between the emitter output and the negative supply, i.e., between pins 1 and 4.
Additionally, the output can withstand a momentary short-circuit for up to 10 seconds.
Operation:
Consider the LM311 comparator circuit shown in the last Figure 6 above, powered by a symmetrical voltage.
If (e+) < (e-), then Vs = 0 V, the load RL is powered, and the voltage across its terminals is Vcc minus a voltage drop due to the saturation voltage of the output transistor and the current through the emitter resistance of 4 S2, which is internal to the LM311.
If (e+) > (e-), then the output transistor of the LM311 is blocked, and no current flows through RL. The load is therefore not powered.