The IRFZ44 is a popular N-channel power MOSFET designed for high current applications. Here is a detailed datasheet of the IRFZ44 MOSFET:
General Information:
Manufacturer: International Rectifier (now part of Infineon Technologies)
Model: IRFZ44
Type: N-channel power MOSFET
Package: TO-220AB
Pinout Configuration:
The following shows the pinout configuration for the MOSFET IRFZ44: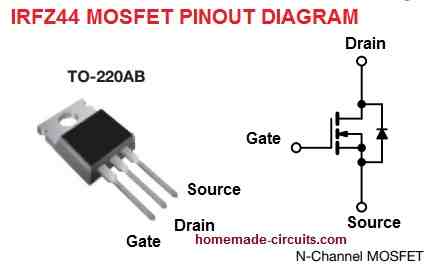 Electrical Characteristics:
Drain-Source Voltage (VDS): 55V
Continuous Drain Current (ID): 49A @ 25°C, 35A @ 100°C
Maximum Power Dissipation (PD): 94W @ 25°C
Gate-Source Voltage (VGS): ±20V
Drain-Source On-Resistance (RDS(on)): 17.5mΩ @ VGS=10V, ID=27A
Gate Threshold Voltage (VGS(th)): 2V to 4V
Input Capacitance (Ciss): 1320pF @ VDS=25V, VGS=0V, f=1MHz
Output Capacitance (Coss): 310pF @ VDS=25V, VGS=0V, f=1MHz
Reverse Transfer Capacitance (Crss): 225pF @ VDS=25V, VGS=0V, f=1MHz
Total Gate Charge (Qg): 47nC @ VGS=10V, ID=27A
Gate-Source Charge (Qgs): 7nC @ VGS=10V, ID=27A
Gate-Drain Charge (Qgd): 12nC @ VGS=10V, ID=27A
Thermal Characteristics:
Thermal Resistance, Junction-to-Ambient (RθJA): 62°C/W
Thermal Resistance, Junction-to-Case (RθJC): 1.5°C/W
Operating Junction Temperature Range (TJ): -55°C to 175°C
Storage Temperature Range (TSTG): -55°C to 175°C
Features:
Low RDS(on) for high efficiency
Fast switching speed for improved performance
High current handling capability
Low gate drive requirements
High input impedance
Avalanche energy rated
RoHS compliant
Applications:
The MOSFET IRFZ44 is commonly used for the following applications:
DC-DC converters
DC to AC 50 Hz, 60 Hz Inverters
Switching power supplies
Motor control
Solenoid and relay drivers
High frequency inverters
Class D audio amplifiers
Electronic ballasts
Battery chargers
Welding equipment
Inverter circuit using IRFZ44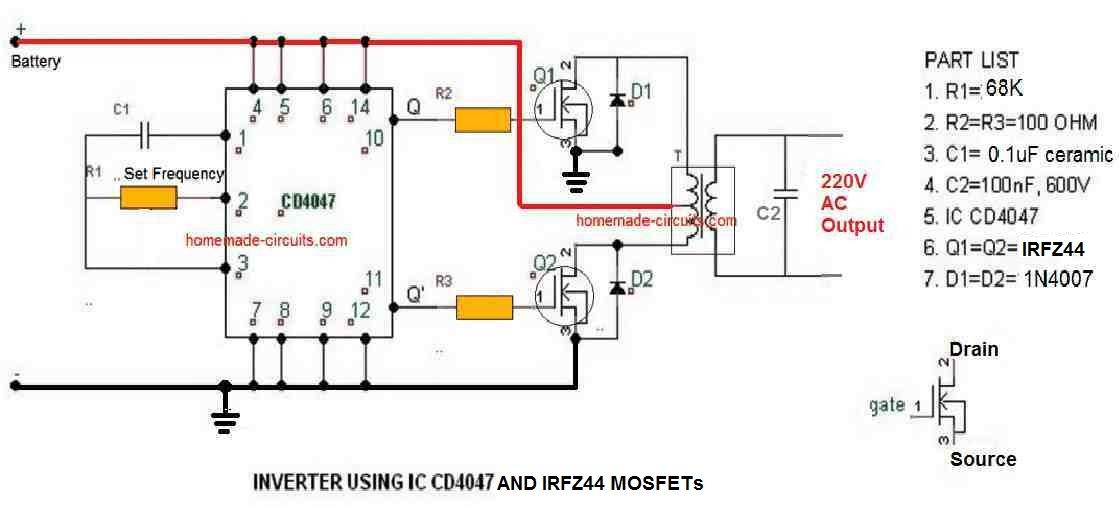 Conclusion
Overall, the IRFZ44 MOSFET is a high-performance, reliable device that can be used in a wide range of applications. Its low RDS(on), fast switching speed, and high current handling capability make it an ideal choice for power electronics applications.
Get New Circuit Diagrams in your Email