In this project we are going to learn the basic specifications of a servo motor and also how to control a Servo Motor using a 555 timer IC, and just two push buttons.
By Ankit Negi
WHY SERVO?
Servo Motors are used in variety of fields. These are mainly used as actuators in those areas where we need a precise movement to control output load.
Best example is a RC car. Let's see you want movement of 45 degree, not more not less. In that case you can't use a simple DC motor because it will overshoot the desired position every time you power it up.
And thus we need a Servo Motor to achieve this task as it will not only make a precise 45 degree rotation but will also stop smoothly at the desired position.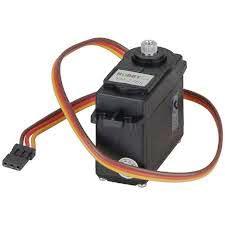 FEW TECHNICAL POINTS ONE MUST KNOW:
A) Before buying or using a servo one must know what's inside it and how it works. a servo motor is made up of three key components:
1. A DC motor
2. 1 Potentiometer, either analogue or Digital
3. Control circuit
B) There are total 3 wires that come out of a Servo Motor:
1. RED: To positive of supply
2. BLACK: TO negative of supply
3. ORANGE OR YELLOW: Connected to a reference voltage i.e., a pwm source
C) Servo Motor can rotate 90 degrees in either direction, covering maximum 180 degrees i.e., either 90 degrees clockwise or 90 degree anticlockwise from its neutral position.
To rotate the motor clockwise, on time period of clock pulse must be greater than 1.5 milliseconds and to rotate it anticlockwise on time period must be less than 1.25 milliseconds but frequency should lie between 50 to 60 Hertz.
And thus we are going to use a 555 timer to generate such clock pulses for us.
COMPONENTS REQUIRED FOR THIS PROJECT:
1. SERVO MOTOR
2. 555 TIMER
3. 6 VOLT BATTERY
4. TWO PUSH-BUTTONS
5. RESISTORS: 1K, 4.7K, 33K, 10K, 68K, all 1/4 watt 5%
6. ONE TRANSISTOR (BC547)
7. TWO CAPACITORS of 0.1uf
CIRCUIT DIAGRAM SHOWING HOW TO RUN A SERVO MOTOR USING IC 555: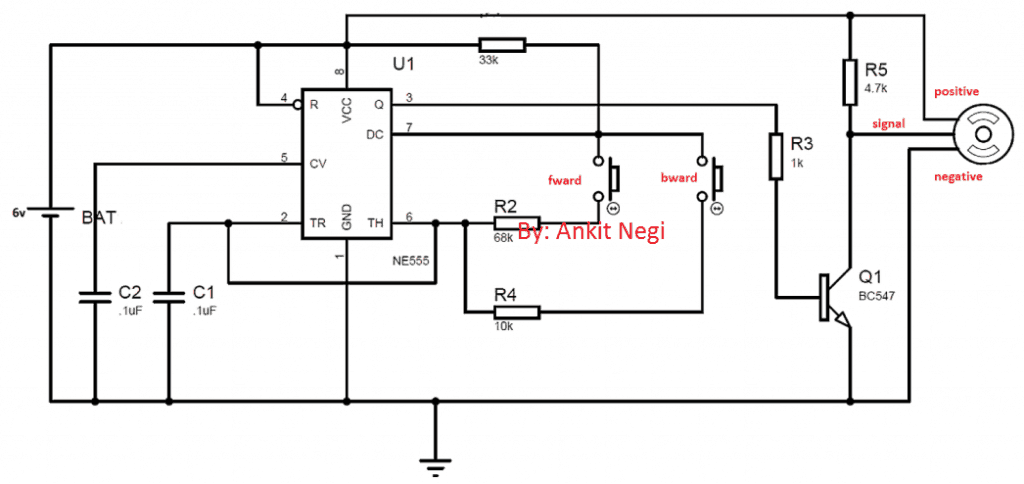 Make connections as shown in the above shown circuit diagram.
Connect positive and negative pin of motor to positive and negative terminal of the battery respectively. And connect signal or reference pin to the collector terminal of the transistor.
CIRCUIT WORKING:
1. When forward push button is pressed-
When this case arises then 68 K resistor get connected between discharge and threshold pin. Now initially capacitor is not charged so pin 2 is at 0 volt which is less than 1 by 3 of applied voltage.
This resets the flip flop inside the 555 and gives logic 1 at the output terminal at which base of the transistor is connected.
This causes transistor to turn on and conduct current directly to ground due to which signal pin of motor get zero volt as this pin is directly connected to Collector terminal.
Since capacitor start charging when output is 1, the output becomes 0 as soon as voltage across capacitor becomes greater than 2 by 3 of applied voltage as it is directly connected to threshold pin.
Now transistor will be off and signal pin will get logic 1.
In this way pwm signals are generated at the reference pin of motor. Now in this case on time period of generated pulse is greater than 1.5 milliseconds, which you can calculate by the duty cycle formula for 555. And thus we get 90 degree clockwise rotation of motor as explained in above paragraph.
1. When backward push button is pressed-
When this case arises then 10 K resistor get connected between discharge and threshold pin which is less than 68k ohm resistor. Thus in this case the on time period of pulse is lesson than 1.5 milliseconds, which you can calculate by the duty cycle formula for 555.
Now the pwm is generated at the reference pin of motor the same way as in the above case. And thus we get 90 degree anticlockwise rotation of motor as explained in above paragraph.
**in both the cases frequency is between 40 to 60 hertz.
Simple Servo Motor Controller using IC 555 PWM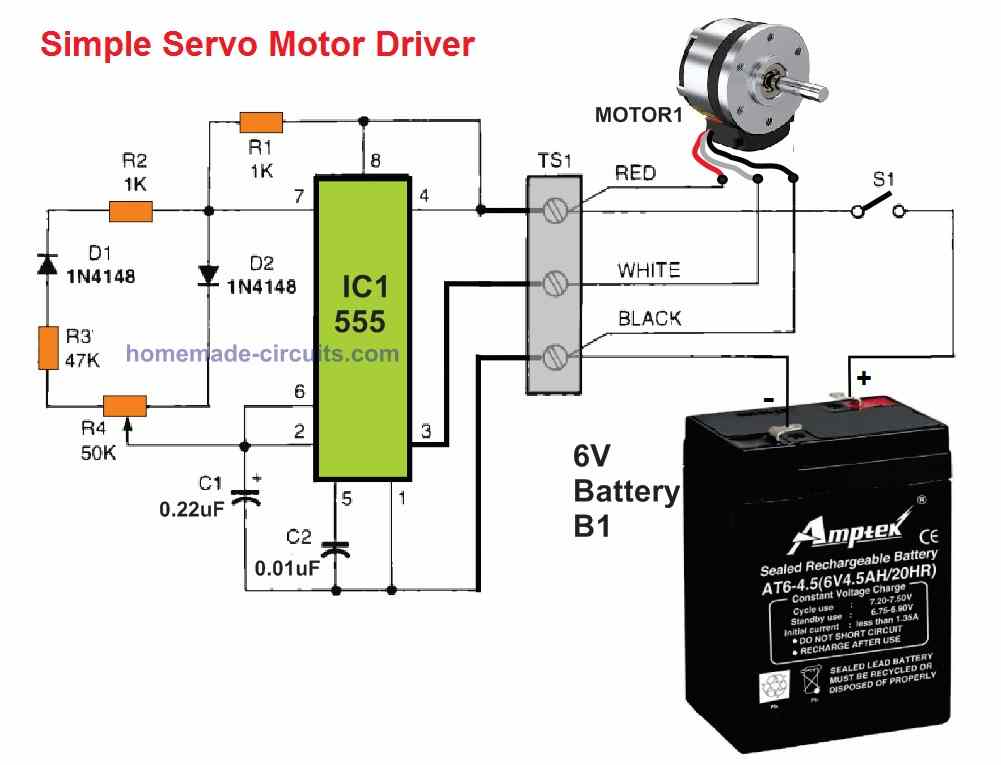 The figure above shows how a servo motor can be operated precisely using PWM signals from the IC 555.
The rate of pulses repeated by the circuit can be anything between 20 Hz and 70 Hz. We can vary the positive pulse width from 1 millisecond to 2 milliseconds (ms).
When the PWM is set at 1 ms the servo rotates to one of its extreme positions. When a PWM of 2 ms is given to the motor it rotates to its opposite extreme.
You will servo motors designed to travel 90° or 180 °. PWMs ranging from 1 ms to 2 ms will allow the servo to travel across 90°or 180 ° positions correspondingly.
How the Circuit Works
The design employs a 555 oscillator/timer arranged in an astable mode to produce the correct PWM, in accordance with the adjustment of potentiometer R4.
A normal 555 astable circuit's working frequency and pulse width will vary when the value of one of the timing resistors is adjusted.
Additionally, the proposed 555 pwm controller circuit allows for independent regulation of the duty cycle or pulse/space ratio without changing the frequency.
To accomplish this, two distinct channels are provided for the charging and discharging process of C1.
Capacitor C1 charges as soon as the supply DC is switched ON through R1, D2, and half of R4. When C1 charges to a level of 4V (two-thirds of the supply voltage), the IC 555 output switches state.
This causes pin 7 to go low. With pin7 at low or 0V, capacitor C1 starts discharging via the other half of R4, R3, D1, and R2.
The internal flip-flop of the IC changes state yet again as soon as the voltage across C1 drops to 2 volts.
This causes pin#7 to go high. Due to this the capacitor once again initiates its charging process.
Thus, adjusting R4 modifies the charge and discharge rates in complimentary ways, keeping the total cycle duration and frequency constant.
The circuit works at around 55 Hz and has a roughly 10% duty cycle with the component values as indicated in the diagram. The servo may rotate over its whole range of 180 degrees by adjusting R4 along an arc of 60 degrees.
The user can choose and experimentally discover the potentiometer's position in relation to the servo's motion. The circuit has been built so that the total of R2, R3, and R4 is almost equivalent to 100k. This enables the user to adjust the value of R4 for achieving the desired operating characteristics.
R2 and R3 offer a minimum amount of resistance in the discharge path. This ensures that the circuit is not harmed when R4 is adjusted to minimum.