A bench amplifier is a small test amplifier which includes basically all the features that are required for testing the performance of an input audio signal. It can be also customized as per the specifications of the input signal, so that you don't have to build different sets of amplifiers for different test purposes.
A single bench amplifiers fulfills all the basic requirements of a standard conventional amplifier.
Mains Features
The bench amplifier design discussed in the following article consists of the following useful features:
Preamplifier using IC 741
Power Amplifier using IC LM380
Six switchable input selectivity
Volume control
8 Ohm Loudspeaker Output
LED Sensitivity Indicator
How the Circuit Works
The proposed bench circuit is essentially an audio preamplifier and power amplifier together, featuring a selectable preamp gain facility.
Based on which specific sensitivity is selected, modifies the gain of the IC 741 such that it produces the particular input potential to operate the LM380 to the point where it just starts clipping. This clipping voltage consequently tends to be just adequate to trigger the LED to illuminate.


In order to determine an A.C. signal, you have to rotate the volume control to the highest level, and connect the input signal to the socket and start with the switch SW1 positioned to select the minimum sensitivity, until LED just lights up. The input signal value can be now determined by the position of the switch.
The gain of 1C1 which is a 741 op amp, is fixed through the ratio of the resistive divider formed by R9 and R1 to R6. The resistors R1 to R6 adjust the 741 gain from a level of 20 to 0.5.
Hence, in order to generate 100mV across RV1, the amount of input signal would be around 5mV to 200mV. Resistors R7 and R8 does the work of biasing the non-inverting input to 4.5V, while the resistor R10 is incorporated to safeguard the IC.
Considering that D.C. gain of this bench amplifier circuit has the value of unity, the output could be established with +4.5V D.C., enabling highest voltage swing functionality.
In order to decrease the output offset, resulting from the bias current, the value of the parallel resistor R7 and R8 must be roughly identical to the value of the R9. Remember the above point, if you wish you use a different supply voltage for this bench amplifier circuit.
Resistor R11 and capacitor C2 do the work of decoupling the 741 supply lines, just like the capacitor C6 does for the IC LM380. It may be possible to increase the value of capacitor C6 for getting a better DC, if the supply voltage is not regulated and stable.
PCB Design
The complete PCB track layout for the above explained bench amplifier is given below: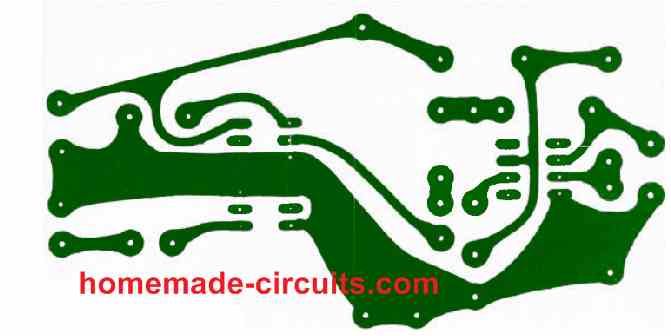 Parts List