This simple automotive electrical fault finder probe circuit will enable you to solve most electrical troubleshooting in your cars, tempos, motorcycles etc with a lot of ease and in a hassle free manner.
The idea is very simple. The circuit exploits the high impedance gate value of the MOSFET which makes the circuit extremely sensitive to voltage levels, so that it is able to detect even the slightest bit of continuity.
The probe point is used for locating the faulty line running anywhere in the electrical system. The probe point can be touched where a continuity is to be detected.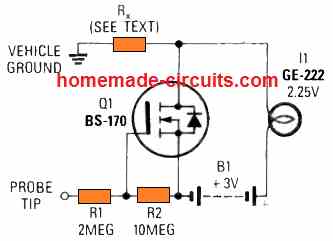 Our hand holding the probe body connects our body with the junction of the MOSFET drain and the lamp. Our other hand is supposed to be touched to one of the known earth point of the car chassis. With this arrangement, the troubleshooting process can be commenced, and if the probe locates even the slightest of continuity, it will cause the lamp to light up.
In the circuit for the automotive fault finder probe, the resistor Rx indicates the resistance of our body. This depicts, one hand holding or touching the drain side of the MOSFET while the other hand resting on the chassis of the car, or the car body.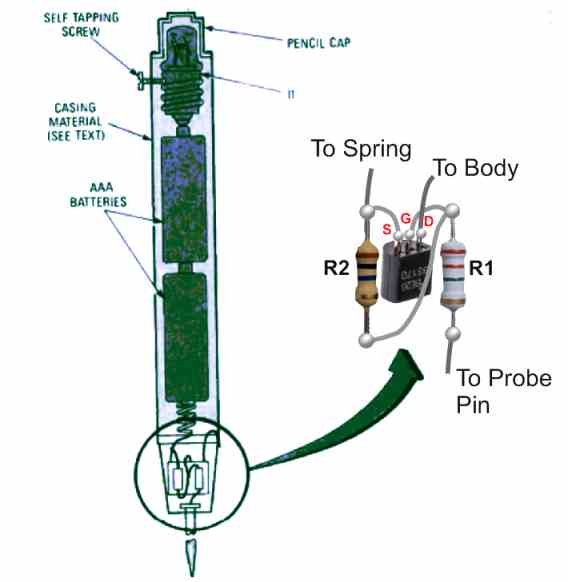 Construction
The construction of the car electrical fault finder probe can be see in the above picture.
The body of the unit is actually made up of a metallic substance, such as steel or copper or aluminum. The MOSFET and the resistor assembly is housed inside a plastic cap and fitted at the lower end of the metal body. A tinned copper wire is used as the probe point fitted on the other end of the plastic cap.
A sel-tapping screw is used for connecting the metal body with the drain connection of the MOSFeT and the lamp.
How the Circuit Works
Suppose the user wants to locate the continuity of an earth wire across the electrical wiring, which might have lost its contact to a specific electrical gadget.
The user holds the probe with his one hand, so that the body comes in contact with the MOSFET drain and the 3V from the lamp.
Next, he holds the car body, so that the 3V battery positive from his body enters the car body. After this the probe point is touched to the different wires for tracing the continuity.
As long as a continuity is present, the probe's +3V from the user's body passing through the car body reaches the probe point, and the MOSFET gets the required gate voltage, which keeps the lamp illuminated.
However, once the probe reaches a point where the probe lamp stops illuminating will indicate towards the broken continuity point., and the user can quickly troubleshoot the area by correcting the cable joint appropriately.