The following post explains the main features of mosfet IRF3205 which is fundamentally rated with drain current at a massive 110 Amps, and voltage ranging up to 55V, ideally suitable for inverter, motor control, choppers, and converter applications.
Main Features
The IRF3205 leading-edge N-Channel HEXFET® Power MOSFETs from International Rectifier implements hi-tech processing solutions to attain incredibly minimal on-resistance per silicon space.
This advantage, along with the rapid converting rate and ruggedized system layout that HEXFET power MOSFETs are popular for, offers the developer with an exceptionally cost-efficient and dependable product to be used in an array of programs.
The TO-220 bundle is globally favored for most of commercial-industrial purposes at power dissipation stages to around 50 watts. The minimal thermal resistance and reduced packet price of the TO-220 play a role to its extensive recognition all through the market.
Technical Specifications
It's technical specifications may be understood with the following data:
Continuous Drain Current, VGS @ 10V = 110 A
Pulsed Drain Current = 390 A
At 25°C Power Dissipation = 200 W
Linear Derating Factor = 1.3 W/°C
Gate-to-Source Voltage = ± 20 V
Avalanche Current = 62 A
Repetitive Avalanche Energy = 20 mJdv/dt
Peak Diode Recovery dv/dt = 5.0 V/ns
Operating Junction and Soldering Temperature, for 10 seconds = 300 (1.6mm from case )°CYou may refer to the original datasheet for more info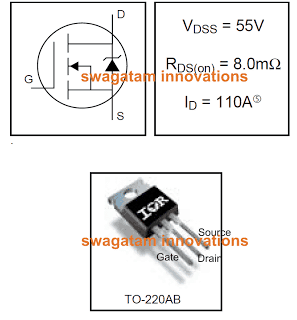 A Typical Application
Making a simple 500 to 5000 watt inverter using IRF3205 mosfet.
A fifty watt inverter discussed in one of my previous posts can be easily turned into a massive 500 watt inverter by simply replacing its mosftes by the above type.
Refer to the following link for the required circuit diagram, just use the IRF3205 for the mosfets, 24-0-24V /30A transformer and 24V 200AH battery.
The inverter can be made to produce upto 5kva if the transformer voltage is increased to 50-0-50V/100amps.
https://www.homemade-circuits.com/2012/09/mini-50-watt-mosfet-inverter-circuit.html