This is a mains operated transformerless flasher circuit that can be used for alternately switching a couple of CFL or similar 220V/120V lamp to produce a decorative lighting effect.
Circuit Operation
The below shown design depicts a simple mains operated dual or alternate lamp flasher, which is designed to flash or blink two mains operated lamps alternately at a specific rate as determined by the 100k pot adjustments.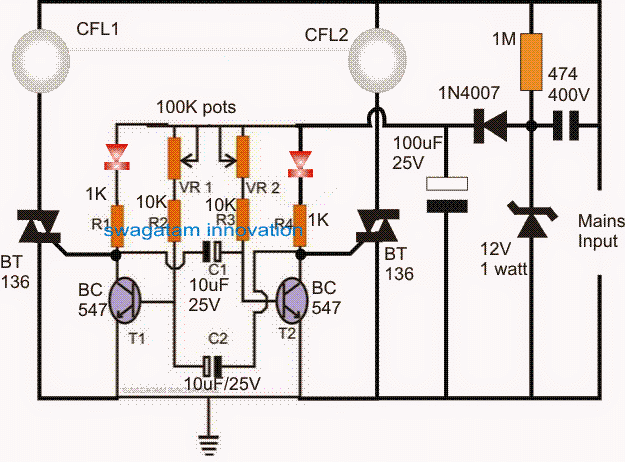 The circuit stage built around T1 and T2 is an ordinary astable multivibrator wherein the transistors switch alternately at a given rate as set by the values of C1, C2 and /or the values of the pots VR1 and VR2.
VR1 and VR2 can be discretely adjusted to produce different sets of flashing rates for the two lamps, or can be fixed in the middle for generating a uniform flashing pattern for the lamps.
The lamps are switched through the indicated triacs whose switching is controlled by the switching rate of the transistors, during the transistor OFF periods the traics are switched ON and vice versa, this effect is not simultaneous, rather implemented alternately for the traics giving rise to the proposed alternate flashing effect for the lamps.
Power Supply
THE CIRCUIT IS NOT ISOLATED FROM MAINS AC, AND IS THEREFORE EXTREMELY DANGEROUS TO TOUCH IN POWERED CONDITION AND WITHOUT AN INSULATED ENCLOSURE. EXTREME CAUTION IS ADVISED WHILE TESTING OR BUILDING THIS CIRCUIT.
The entire circuit is powered through a simple 12V stabilized transformerless power supply made by using a high voltage capacitor 474/400V, a rectifier diode and a 12V zener diode.
The 100uF capacitor filters the 12V stabilized half rectified output from the 1N4007 output and feeds a clean DC to the rest of the circuit for the intended operations.