Since modern electronics involves a lot a CMOS ICs and power devices like MOSFETs, static electricity can be a reason of some concern. Because a static charge can easily kill or destroy CMOS ICs or MOSFETs quickly without providing any prior warnings.
Static electricity is actually an asymmetry of electric charges inside or on the exterior of a substance. The electric charge sticks around the surface until it it is eliminated or pushed away through an application of electric current or another opposite electrical discharge. Static electricity are static in nature and therefore is named oppositely to "current" electricity, that can run via electrical wires or other conductors and transfers power.

Best example of static electricity is when we touch a plastic or synthetic material, and feel our hairs getting pulled towards that plastic or synthetic material. The results of static electricity are well known to many folks since we all have experienced, heard, as well as noticed sparking whenever an high voltage discharge is caused due to a large electrical ground conductor getting close to the high voltage source.
Making an Electrometer
The device which can detect static charge is called an electrometer and is fairly sensitive to static charges.
I always use this meter before working with CMOS ICs or sensitive MOSFETs on PCBs to ensure there are no static electricity hanging around on my work bench, PCB, or on my hands, which could otherwise easily destroy these sensitive device almost instantly.
This electrometer is an electrical device that detects and shows the intensity of an electric charge or electrical potential difference.
The circuit can be powered with a 9V battery, and when the probe is brought near a possible electrostatic charged surface, the meter needle will deflect, indicating the presence of the static charge.
The volume of static charge is indicated over an ammeter and the JFET could be a 2N3814 or similar. The meter can be a 0-1 mA device; in case you find this type of meter is not adequately sensitive to suit your needs, it is possible to replace it with a more sensitive low current meter.
The potentiometer is tweaked in order that the needle indicates 1 mA in the absence of a static charge around the probe. As soon as the probe is introduced sufficiently near to a charge, the meter needle must decrease towards 0 mA.
To examine whether or not your CMOS device storage box may be devoid of static charge, touch the electrometer probe directly into box. If you find the meter needle unmoved from the full scale 1 mA level, you can be assured that the box is free from static electricity.
Using IC 555 for Detecting Static Charge
A strong static electricity could destroy your IC RAM or other static-sensitive devices such as MOSFETs. The next circuit is really straightforward. This makes use of just 7 parts, along with a 555 oscillator/timer. Additionally, it works with a FET rigged like a "vision" to identify static-charge deposits.
As soon as the antenna is held alongside a high-voltage source, it decreases the 555's pulse frequency and you could in fact observe that the equivalent results through the flashing ON/OFF rate of the two LED's. I simply do not advise the use of a CMOS 555, since in that case it itself would be vulnerable to the static field and die quickly.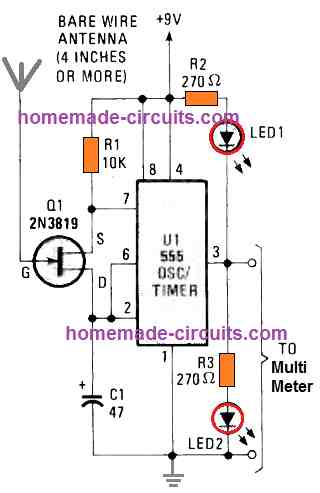 To verify if your IC 555 static charge detector actually works, try bringing the antenna very near to a television screen and you may quickly start seeing the LED flashing slowing down.
In order to reset the circuit, just short the antenna wire of the circuit to any ground wire of the circuit or a large metal plate, a few instances. This must get the LED flash rate back to fast rate, which is the normal rate in the absence of a static charge.
You can use this LED electrometer with a multi-meter for higher precision readings. The circuit really is easy, it is extremely sensitive to excessive voltages, it can easily help you save a ton of money, all the elements are accessible at the local Radio Shack store. The current consumption is so small that the circuit can easily work for a few hours without showing any abnormal effects.