The IRF510 is a popular N-channel power MOSFET (Metal Oxide Semiconductor Field Effect Transistor) commonly used in electronic circuits for various applications, including audio amplifiers, power supplies, and switching circuits.
It is rated with a maximum voltage of 100 volts and a maximum current of 5.6 amps. These ratings makes the device suitable for medium to high power applications. The IRF510 MOSFET features a low on-resistance. Due to this feature it is able to switch optimal amounts of currents without dissipating too much power in the form of heat.
Electrical Characteristics:
Drain-Source Voltage (VDS): 100V
Continuous Drain Current (ID): 5.6A
Power Dissipation (PD): 43W
Gate-Source Voltage (VGS): ±20V
Total Gate Charge (Qg): 50nC
Threshold Voltage (VGS(th)): 2V to 4V
Drain-Source On-Resistance (RDS(on)): 0.5 ohms
Thermal Characteristics:
Junction Temperature (Tj): -55°C to 175°C
Thermal Resistance - Junction to Case (RθJC): 1.4°C/W
Thermal Resistance - Junction to Ambient (RθJA): 62.5°C/W
Pin Configuration: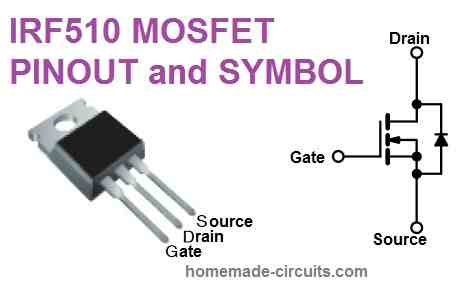 The IRF510 MOSFET has three pins: the drain (D), the gate (G), and the source (S). The pinout configuration is as follows:
Pin 1: Gate (G)
Pin 2: Drain (D)
Pin 3: Source (S)
Package Information:
The IRF510 MOSFET is available in the TO-220 package, which is a through-hole package with a single mounting hole. The package dimensions are as follows:
TO-220 Package: 10.67mm x 15.87mm x 4.83mm
Typical Applications:
The IRF510 MOSFET is commonly used in power switching applications, such as:
Power supplies
Motor control
Audio amplifiers
RF amplifiers
Switching regulators
DC-DC converters
Simple Motor Controller Circuit
The IRF510 MOSFET can be used for making a simple DC motor speed controller circuit, as shown in the following diagram: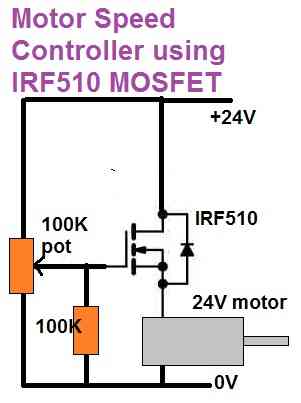 Absolute Maximum Ratings:
Please make sure the MOSFET IRF510 is not operated above the following absolute maximum ratings.
Maximum Drain-Source Voltage: 100V
Maximum Continuous Drain Current: 5.6A
Maximum Power Dissipation: 43W
Maximum Junction Temperature: 175°C
Maximum Gate-Source Voltage: ±20V
Other Features:
N-Channel MOSFET
Low Gate Threshold Voltage
Low On-Resistance
High Input Impedance
Note: This information is taken from the IRF510 datasheet published by Infineon Technologies. Actual values may vary based on specific manufacturer and production batch
Get New Circuit Diagrams in your Email