In this post we learn all the basics of inductors, its working principle, and how to design inductors with the help of formulas and calculations.
Inductors are vastly used from mobile, laptop chargers to high-end communication equipment like mobile base stations to the satellites orbiting the earth. Let us take a deep dive into the world of inductors.
What is an Inductor?
An inductor is a two-pin passive component that stores energy in the form of a magnetic field when a current flows through it.
It could be a tiny piece of straight copper wire or wire wound into rings called a coil.
An inductor inherently opposes the change of current through it. It is denoted by the letter L and its SI unit is Henry, H.
Figure 1 depicts the symbol of an inductor.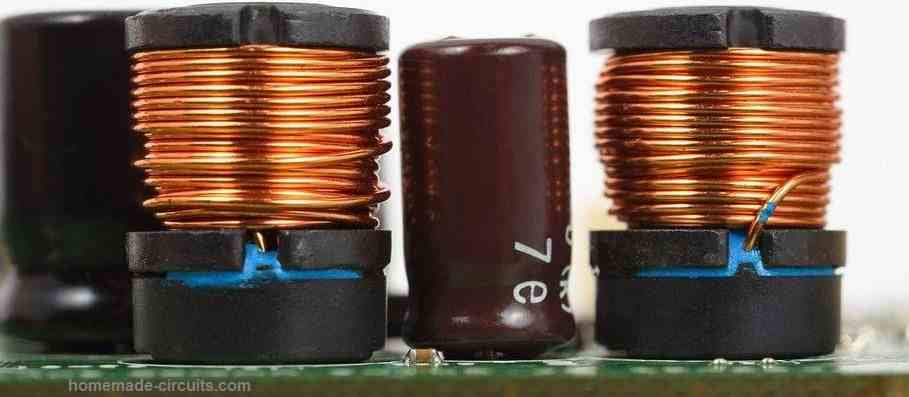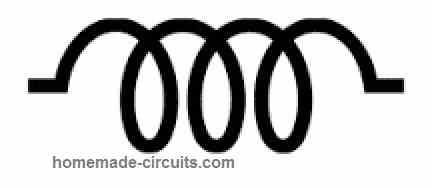 Figure 1: Symbol of Inductor
Working of Inductor
Let us take a simple circuit as shown in Figure 2, where a battery is connected to an inductor L in parallel, and a switch S in series. When the switch S is turned on, current starts flowing through the inductor, a magnetic field is produced and the inductor becomes an electromagnet.
This electromagnet has its North Pole, N, and South Pole, S, like a conventional magnet. And magnetic lines flow from N to S pole.
Now, if we reverse the polarity of the battery, the direction of the current changes, consequently poles of the electromagnet are reversed, and the direction of magnetic lines of force also gets reversed.
The strength of this induced magnetic field is measured in magnetic flux density denoted by the letter B and the SI unit is wb/m2. Where magnetic flux ø is the total number of magnetic lines and measured in SI unit Weber.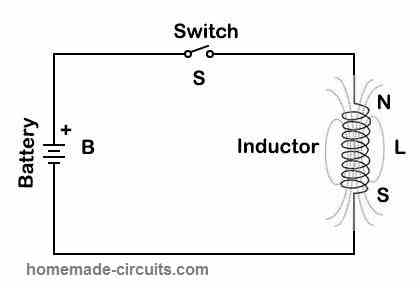 Figure 2: Inductor Circuit
EMF
Now let us continuously turn on and off the switch S, this is similar to applying alternating current. Any change in the electric current induced, changes the flux. This change in flux, induces an electromotive force (EMF) in the inductor which is given by :
ε= -Ldl/dt
Where ε is the electromotive force in volt, L is the inductor value in Henry and dl/dt is the rate of change of current with respect to time.
Kindly note that, the negative sign which indicates the EMF is of opposite polarity to the applied voltage. This is called back EMF or counter EMF.
Inductive Reactance
The opposition, resistance, to the induced current, induced by the magnetic field is called Inductive reactance and given by :
XL= 2πfL
Where XL is inductive reactance in ohms, f is the frequency in Hz, and L is inductance in Henry.
How much is one Henry?
An inductor has an inductance (L) of 1 Henry if the EMF (ε) induced in it is 1 Volt when the current is changing at the rate of one ampere per second (dI/dt).
Inductors in Series and Parallel
Like other discrete components resistor and capacitor, we can connect Inductors in series and parallel too.

In series, see Figure 3, total equivalent Inductance will be :
L total =L1+L2+….Ln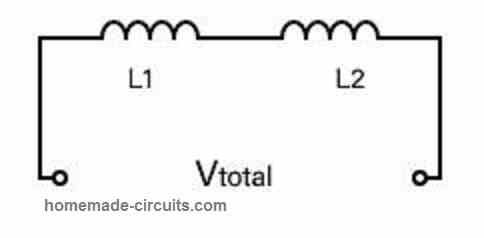 Figure 3: Inductors in Series
In parallel, see Figure 4, total equivalent, Inductance will be:
Ltotal = 1 / (1/L1+1/L2+…1/Ln)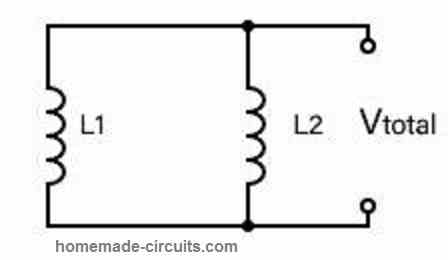 Figure 4: Inductors in parallel
Q Factor of the Inductor
There is no such thing as an ideal inductor in the practical world so every inductor has some resistance, R, in addition to inductance. The lower the resistance higher the Q or quality factor of the coil.
Q Factor is expressed as:
Q = wL / R = XL / R
Thus, Q is the ratio of inductive reactance of the inductor and its resistance. As we can see Q is inversely proportional to the R so the lesser the resistance of the inductor better the Q factor it has. This is also called the efficiency of the coil or inductor.
Types of Inductors
There are different types of inductors available based on their geometrical shape and type of core used.
Air Core
As the name suggests, these have only air in the core of their winding. Air does not provide the flow of magnetic lines freely, rather opposes the flow of the line. This is called reluctance R (in H-1).
As air has high reluctance these types of inductors are used in high-frequency RF circuits where a low value of inductance is required.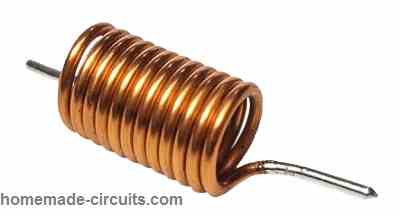 Iron Core
In this type of inductor, wire is wound on a ferromagnetic material soft iron as its core. Iron core allows an easy path to the magnetic lines of force.
This property is called permittivity µ (in H/m). As iron core inductors have a higher value of inductance they are used in low-frequency line filtering and audio equipment.
Ferrite Core
These types of inductors are most widely used. In this type of inductor, ferrite is used as a core. They find their application mainly in power conversion, broadband communication, and interference suppression.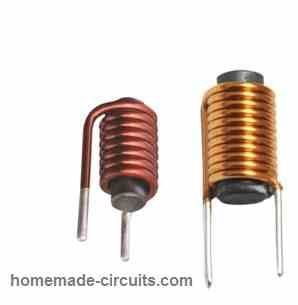 Multi-Layer Inductors
In this type of inductor, layers of coils are wound one over the other. They are used in communication equipment like mobile and Bluetooth devices. These types of inductors have a high inductance level.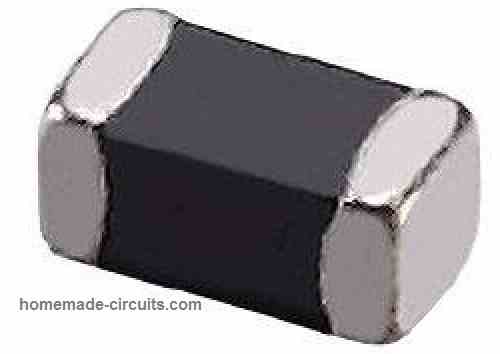 Thin-film Inductors
These types of inductors are made with thin-film coils, shaped like spirals. They are designed similar to semiconductors. They are made up of alumina, ferrite, or magnetic material. They are also called chip inductors. They find applications in wireless LAN networks, voltage-controlled oscillators, and impedance matching.
Toroidal Inductor
They have a geometrical shape like a donut made with a ferromagnetic core on which coil is wound. They are widely used in power supplies, inverters, and amplifiers.
Designing an Inductor
Here we learn to design a ferrite core inductor. There are formulas available on the internet for designing ferrite core inductors based on their geometrical shape. But for that, one has to make precise measurements like outer diameter, inner diameter, spacing, wire thickness, which would require instruments like Screw Gauge and Vernier Calliper as an overhead, and involve manual error also.
I don't want to intimidate you, however you may find different versions of formulas that are available for the same shape of inductor design, that could utterly confuse you.
The methodology presented here is very easy to use and reliable also.
Before I begin let me introduce you to a new parameter AL called inductance factor or inductance per turn or permeance.
It is a value of specific inductance (measured with 1 turn) characteristic for a given magnetic core, measured in Henry/turn2.
And it is given by:
AL=L / N2
For designing an inductor, following two parameters must be known:
Inductance required, L (in millhenries)
DC Current, I (in ampere)
Now compute L*I2 for a required inductance of 100 µHenries when the maximum current is 1A
So , L*I2 = 100 x 10-6 x 1 = 0.1 millijoules
Next, read the corresponding AL value for LI2 by looking at the ferrite core selection chart, depending on which geometrical shape of core you have selected.
We have chosen a PQ-type ferrite core, see figure 5, for our design so we will look at AL vs LI2 in the PQ chart, see figure 6.
This chart data will be supplied by the ferrite vendor or you can search online if you know the exact specifications and part number of the ferrite. Seeing the chart for PQ type core, , 42016 (part number) we have AL=1200.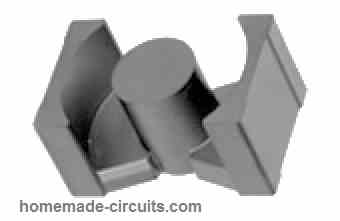 Figure 5: PQ Type Core
Now we have the following data with us:
Inductance required = 0.1 milliheneries
current = 1 Ampere
AL = 1200
As we know current is 1A, and looking up the wire sizing table, select SWG22 copper wire size which can carry current up to 1.2A.
Calculate the required number of turns by putting these values in the below equation:
N= 103√L/AL
Calculations:
N= 1030.11200
N = 1000*0.3162/34.6410
N = 9 Turns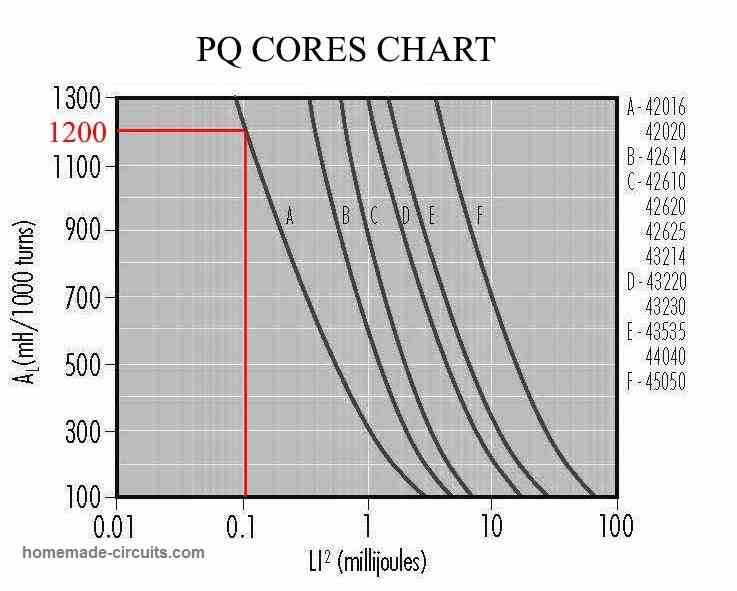 Figure 6 : PQ Ferrite Core Chart