The post explains a high energy surge suppressor circuit using high capacity industrial MOVs for suppressing high current mains surges in industrial electrical lines.
The Circuit Problem:
I've been reading a lot of your design ideas and I am extremely impressed with your designs. I don't have anywhere near your level of expertise, but I can follow directions very well.
I read about your household mains surge suppressor and would like to know if it would be possible to build a portable version for my RV.
What we have now, is automatic and will cut the power to the RV, if the input voltage goes too high, or too low. The unit we have was very expensive and would have to be replaced, if we ever experienced a spike in input voltage.
If your mains design could be converted for portable use, I would love to build myself one. Like I said, I am very good at following directions and using a wiring diagram.
I would just need a parts list. Our RV is normally supplied from a double pole 50AMP circuit breaker. Nothing in the RV uses 240V, so they just split the load between the two 120V inputs.
There are other circuits of yours, that I would like to build. I just need the parts lists and direction guidance. I am sorry if I am being a burden, I wish I had the knowledge already.
Thank you,
Gary
Analyzing the Circuit Issue
Hello Gary,
Thanks very much! Can you please elaborate a bit what an RV is? and also please provide the load specs in terms of voltage and current for operating this equipment.
Sorry about that. An RV is a recreational vehicle. When we stay at a campground, we hook into their power pedestal. It supplies either 30AMPS/120V, or 50/100AMPS 120V.
Nothing in the RV uses 240V power, so power is drawn from either hot leg. Our 50AMP service uses a NEMA 14-50R receptacle and the 30AMP uses a TT-30 receptacle.
The 50AMP uses both hots from a double pole 50AMP breaker and the 30AMP uses the hot leg from a single pole 30AMP breaker.
I would like to adapt your house mains surge suppressor, for use with my RV. I would need to make both the 30AMP version and the 50AMP version.
The power I have access to, depends on what is available.
The 30AMP, would be single pole and 3,600watts and the 50AMP would be double pole, with 6,000watts on each pole.
Please let me know if this is enough information for you.
Thank you,
Gary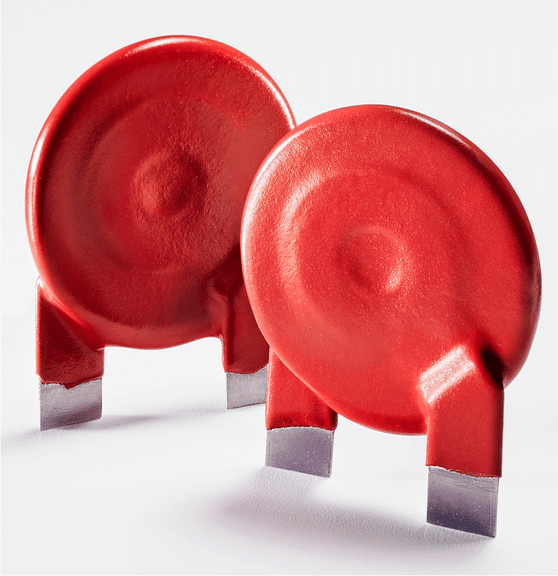 Solving the Circuit Query
The input high current surge seems to be the main issue in the above discussion, which could be effectively tackled using a High Energy Industrial Metal Oxide Varistor (MOV), the details may be studied in the following image: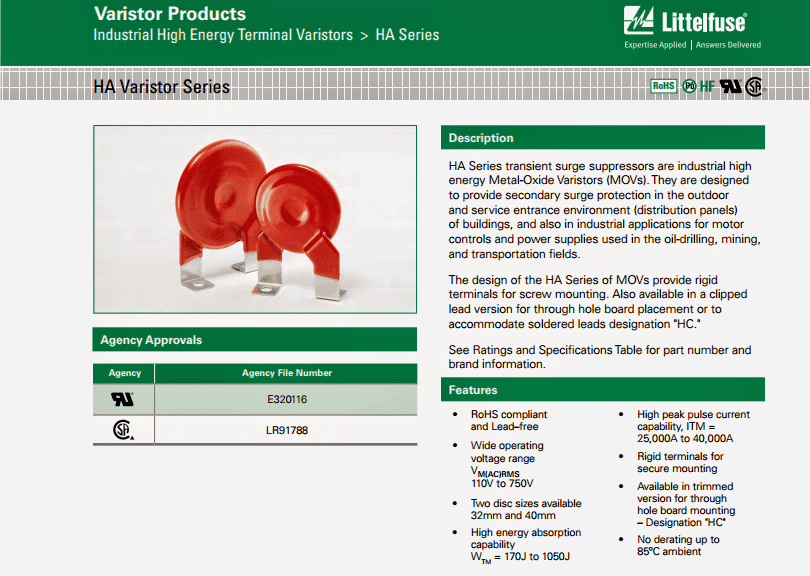 The high energy varistor as discussed above should be installed into the power lines as shown in the following diagram:
Circuit Diagram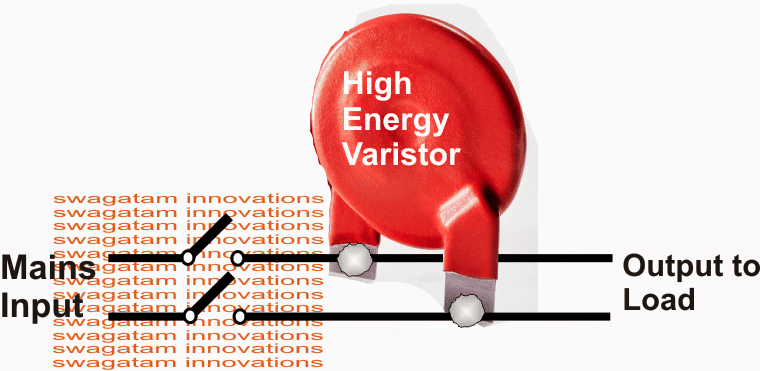 Get New Circuit Diagrams in your Email