We have so far covered the two main requirements for the proposed synchronized 4kva stackable inverter circuit, which includes synchronization of frequency, phase and PWM across the inverters so that failing of any of the inverters had no effect on the rest in terms of the above parameters.
Automatic Load Correction Stage
In this article we will try to figure out the automatic load correction feature which may enable the switching ON or OFF of the inverters sequentially in response to the varying load conditions across the output mains line.
A simple quad comparator using LM324 IC can be used for implementing an automatic sequential load correction as indicated in the following diagram: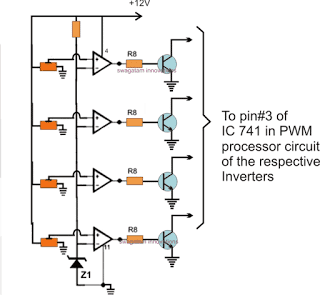 In the figure above we can see four opamps from the IC LM324 configured as four separate comparators with their non-inverting inputs rigged with individual presets,while their inverting inputs all referenced with a fixed zener voltage.
The relevant presets are simply adjusted such that the opamps produce high outputs in a sequential a soon as the mains voltage goes above the intended threshold..... and vice versa.
When this happens the relevant transistors switch in accordance with the opamp activation.
The collectors of the respective BJTs are connected with the pin#3 of the voltage follower opamp IC 741 which is employed in the PWM controller stage, and this forces the opamp output to go low or zero, which in turn causes a zero voltage to appear at pin#5 of the PWM IC 555 (as discussed in Part 2).
With pin#5 of the IC 555 is applied with this zero logic, forces the PWMs to become narrowest or at the minimum value, which causes the output of that particular inverter to almost shut down.
The above actions make an attempt to stabilize the output to an earlier normal condition which again forces the PWM to get wider and this tug-of-war or a constant switching of the opamps cintinues consistently keeping the output as stable as possible, in response to the variations of the attached loads.
With this automatic load correction implemented within the proposed 4kva stackable inverter circuit almost makes the design complete with all the features requested by the user in Part 1 of the article.