If you are wondering how a LiFi concept could be used for transmitting USB data, this article will provide with all the details you required.
We know that a Li-Fi concept is used for transmitting a digital data across a given premise more efficiently than any other means invented so far, especially because the Li-Fi idea allows the user to transmit the data and additionally illuminate the area where it's been installed, so it's like getting two crucial benefits from a single unit.
Remember our age old film projector device? It's probably the oldest known method of using light for transmitting data (picture).
Although we always had other great means of transmitting wireless data such as Wi-Fi technology, RF circuits, etc, using light for this purpose was never imagined simply because lights have been always considered as low-tech units, and thus underestimated, until the day when Mr. Harald Hass discovered this hidden potential of lights (LEDs), and showed the world how LEDs could be actually used for transmitting data in a much efficient way than any other contemporary techniques.
In one of our earlier articles we learned through an example circuit regarding how to effectively transmit audio signal through a Li-Fi, in this article we'll go a little further and learn how to transmit an USB signal through Li-Fi.
Since LEDs are semiconductors devices these become perfectly compatible for handling digital data without any form of distortions. An LED will replicate and transmit the input content exactly as it was in the original source, and this property make LEDs extremely easy to configure for the intended purpose.
LiFi USB Transmitter Circuit
The following figure shows a simple Li-Fi transmitter circuit which can be used for communicating with USB signals inside a room or an confined premise.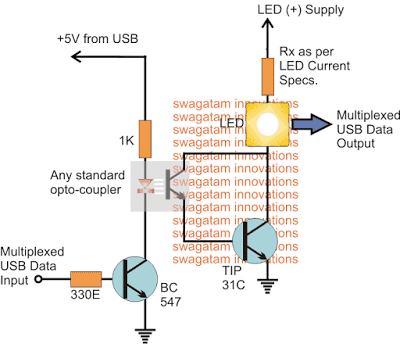 The circuit is self explanatory, the USB data is fed to the base of the BC547, which is further transferred to the LED for the required Li-Fi transmission.
LiFi USB Receiver Circuit
The following diagram presents the USB Li-Fi Receiver circuit
PLease connect a 1K resistor between positive and collector of the transistor to safeguard the opto LED
The Li-Fi USB receiver circuit is yet another simple design which incorporate a basic LDR sensor for detecting the Li-Fi signals from the transmitter LED. The LDR info is further conveyed to a opto coupler stage for producing the final amplified output at the emitter of the BC547 Darlington transistor.
The data is subsequently sent to a USB demodulator or the USB processor stage for the final extraction.